About
Sabu is the pseudonym used by Hector Xavier Monsegur, an American computer hacker best known for co-founding the Internet hacktivist group LulzSec. Following his arrest in June 2011, Monsegur became an informant for the FBI and played an instrumental role in identifying a number of fellow hackers suspected of involvement in Lulzsec and other hacktivist campaigns.
History
HB Gary
According to USA Today,[7] Sabu may have been involved in the February 2011 attacks against the intel consultancy HBGary in retaliation against CEO Aaron Barr's attempts to sell lists of the identities of members of Anonymous to his clients.
LulzSec Formation
The earliest known hack attributed to LulzSec occured on May 5th, 2011, when the Fox Broadcasting Company's database for applicants in the television talent show X Factor were compromised. That month, LulzSec successfully orchestrated additional high profile hacks, including a breach of several Sony databases and the defacement of the PBS homepage.
Identity Exposed
On March 21st, 2011, the now-defunct website Backtrace Security posted a PDF document listing the claimed identities of nearly 80 members of the hacktivist collective Anonymous, which included Hector Monsegur as Sabu. Later that same day, Monsegur created the @anonymousSabu Twitter feed to "clear some things up" in response to the leak. The original PDF document was subsequently removed from the site at the request of the United States FBI.[2]
hai! I go by the name of Sabu these days. I made this account to clear some things up, especially after the leaks by #backtraceinsecurity.

— The Real Sabu (@anonymouSabu) March 22, 2011
Sentencing
On May 27th, 2014, Monsegur was set free after being given "time served" for what chief judge Loretta Preska referred to as ""extraordinary cooperation" as an informant for the FBI. In a sentencing memorandum,[8] it was revealed that Monsegur had assisted the convictions of eight of his peers in both LulzSec and Anonymous, including Jeremy Hammond, Ryan Cleary, Mustafa Al-Bassam (a.k.a. T-Flow), Darren Martyn, Donncha O'Cearbhaill, Ryan Ackroyd (a.k.a. Kayla) and Jake Davis (a.k.a. Topiary). That day, The Guardian published an article about the sentencing, which included a statement from a "spokesperson for Anonymous" condemning the FBI and Monsegur:
"Monsegur is, first and foremost, a criminal; the FBI's cyber crime task force are his co-conspirators. While operating under their supervision, Monsegur committed numerous felonies which should in no way be excused due to his protected informant status. The FBI continues to use captured informants, who commit egregious crimes in pursuit of reduced sentences, for the sole purpose of creating 'examples' to frighten the public. They do this with the hope of pacifying online dissent and snuffing out journalistic investigations into the US government's misconduct."
Arrest
On June 7th, 2011, Monsegur was arrested by Federal agents and immediately became an informant. In August, he plead guilty to 12 counts of conspiracy to attack computers. On June 25th, a Pastebin[3] page was created which claimed that Sabu was a Puerto Rican man named Hector Xavier Monsegur.
New Scientist Interview
On July 4th, 2011, the science news site NewScientist[6] published an interview with Sabu, in which he claimed to have become a hacktivist at the age of 16 and that he joined Anonymous in 2010 after being outraged over the arrest of Wikileaks founder Julian Assange.
Reddit AMA
On September 23rd, 2011, Sabu began answering questions via Twitter from an "ask me anything" request post on the /r/IAmA[4] subreddit. In the comment section, Redditor yorabbits asked Sabu "What advice would you give new hackers?" to which he replied to be wary of friends who would "try to take you down if they have to."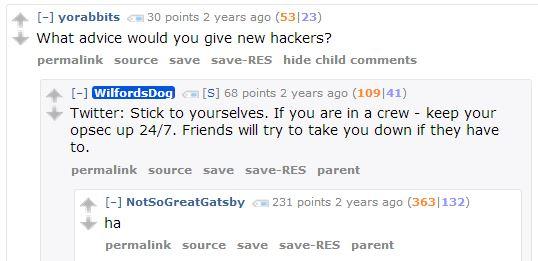 Reputation
Sabu has been criticized by hacktivists for his work as an informant with the FBI, having been involved in identifying several suspected members of both LulzSec and Anonymous.
Informant Status Revealed
On March 6th, 2012, court documents were released in a case against four men in Britain and Ireland charged with computer crimes, which identified Sabu as informant Hector Xavier Monsegur.[5] That day, writer Barrett Brown tweeted that his apartment had been raided by the FBI earlier in the morning, adding "Sabu is a traitor."
My apartment was raided this morning by the FBI. Feds also came to another residence where I actually was. Sabu is a traitor. #Anonymous

— Barrett Brown (@BarrettBrownLOL) March 6, 2012
Also on May 6th, the @YourAnonNews Twitter feed recommended that followers block the @anonymouSabu Twitter account.
We all know that anonymouSabu</a> is now controlled by feds. We have blocked the account and we suggest you do as well. <a href="https://twitter.com/search?q=%23BlockAnonymouSabu&amp;src=hash">#BlockAnonymouSabu</a></p>&mdash; Anonymous (YourAnonNews) March 6, 2012
Portrayal in House of Cards
In the second season of the American political drama series House of Cards, a character named Gavin Orsay (played by Jimmi Simpson) is introduced as a former hacktivist-turned-informant recruited by the F.B.I to entrap the investigative journalist Lucas Goodwin and prevent him from uncovering the crimes of the show's protagonist character Vice President Frank Underwood. Since the premiere of the second season, the character's story arc has drawn a lot of comparison to the fate of Monsegur since his arrest in June 2011, during which he contributed to the prosecution and conviction of eight of his co-conspirators, including the FBI's most wanted cyber-criminal Jeremy Hammond and Anonymous-affiliated journalist Barret Brown.
Personal Life
According to an article in The New York Times,[9] Sabu was born Hector Monsegur in 1983. In 1997, his father and sister Iris were arrested for selling heroin and were both sentenced to seven years in prison. Monsegur subsequently went to live with his grandmother in a Lower East Side housing project in New York City. Following his grandmother's death, neighbors claimed Monsegur became more disruptive and "partied all night."
Search Interest
External References