Warning: This page contains material that may be considered not safe for work.
About
Pikachu Boner refers to an image of Pikachu from the Pokémon anime under a blanket photoshopped to make it appear as though he has an erection. The picture is generally paired with edgy captions.
Origin
The episode the still comes from is season one, episode four of the Pokémon anime, "Challenge of the Samurai Boy," which first aired on September 11th, 1998.[1] In the scene, Ash tries to get Pikachu to go with him, but Pikachu is asleep and rolls over, ignoring Ash.

Spread
The screenshot of the scene began spreading online in 2015. On Tumblr, an April 2nd, 2016 post by uglyrad captioned "pikachu knew what was up" gained over 286,000 notes.[2] The image of Pikachu lying in bed with its eyes open saw some use as a reaction image that year as well. A Spanish-language reaction image spread on Tumblr in 2015, gaining over 2,500 notes (shown below, left). A tweet by AkatsukiClouds was uploaded to Imgur on March 20th, 2016 (shown below, right).


Examples which were photoshopped to give Pikachu an erection began appearing around the same time. One of the earliest erection edits was posted to Twitter by user @ohtrevdawg on April 30th, 2016[3] (shown below, left). On March 9th, 2017, the erection picture appeared on /r/MemeEconomy[4] with an edgy caption, gaining over 390 points (shown below, right). Edgy captions would become a common trait of Pikachu boner memes in the following years.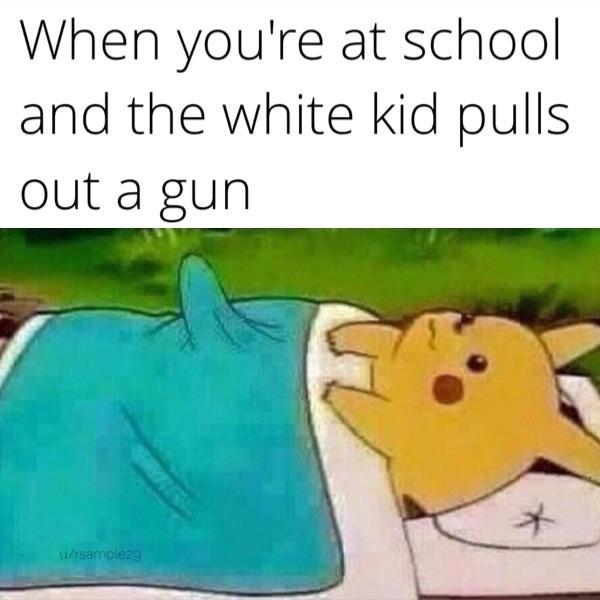 Various Examples






Search Interest
Unavailable
External References
Recent Videos
There are no videos currently available.