About
Small Fact Frog is an advice animal image macro series featuring a photograph of a blue Uluguru forest tree frog and accompanied by captions highlighting a wide range of little-known factoids, in similar vein to Did You Know trivia posts.
Origin
On April 30th, 2013, photographer Daan de Vos uploaded a picture of a blue-colored tree frog (Leptopelis ulugurensis) to the photo-sharing site 500px[1] (shown below, left). On the same day, the photo was posted to the /r/aww[2] subreddit, where it gained over 4,300 up votes and 50 comments prior to being archived. On August 4th, Redditor grizzlyunicorn submitted the first image macro based on the photograph with a caption containing a frog-related pun to /r/AdviceAnimals[7] (shown below, right).


On November 6th, Redditor Vacuitymechanica submitted another image macro to to /r/AdviceAnimals,[8] this time, with a caption claiming that the now-extinct mammoth animals were still alive when the pyramids in Egypt were built (shown below).

Precursors
Photographs of cute animals and general trivia had been previously paired through Reddit's /r/Awwducational,[10] which was launched on November 8th, 2012. In the first two years, the subreddit accumulated more than 43,000 subscribers. On April 13th, 2013, Redditor lbrockma submitted an image macro based on a photograph of a wild red fox with a caption referring to the density of a cubic mile of fog (shown below) in an /r/AdviceAnimals[11] post titled "Introducing Fun Fact Fox."

Spread
Also on November 6th, 2013, Redditor CFS5300 submitted an image macro claiming that squirrels are responsible for the planting of new trees (shown below, left) to /r/AdviceAnimals,[9] dubbing the series "Small Fact Frog." Prior to being archived, the post received upwards of 13,800 up votes and 290 comments. The series saw little activity on Reddit until January 8th, 2014, when Redditor VoiceOverDan submitted an image macro identifying the name of the dot over a lowercase "i" in an /r/AdviceAnimals[3] post titled "Small Fact Frog With a Tiny Fact" (shown below, right). In the first week, the post gathered more than 14,900 up votes and 350 comments.


On January 12th, Redditor hammmy_sammmy submitted an instance claiming that cows become stressed when separated from their friends (shown below, left) to /r/AdviceAnimals,[4] where the post garnered upwards of 16,800 up votes and 460 comments in the following 48 hours. On the following day, Redditor IncorrigiblePorridge posted an instance informing readers how male honey bees die immediately after copulation (shown below, right) to the same subreddit.[5]


The same day, Redditor MangoLemon submitted an instance to /r/AdviceAnimals[6] about the sleep habits of dolphins (shown below, left). Within the first 24 hours, the posts accumulated over 13,600 and 9,600 up votes respectively. On January 14th, Redditor notgayinathreeway posted an instance to /r/AdviceAnimals[12] incorrectly identifying the frog as a green tree frog lacking yellow pigment (shown below, right). In the comments section of the post, several users claimed that the frog was actually a member of the genus Leptopelis, a type of tree frog native to East Africa.


Notable Examples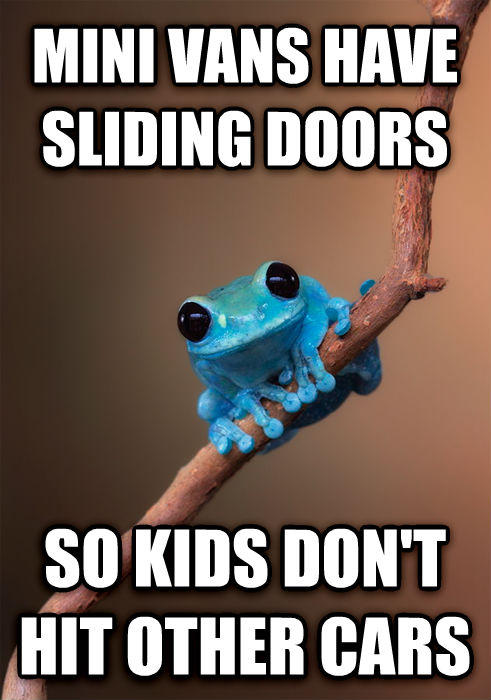 Foul Fact Frog
On November 6th, 2013, a variation of the series photoshopped with a red background was posted in the comment section of a Small Fact Frog post on /r/AdviceAnimals,[9] which contained captions with disturbing or sinister factoids (shown below).


Search Interest
Not available.
External References
Recent Videos
There are no videos currently available.