About
Aggretsuko is an anime starring an anthropomorphic red panda named Retsuko who is frustrated with her life as a 25-year old accountant who vents her frustrations by singing death metal at karaoke. Restuko was created by "Yeti" for the mascot company Sanrio. After airing on Japanese television station TBS, a Netflix original series of the show premiered in April of 2018.
History
Aggretsuko (アグレッシブ烈子) is written and directed by Rarecho.[1] The show ran for 100 episodes between April of 2016 and March of 2018 on Japanese television network TBS.
Netflix Run
On April 16th, 2018, Netflix premiered the trailer for episodes it would release on April 20th (shown below). Netflix released ten episodes of the series that day.
The series was mostly well-received, scoring an 8.3 on IMDb[2] and a user score of 7.5 on MyAnimeList.[3] It also received generally positive reviews from critics, including ones at the AV Club,[4] Indiewire,[5] and Polygon.[6] Critics noted that the show provided a "brutal" presentation of modern life in the workplace, praising the show's depiction of Retsuko's relationship with her misogynist boss and irritating coworkers. Indiewire wrote that "Restuko is more of a blank canvas than an aspirational character. At this point, her clandestine death metal venting is the most interesting thing about her." The sentiment was echoed in other reviews, as critics wondered about the potential for Retsuko's narrative arc.
A Christmas special called "We Wish You a Metal Christmas" later debuted on December 20, 2018 which takes place after Season 1. Season 2 of the series premiered on the site on June 14, 2019.
Online Presence
On February 16th, 2018, PewDiePie posted a live vlog of his trip to Japan, which included a tour of the Sanrio offices and an encounter with Retsuko.
On April 21st, a thread about the Netflix debut was posted to Reddit, gaining 114 points.[7] ComicBook[8] posted a list of Twitter reactions to the anime (examples shown below).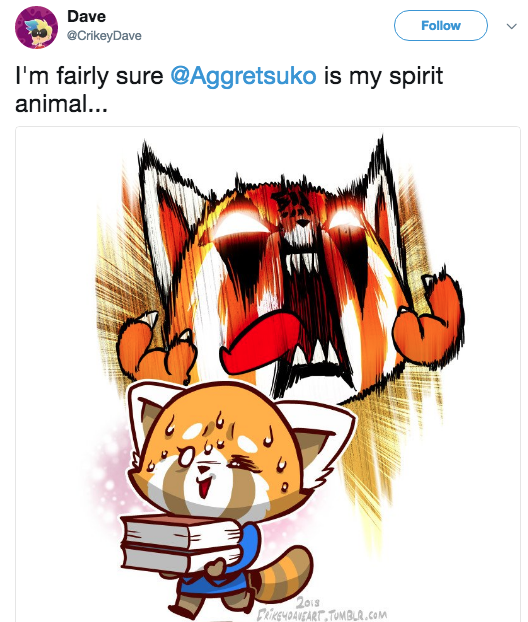 Search Interest
External References