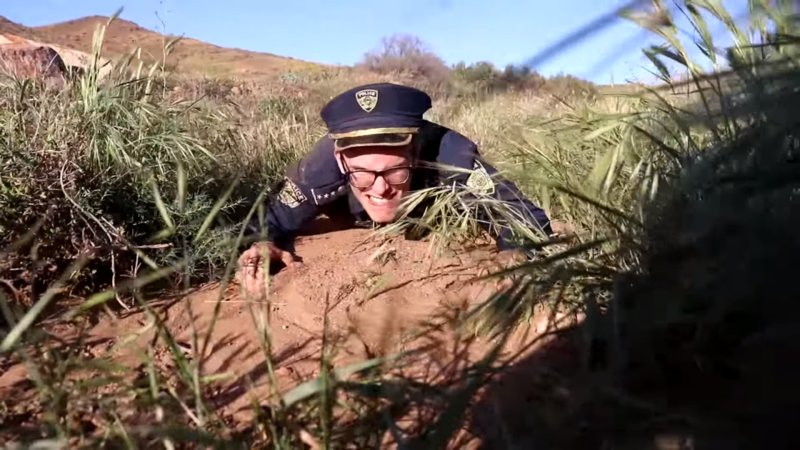 This submission is currently being researched & evaluated!
You can help confirm this entry by contributing facts, media, and other evidence of notability and mutation.
About
Content Cop is a satirical web series in which YouTuber Ian "iDubbbz" Carter offers his criticism and review of popular channels and content creators on YouTube. Each episode of Content Cop opens with a comedy sketch of iDubbbz dressed in a police uniform chasing after and bringing down a suspect, before cutting to iDubbbz' production studio where he rants about the YouTube content creator in question at length. Between 2015 and 2017, iDubbbz produced 11 content cop episodes, including notable episodes on YouTubers LeafyIsHere, KEEMSTAR and RiceGum.
History
On December 13th, 2015, YouTuber iDubbbz uploaded the first episode of his Content Cop series titled "AMATEUR FOOD REVIEWERS."[1] In this video and the episodes that followed, iDubbbz reviewed and criticized YouTubers whose videos or actions he deemed hypocritical or unethical. In the period between December 13th, 2015 and October 3rd, 2017, iDubbbz produced a total of eleven Content Cop episodes, including episodes on YouTubers The Fine Bros, KEEMSTAR, LeafyIsHere, Tana Mongeau and RiceGum.
Content Deputy
Content Deputy are subseries produced by iDubbbz in response to those YouTubers who reacted to his Content Cop videos. The subseries include a total of two episodes and include videos recorded by iDubbbz in response to criticisms by LeafyIsHere and RiceGum.
Reception
The Content Cop series received positive responses from viewers, with the series accumulating a total of over 240 million views as of December 11th, 2019, with the Content Deputy episodes accruing over 40.3 million views. As of December 13th, 2019, the Content Cop episode on RiceGum was the most viewed video in the series with over 46 million views.
iDubbbz' stage persona and style of humor of the series has been celebrated by his fans as provocative, ironic and highly satirical, while his critics have slammed his frequent use of racial and homophobic slurs for comedy as lowbrow and offensive.
Controversies
Over the years, the Content Cop episodes resulted in a number of major controversies and feuds involving iDubbbz.
Leafy Feud / #nochin
On September 12th, 2016, YouTuber iDubbbz released a new episode of Content Cop titled "Content Cop – Leafy" criticizing LeafyIsHere's videos and referring to him as a bully. Additionally, iDubbbz frequently mocked Leafy's chin for being small, pointing out that he appears to be trying to hide the part of his face when posing for photographs. After the video was released, many internet users mocked the size of Leafy's chin with the hashtag #nochin. That day, YouTuber Keemstar uploaded a video reporting on the video on the DramaAlert channel (shown below). On December 11th, 2019, the episode was removed by YouTube.
Tana Mongeau Feud
Note: this section contains uncensored references to a racial slur; viewer discretion advised.
---
Tana Mongeau Feud refers to a December 2016 online feud between iDubbbz and YouTube vlogger Tana Mongeau which took off after iDubbbz staged wherein he traveled to San Francisco to attend a VIP meet-and-greet event with Mongeau, during which he approached the celebrity vlogger for a photograph and blurted out "say nigger!" Following the meet-and-greet, Mongeau made accusatory posts against iDubbbz on social media. The feud continued with Mongeau being exposed to have used the slur on previous occasions, and with iDubbbz releasing a Content Cop episode criticizing Mongeau's video for exaggerating their encounter in San Francisco.
RiceGum Feud
RiceGum Feud refers to a October 2017 online feud between iDubbbz and RiceGum. The feud took off after iDubbbz posted a Content Cop episode about the YouTuber, in which he accused RiceGum of being a pompous, lying and unethical braggart. In the Following days, RiceGum posted a response video, with iDubbbz later answering with a Content Deputy episode.
Leafy Episode Removal
On November 11th, 2019, iDubbbz tweeted that YouTube removed the Content Cop episode on LeafyIsHere due to violation of YouTube guidelines (tweet shown below).[2] The removal followed November 7th, 2019, removal of viral Filthy Frank video "Vomit Cake."[3] The removal of the Content Cop video was made in accordance with YouTube anti-harassment policy changes which were promised by the company after the #VoxAdpocalypse and went into effect on December 11th.[4]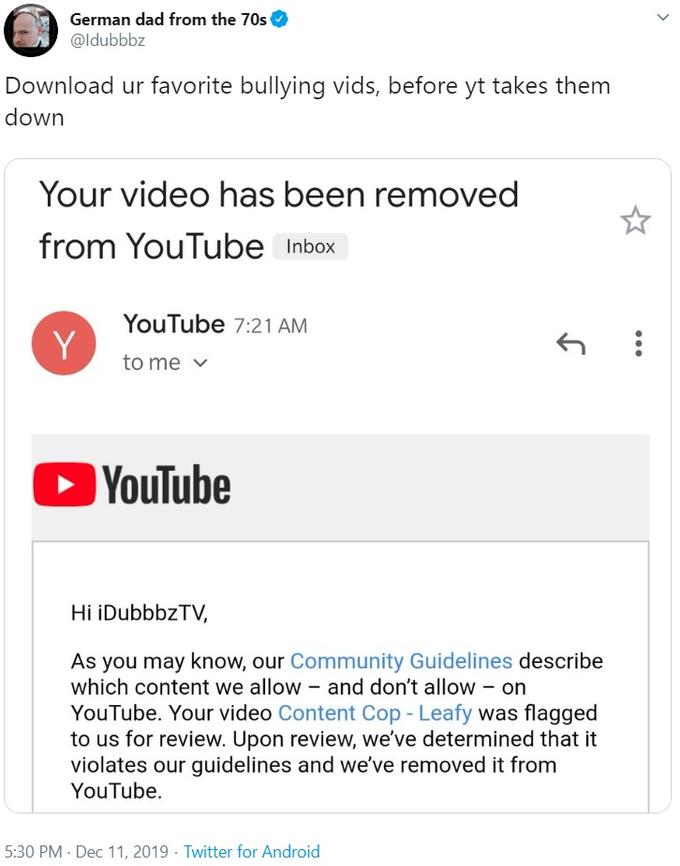 In the following days, the removal became the subject of discussions online. On December 11th, Reclaim the Net published an article about the video being removed, pointing out that the rules were applied retroactively.[5] On the same day, Redditor B-VOLLEYBALL-READY linked the article to /r/KotakuInAction, gaining over 240 upvotes.[6] Also on December 11th, YouTubers Keemstar and Eddy Burback commented on the issue, criticizing YouTube (tweets shown below).[7][8]


Search Interest
External References