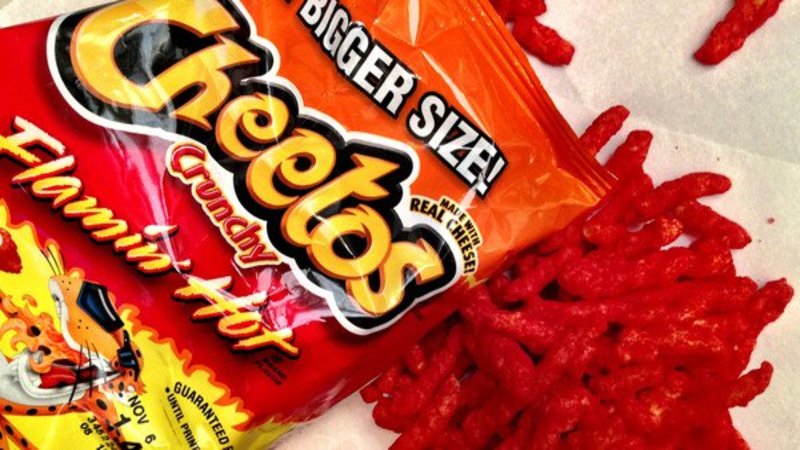 This submission is currently being researched & evaluated!
You can help confirm this entry by contributing facts, media, and other evidence of notability and mutation.
About
Flamin' Hot Cheetos are a type of Cheetos puff snack that are spicier than normal Cheetos. They are frequently referenced in memes for their spicy taste and their creation story has inspired an in-production biopic for their creator.
History
Flamin' Hot Cheetos were invented by Richard Montanez, a janitor at Frito-Lay, the company that produces Cheetos.[1] After realizing there were no products that catered to Latinos, Montanez had the idea to add homemade chili powder to undusted Cheetos. After doing so, he phoned the CEO of the company Roger Enrico and pitched his idea. Flamin' Hot Cheetos hit the market in 1991 and Montanez was named Vice President of Frito-Lay. There are currently five different types of Flamin' Hot Cheetos and it is considered one of Frito-Lay's most popular products.[4]
The product caused controversy in October of 2012 when schools in California, New Mexico, and Illinois banned them, citing how unhealthy they were.[2] Around the same time, CBS[3] reported that the snack was causing kids to go to the emergency room because they saw red in their stool. In January of 2018, a doughnut shop in Michigan sold over 600 "Flamin' Hot Cheeto" doughnuts in two hours.[5]
Related Memes
Flamin' Hot Cheetos are generally referenced in memes for their popularity and spicy taste. While there is no specific style of meme for Flamin' Hot Cheetos, they appear in various templates. In December of 2017, Popsugar[6] ran a compilation of memes related to the product (examples shown below).


Creator Biopic
On February 22nd, 2018, Variety reported that Fox Searchlight pictures had bought the rights to a biopic about Richard Montanez' life.[7] Twitter users joked about the news. For example, Twitter user @cherielovesyou mentioned actor Oscar Isaac was perfect for the part because of his famous photo in which he is seen eating Cheetos with chopsticks (shown below, left). User @MatthewACherry sarcastically congratulated Donald Trump, implying a movie about Cheetos would be about the president (shown below, right).


Search Interest
External References