This submission is currently being researched & evaluated!
You can help confirm this entry by contributing facts, media, and other evidence of notability and mutation.
About
Hydro Flask is a double-wall vacuum insulated water bottle made by a company of the same name. The product gained popularity in 2017 online as a high quality but expensive water bottle. In 2019, the Hydro Flask became link to the VSCO girl trend as one of their main accessories.
History
In 2009, the water bottle company Hydro Flask[1] was founded in Bend, Oregon. On July 30th, 2019, Urban Dictionary[2] user MEMES! defined Hydro Flask as "the basic bitch of water bottles. Typically used by the quirky/annoying girls who say things like, spill the Tea. They'll often protect it with their life despite the fact that it is usually protected by a warranty and they cover the entire water bottle in annoying stickers." The definition gained 382 upvotes and 30 downvotes in a month.
Fandom
In 2017, internet users began commenting on the quality of Hydro Flasks. On April 29th, 2017, @reaIfrosty[3] tweeted, "Me: hi. Person with a hydro flask: Yeah it stays cold all day" (shown below, left). The tweet gained over 25,500 retweets and 78,000 likes in two years.

On August 9th, Redditor cheap_cotton posted an expanding brain image regarding Hydro Flasks to r/memeeconomy[4] (shown below, right). On March 25th, 2018, Redditor ResfWdsfEwro posted a "Preppy Upper-Middle class Highschool Student Starterpack" to r/starterpacks[6] and gained over 11,400 points (94% upvoted) in a year.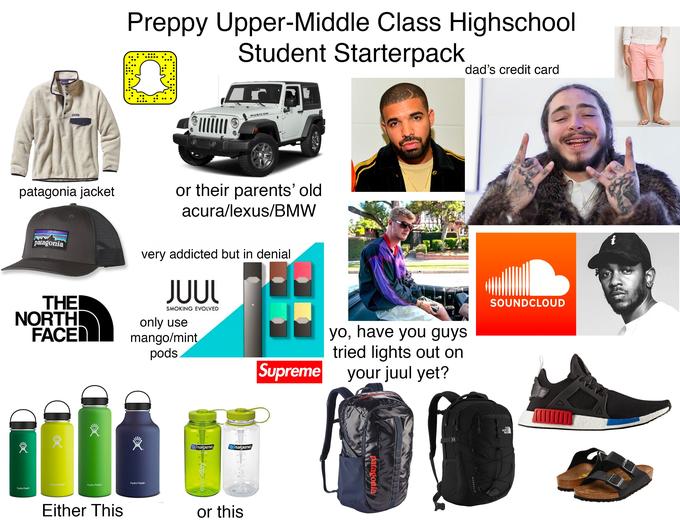 On March 7th, 2019, @renoashaw uploaded an animation about a person taking a long time to unscrew the cap to their Hydro Flask (shown below). The tweet gained over 58,200 likes and 18,100 retweets in five months. Three months later, Redditor SGMFly reposted the video to r/HydroHomies[5] and accumulated over 16,000 points (97% upvoted) in two months.
People with hydroflasks: pic.twitter.com/NbIYi8Po8C

— Reno Shaw (@renoashaw) March 7, 2019
Related Memes
VSCO Girls
VSCO Girl refers to an aesthetic adopted by people who frequently use the VSCO photo editing application. The style is typically associated with a variety of clothing and accessories, including scrunchies, Hydro Flasks, Kanken bags and tube tops, along with a care-free demeanor. In summer 2019, Instagram and TikTok users began posting about sleepovers that abide by the VSCO aesthetic. Hydro Flasks have been associated with VSCO girls since the beginning of the trend with many attaching the hashtag #vscogirl to Instagram posts involving the water bottles (shown below).


In Summer 2019, many TikTok users used Hydro Flasks in their VSCO girl parody videos. On August 7th, @koobydoobydoobydoo gained over three million likes in a month with her VSCO girl video featuring a Hydro Flask (shown below, left). On August 25th, @amberdaphnee uploaded another VSCO girl video which gained over 47,800 likes in a two weeks.
Search Interest
External References
Recent Videos
There are no videos currently available.