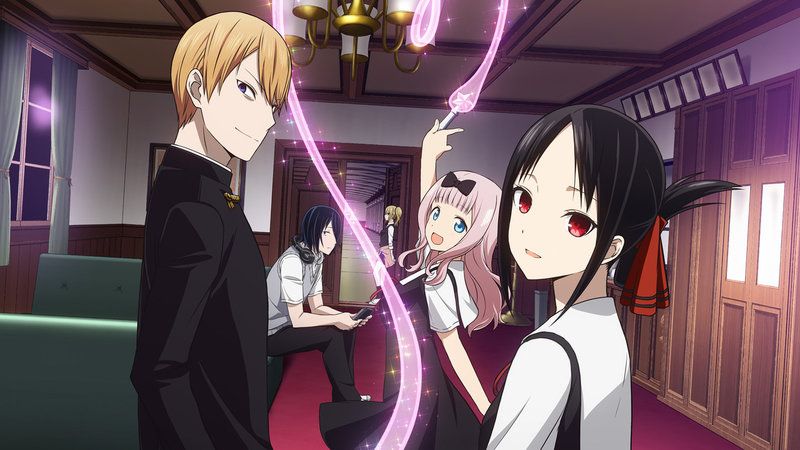 About
Kaguya-Sama: Love is War is a Japanese seinen manga and anime series. The series follows a love battle between high school students Kaguya Shinomiya and Miyuki Shirogane as they attempt to trick each other to be the first one to confess, using various tricks and schemes along the way.
History
On May 19th, 2015, the first issue of seinen manga Kaguya-Sama: Love Is War (Kaguya-sama wa Kokurasetai – Tensai-tachi no Ren'ai Zunōsen, literal translation: Kaguya Wants to be Confessed to: The Geniuses' War of Love and Brains), written and illustrateed by Aka Akasaka, premiered in Shueisha's Miracle Jump magazine.[1] The manga focuses on stories of high school student council vice-president Kaguya Shinomiya and president Miyuki Shirogane as they attempt to trick one another into confessing love first.


On June 1st, 2018, Shueisha announced the anime series adaptaion of the manga, directed by Mamoru Hatakeyama and animated by A-1 Pictures.[2] On January 12th, the first episode "I Will Make You Invite Me to a Movie" of the series premiered in Japan.[1]
On February 21st, 2019, Shueisha announced a live-action adaptation of the series.[3]
The series concluded on March 30th, 2019 with a total of 12 episodes aired.
Reception
As of April 20th, 2019, Kaguya-Sama: Love Is War anime maintained a 8.54 rating on MyAnimeList with 115,000 votes submitted.[4] On IMDb, the anime had a rating of 8.0 based on over 470 votes.[5]
Related Memes
Chika Dance refers to a dance performed by character Chika Fujiwara in episiode three "Miyuki Shirogane Still Hasn't Done It" of the anime. After airing, footage of the dance was remixed with other music while some users copied the dance in popular YouTube videos.
Sick Kaguya, also known as Smol Kaguya, refers to a series of images from episode nine "Kaguya Wants to Give a Gift" of the anime in which Kaguya is shown lying in bed with cold. Following the release of the episode, the still images gained popularity as reactions and exploitables in the anime community.



Search Interest
External References
Recent Videos
There are no videos currently available.