About
The Monogatari Series is a series of Japanese Romance/Supernatural light novels written novelist Nisio Isin. Ever since the series creation, it has garnered a significant online following, in particular around the anime adaptation, which is produced by Shaft.
Premise
The Monogatari Series revolves around Koyomi Araragi, a high school student who's almost human after briefly becoming a vampire. The story begins when Koyomi meets the reclusive Hitagi Senjōgahara, a girl who has an unusual problem due an affliction with an oddity. After discovering about her secret, Koyomi decides to help her. As the series progresses Koyomi finds himself involved with other girls, each afflicted by different "oddities" such as the ghost of a little girl named Mayoi Hachikuji, his underclassman Suruga Kanbaru, Nadeko Sengoku, a friend of his sisters, his classmate Tsubasa Hanekawa and his own younger sisters Karen and Tsukihi.
History
The Monogatari Series originally started out as a series of short stories, written by Nisio Isin for Mephisto magazine, which first started circulation on August 10, 2005. Then, in 2006, the previously published stories of Bakemonogatari, along with some new ones, were compiled into the first two volumes of the series. Since then, there has been a total of 17 novels based on the franchise, spanning a total of 3 sagas. An anime adaptation, created by anime studio Shaft, also began airing between July 3 and September 25, 2009, animating the Bakemonogatari. As of May, 2014, there has been an adaptation of the Nisemonogatari arc, which aired between January 7 and March 17, 2012, a 4 episode adaptation of Nekomonogatari (Kuro) which aired on December 31, 2012, a second season which aired between July 6, and December 28, 2013, as well as an upcoming 4 episode adaptation of Hanamonogatari, which will air on August 16, 2014, as well as an anime movie based on Kizumonogatari, with the aim to animate the entire series. As well as this, there has also been a number of Video game and Audio Dramas produced, based on the series.
Reception
Overall, the Monogatari franchise has received positive reception. In the 2009 issue of Takarajimasha's light novel guide book Kono Light Novel ga Sugoi!, the light novel series ranked sixth, later going on to rank second the following year. The anime adaptation also garnered much positive reception, winning the Users' Special Award in the 2nd annual DEG Japan Awards[1]. The series also garnered a positive critical reception, with Anime News Network reviewer Theron Martin, on the topic of the original anime adaptation, stating that the series is "visually and verbally ambitious"[2].
Online Relevance
In North America, the Monogatari franchise is licensed by Aniplex of America, with the second season available for streaming on Crunchyroll[3]. The series has gained a large online following on many sites, including on Tumblr[4], Reddit[5], 4chan's /a/ (Anime and Manga) board[6], Fanpop[7], My Anime List[8], and DeviantART[9]. There are numerous sites that provide episodic information about the series, such as the Monogatari wiki[10], TV Tropes[11] and Anime News Network[12]. In addition, the Monogatari Facebook page also has over 15,000 likes[13].
Fandom
The Monogatari series has spawned a significant online fanbase since it's creation, which has created much fanart and fanfiction. On the Japanese fanart site Pixiv, there are over 23,000 images tagged under "化物語"[14], as well as over 6,000 videos on the video sharing website Nico Nico Douga[15]. On DeviantART, there are also over 8,000 images tagged related to the series[15].
Related Memes
Renai Circulation
Renai Circulation (Japanese: 恋愛サーキュレーション; lit. Love Circulation) refers to a series of Anime Opening Parodies based around the fourth opening theme of the original Bakemonogatari anime. Although the opening theme was only used for one episode, the song grew in popularity online, spawning many parodies.
Platinum Disco
Platinum Disco (Japanese: 白金ディスコ, Purachina Disco) refers to a series of Anime Opening Parodies based around the opening to the Nisemonogatari iteration of the anime. The song grew in popularity on the Japanese video sharing service Nico Nico Douga, spawning many parodies.
Shaft Head Tilt
Shaft Head Tilt (Japanese: シャフト角度, Shafuto Kakudo; abbr. シャフ度, Shafudo; lit. "Shaft Angle"), refers to a pose that often appears on anime franchises produced by the studio Shaft. The first instance of this posing which caught the attention of many anime viewers is the head tilt by Hitagi Senjougahara, during the original Bakemonogatari series, and has since spawned many parodies.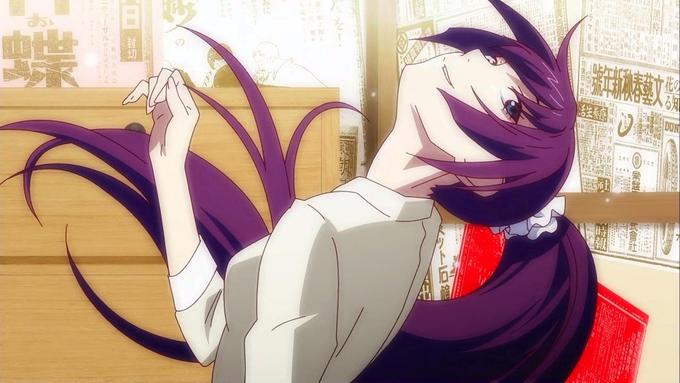 Search Interest
External References