This submission is currently being researched & evaluated!
You can help confirm this entry by contributing facts, media, and other evidence of notability and mutation.

About
Payday: The Heist is a 2011 cooperative first-person shooter by Overkill Software, in which players rob banks, break into vaults, fight law enforcement, hold hostages and use stealth to complete a variety of missions.
History
On October 18th, 2011, Payday: The Heist was digitally released by Sony Entertainment for the PlayStation 3 in North America, followed by a PC release two days later. On August 7th, 2012, the Downloadable Content (DLC) pack "Wolf Pack" was released, which added additional weapons, two new missions and a new skill tree. On August 13th, 2012, the sequel Payday 2 was released by Starbreeze Studios for the PC, PlayStation 3 and XBOX 360 platforms. As of September 10th, 2015, Payday 2 has released 37 paid DLC packs, some of which were co-developed by the company Lion Game Lion.
Fandom
The Payday series has gained much popluarity online due to its unique gameplay and characters, having sold more than 9,000,000 copies worldwide. Overkill Software has rewarded the online community multiple times by providing free additional content upon reaching sale milestones or anniversaries.[5] On October 18th, 2011, YouTuber UberHaxorNova uploaded a Let's Play video for Payday: The Heist, in which he finds an oversized toothbrush in a bathroom (shown below). A few months later, Overkill updated the game with a larger toothbrush, and included a sharpened toothbrush melee weapon labeled "Nova's Shank" in Payday 2.[6]
Fan Art
On Deviantart, over 7,800 artworks have been tagged with the keyword "Payday."[7]



Crimefest
Starting in October 2012, a "Crimefest" event celebrating the Payday franchise has been held. The first event was relatively small, including clues for a picture which contained clues for an in-game challenge titled "Overdrill ARG." In 2013, the event came with new content including a mask and a 33% increase in experience points. In 2014, Crimefest implemented a system which increased rewards based on the number of subscribers to the Payday 2 Steam group, including a handheld shotgun, the Captain Winters character and the "Hoxton Breakout" mission.[8] In 2015, Crimefest used a challenge system where players would have to work together and complete milestones in-game to unlock rewards.[9]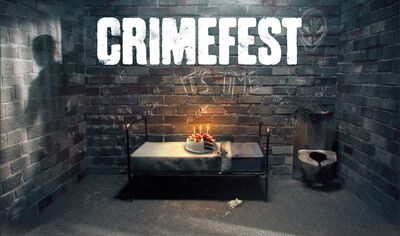 Reception
Payday: The Heist has received generally positive reviews, receiving a 7.5/10 score from GameSpot, a 8/10 from Eurogamer[1] and a 94% on Steam.[2] Payday 2 received a 8.3/10 score from IGN, a 8/10 from Push Square[3] and a 93% on Steam.[4] However, many players have reacted negatively to the game's expensive DLC packs and introduction of microtransactions.


2015 Crimefest Controversy
On October 15th, 2015, Overkill released the trailer for the year's Crimefest update, revealing that in an upcoming "Black Market Update" microtransactions would be would added for gun skins that provide boosts to player damage and stability (shown below). In the game, players would receive safes that could only be opened using a drill item bought using real world currency. The update drew inspiration from Counter Strike: Global Offensive which has an identical system.
The update was quickly met with negative reception, who criticized the update as a "pay-to-win" money grab.[11] Additionally, the update contained a number of game changes that caused various game-breaking bugs. That day, Redditor Jesoph submitted a post titled "Fuck you overkill" to /r/PayDayTheHeist,[11] where it gained over 4,900 votes (93% upvoted) and 1,000 comments in the first 24 hours. By the following day, the game's Steam[2] page was flooded with negative reviews. Alongside, many players were also negative due to earlier statements by Overkill from 2013, when they promised the game would not have microtransactions on the Steam forums in May of that year;[13] which was also confirmed by Gamespot the month after (shown below).[14] Due to the amount of backlash, drills became random drops alongside safes with a smaller drop rate. On June 2, 2016, in celebration of the game's 100th update, safes and drills made prior to the update stopped dropping, and all future safes could be opened without having to purchase drills.

Related Memes
Look at This! I'm Rich!
Look at This! I'm Rich! is a memorable quote uttered by the character Hoxton in the trailer for the "Hoxton Breakout" update for Payday 2. The scene was well-received by fans, and spawned a set of edits, usually manipulating a dollar bill.


Guys, The Thermal Drill, Go Get It
"Guys, The Thermal Drill, Go Get It" is a quote uttered by the party's manager, Bain, that is triggered if players take too long to pick up a thermal drill device in the "Bank Heist" mission. Many players were annoyed by the quote, often mentioning it in user reviews and parodies.

Search Interest
External References