Take a Fucking Sip, Babes
About
"Take a Fucking Sip, Babes" is a an expression referencing an image of Kermit the Frog sipping a mug of tea, which is typically used to patronizingly indicate that someone is ignorant or naive.
Origin
On October 24th, 2016, Tumblr user praisejeebus[2] posted a screenshot of a tweet by Twitter user @thugyonce,[1] claiming that Beyoncé Knowles was the "first female artist under 40 with an 'é'" at the end of her name to have a child named Blue born on January 7th," followed by the caption "Take a fucking sip babes" along with a steaming cup and frog emoji (shown below). Within three months, the post gained over 34,200 notes.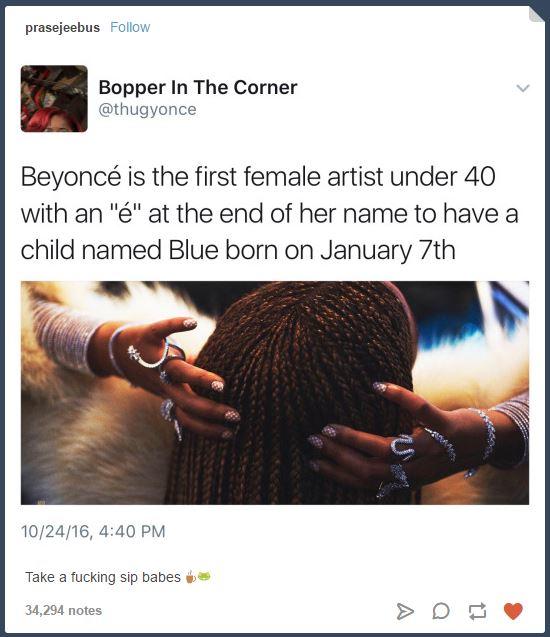 Spread
On November 17th, 2016, Tumblr user adobekillustrator posted "take a fucking sip from your trusty vault 13 canteen babes," in reference to the video game series Fallout. Tumblr user cattgirl subsequently reblogged the post along with a photoshopped image of a Fallout notification (shown below). Within six weeks, the post gained over 8,700 notes.

On December 12th, Redditor conjunctionfunktion submitted a post asking "what does 'take a fucking sip, babes' mean?" to /r/OutOfTheLoop.[5] On December 18th, Tumblr user nukachemistry[3] posted a photograph of the "Star Wars": character C-3PO with a straw in mouth captioned with "take a fucking sip, babes" (shown below). Within two weeks, the post garnered more than 53,000 notes.

Search Interest
External References
Recent Videos
There are no videos currently available.