"Take Me Home, Country Roads"
About
"Take Me Home, Country Roads" is a popular song by American folk artist John Denver. Released in 1971, the song has remained relevant in popular culture and has been referenced in numerous memes.
Origin
"Take Me Home, Country Roads" was releases as a single by Denver on April 12th, 1971, peaking at #2 on the Billboard US Hot 100 charts.[1] The song was certified Gold by the RIAA later that year and certified Platinum in 2017.
Spread
The song remained popular in American culture over the course of the following decades. In West Virginia, the song quickly became a state anthem. It has been played before every West Virginia University football game since 1972. The West Virginia State Legislature made it one of the state's official state songs in 2014. It was covered by singer Olivia Newton-John in 1973 (shown below).
The song has been referenced multiple times in popular culture in the decades following its release. For example, the song was played by Andy, Dwight, and Erin in an episode of The Office (shown below, top left). It began seeing markedly more use in films in 2017. For example, it was used in a pivotal moment in the film Logan Lucky (shown below, top right), a scene in Kingsman: The Golden Circle (bottom left), and a scene in Alien: Covenant (bottom right). The surge in usage led to an article in Vulture[2] about the phenomenon that year.
For video gamers, the song was most notably used in the trailer for the upcoming Fallout 76 (shown below).
Meme Usage
The song started seeing increased use in memes in the spring of 2018, perhaps due to the song's use in the Fallout 76 trailer. KnowYourMeme user William, Lord of Dimentions created an Ok, Bye Mom variation referencing the song and the trailer on May 30th, 2018 (shown below, left). Additionally, memes about the song on Reddit will often feature comments referencing the game. A post on /r/memes_of_the_dank using breath in Boi has a comments section talking almost exclusively about the upcoming Fallout game.[3]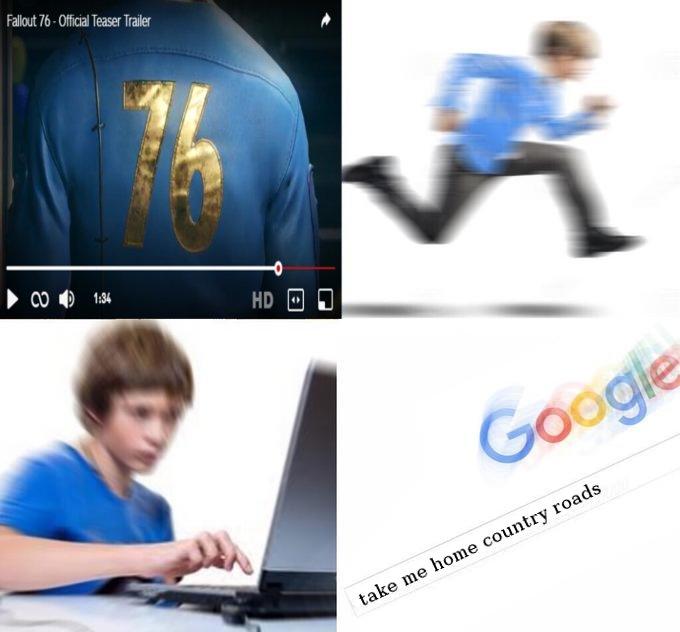 Various Examples






Search Interest
External References