This submission is currently being researched & evaluated!
You can help confirm this entry by contributing facts, media, and other evidence of notability and mutation.
I'm with COCO
In 2004 Conan O'Brian agreed to a new contract that included taking over "The Tonight Show" in 2009 from Jay Leno. Prior to the June 1st premiere of "The Tonight Show" with Conan, Jay Leno expressed not wanting to quit, discussing he could leave to a rival network. In a move to avoid losing Leno's audience to competition and to save money on their failing late night scripted shows, NBC gave Jay Leno his own prime time show "The Jay Leno Show".

Leno's show, despite costing far less then scripted programing failed in ratings and with critics, the local affiliates were soon angry that Leno's show was not drawing in enough people to their local news. Conan soon began losing in the ratings competition to David Letterman, something Leno had not done in many years, this was however partly because of his transition to a new time slot and have a ratings bust (The Jay Leno Show) lead into his program. NBC decided they had no choice to pull the plug on "The Jay Leno Show" and still not wanting to lose him to competition, declared they intended to move him back to the 11:35 time slot held by "The Tonight Show". This would push Conan back thirty minutes, thus changing the start time of "The Tonight Show" for the first time in over 60 years and once again make Leno the headline star rather then Conan. Currently chaos has erupted as Conan refuses to move this show later, possible breach of contracts and courting from rival networks for Conan (FOX). It is still undecided whether Conan will move his start time, stay where he is, move to a new network or be held in limbo for the remaining three years of his contract. The media and internet communities are abuzz with the situation where most media and celebrities seem to greatly favor Conan in the argument.

The image of "I'm with COCO" was created by Mike Mitchell an LA based designer who created the image in support of Conan O'Brian and the NBC late night situation. It is the image used by many Facebook and Twitter groups and accounts showing support for Conan during the situation between him Jay Leno and NBC. Variations are popping up, including "I'm with Arsenio" and "Team Conan". The image itself is described as similar to the iconic image of "Hope" featuring Obama during the '08 election. Mike Mitchell was recently interviewed by Entertainment Weekly about the image. The Facebook Group "I'm With COCO" (headed by Mitchell himself) gained hundreds of thousands of followers within days of its creation and as of January 26th, 2009 has more than 800+ thousand members. The group held rallies for Conan across the United States in New York, LA, Chicago and Seattle on Martin Luther King Day, with thousands in attendance.
Team Coco Facebook Groups
There are MANY facebook groups dedicated to support of Conan O'Brien, the largest of which is "I'm with Coco" with over 991,000 members, calling itself The official "I'm with Coco" fan page. Run by Mike Mitchell & friends. The Official group posts classic Conan videos daily as well as updates on all the latest Conan news. It has held two Cocoshopped photoshop contests and features nearly 10,000 fan submitted photos.
I'm With Coco
I'm With Coco
I'm With Coco
I'm With Coco
I'm With Coco
I'm With Coco
I'm With Coco
I'm With Coco
I'm With Coco
I'm With Coco
Team Coco
Team Coco
Team Coco
Team Coco
Team Coco
Team Coco
Team Coco
Team Coco
Team Coco
Team Coco
Team Coco
Team Coco
Team Coco
Team Coco
Team Coco
Team Coco
Team Coco
Demonstrations
According to the Chicago Tribune, "O'Brien's biggest Chicago supporters will hold a rally at 4:30 p.m. Monday on NBC's Michigan Avenue doorstep to deliver a message to the network."
Other rallies were held in New York, LA, Chicago and Seattle outside of NBC affiliate stations and The Tonight Show Studio.
The Daily What features a picture of Conan meeting fans.

Videos of Demonstrations
On Twitter
Tweets containing either the #teamcoco hashtag or otherwise mentioning "team coco" peaked at birth, on January 12th, 2010. The second highest peak for both terms came on January 14th. Both peaks coincided with peaks for overall mentions of Conan on Twitter.
As of Monday, January 18th, 2:48 PM EST tweets about Conan are remaining relatively sustained, although tweets for #teamconan and "team conan" have largely subsided.
Mentions of Leno on Twitter have had nearly equal traction as Conan on Twitter, although the tone of those mentioning Leno seem to range from critical to neutral.
After Tonight Show
Twitter Account
Starting February 24th, 2010 Conan started a Twitter account (http://twitter.com/ConanOBrien) and has posted everyday since. He has over 846,000 followers and is following only one person, Sarah Killen, and has stated they will be "Twitter pals 4 eva! :)".
The Legally Prohibited From Being Funny On Television Tour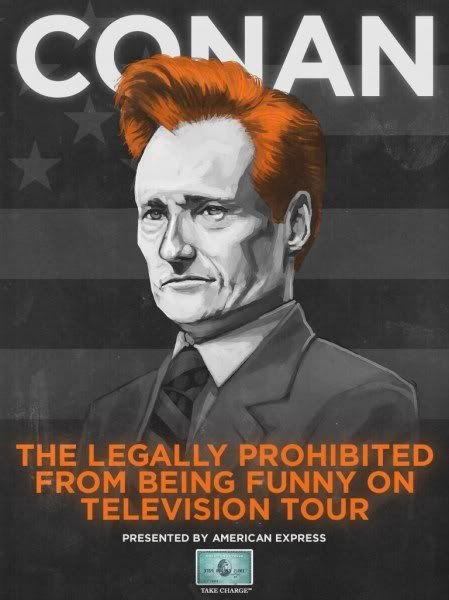 On April 14th, 2010 Conan kicked off "The Legally Prohibited From Being Funny On Television Tour" in Vancouver, BC and will end on June 14th, 2010 in Atlanta, GA. The tour will help fill the lack of televised Conan as per the conditions in his exit contract from NBC stating he can't return to the TV until at least September 2010. All info for the tour and tour dates can be found on http://teamcoco.com/ where you can find video blogs and twitter updates.
TBS
April 12th, 2010 Conan announced this new show will air on TBS, not FOX like many anticipated after the NBC break. Though FOX wanted to add him to the network, local affiliates stated they wanted to keep syndicated programming due to standing contracts to air the show, as well as them being more profitable for the affiliates then a nationally televised show. George Lopez who currently holds the late night talk show slot for TBS called Conan and helped convince him to join the network. Conan will take Lopez's slot and George will be pushed back an hour, he claims to be happy with the move as Conan will provide an excellent lead in for him. The Show is scheduled for a November 2010 start, and will run one hour long. The announcement features the "I'm with Coco" image.