The Great Toilet Paper Debate

About
The Great Toilet Paper Debate is a popular discussion topic regarding the proper orientation of a toilet paper roll with respect to the bathroom wall, which can be either hung over (away from the wall) or under (close to the wall) the toilet roll holder. On forums and message boards, the debate has become notorious for its tendencies to ignite a flame war or attempts at trolling, despite the prevailing consensus that it is simply a matter of personal preference.
Origin
One of the earliest known discussions of the toilet paper orientation was published in Barry Sinrod and Mel Poretz's 1989 book The First Really Important Survey of American Habits,[1] in which the author asserts that 68% of the surveyed Americans preferred to have their toilet paper hang over the top of the roll. One of the earliest online discussions can be traced back to June 1997, when a Purdue University student known as "Nads" created a personal homepage[12] (shown below) with a poll allowing people to share their opinions.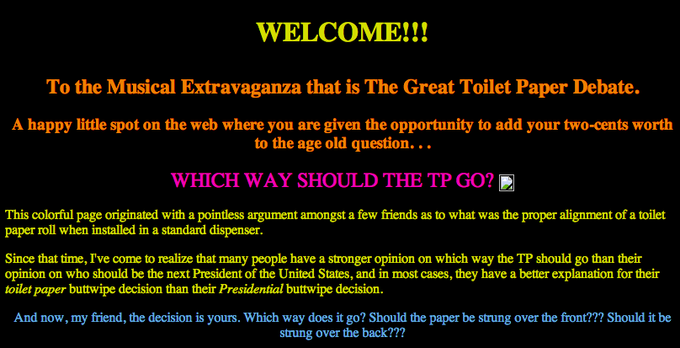 Spread
On January 1st, 1998, Usenet user L.M. started a discussion on the topic in the newsgroup news.newusers.questions,[11] where it spawned nearly 20 responses of varying opinions. Sometime prior to December 2001, an Angelfire[3] poll page was created to survey people's personal preferences. In February 2004, another poll was set up on the Democratic Underground[13] forums, which generated nearly 80 responses. In February 2005, personal blogger Chris Rugen[14] published a lengthy blog post attempting to explain why letting the roll hang over was the correct method, citing advantages in visibility and tearing room.



By October 2005, the debate had made its way to Reddit[15] for the first time, although the post failed to draw any attention or comments. Since then, more than 100 posts relating to this topic have appeared on Reddit.[2] On March 9th, 2006, the debate reached Yahoo! Answers[7] for the first time, followed by similar discussions taking place on AnswerBag[9] in January 2007 and Flickr in April 2008. Between 2009 and 2012, the debate continued to spread across popular forums and message boards, including Part Time Poker Staking[16], GameSpot[8], BodyBuilding.com[17] and Bungie.net.[18] In May 2011, EngineeringDegree.net[19] produced an infographic breaking down the advantages of each method, which was later featured on the data visualization blog Visual.ly (shown below).[20]


The Cottonelle Challenge
Cottonelle, an American toilet paper company, used the debate as part of an advertising campaign (shown below) in 2010. Titled "The Cottonelle Roll Poll," the company set up on online poll to find out which method Americans preferred, attracting more than 500,000 voters. At the conclusion of the campaign, the company found that 72% of voters chose the "over" method.[21]
Search Interest
External References