This entry contains content that may be considered sensitive to some viewers.
About
The Horse Video refers to a leaked bestiality video of an unknown man getting penetrated by a white horse. In early November 2023, the video went viral on X and other social media platforms, being spread as shock media and subsequently inspiring memes and reactions online. While the clip claims that the man's name is Michael Hanley, his identity has not been confirmed.
Origin
On November 1st, 2023, a video of a man wearing an orange shirt and grey cargo shorts having sexual intercourse with a small white horse went viral on social media, most notably on X / Twitter. The earliest discovered viral post containing the video was made at approximately 5 p.m. EST by X[1] user @sully199011 but has since been removed.
In the 30-second video (still images shown below), which was filmed inside a stable, a man dressed in an orange shirt and grey cargo shorts pets a small white horse, likely a pony, before checking if the animal is aroused, pulling down his pants and turning his back towards the horse. The horse proceeds to mount the man and penetrates him, with the man then moaning. The face of the man in the video is notably blurred.
The video contains two captions reading "Michael Hanley left his phone in the pub look what he was doing" and "Always keep a password on your phone," giving an impression that the video was leaked from a phone accidentally left by the person who filmed themselves having sex with the horse.


Identity
Since the caption of the video claims that the man is Michael Hanley, some users online assumed that the person in the video might be Michal Hanley from Dublin who owns a carriage service and has frequently shared photographs of horses on his social media. However, the person in the video does not have a tattooed sleeve while Hanley does, meaning that it's likely a different man (examples seen below).[2][3] As of November 2nd, 2023, his identity remains unknown.


Spread
The viral spread[4] of the video as shock media was immediately followed by memes and reactions on social media, most notably on X / Twitter. For example, on November 1st, 2023, X[5] user @ayeejuju posted a Thousand Yard Stare reaction image that received over 1,200 reposts and 24,000 likes in two hours (shown below, left). Later that day, the meme account @ExtremeBlitz__ posted a Yellow Emoji in Darkness reaction image that received over 1,400 likes on X[6] in one hour (shown below, right).


Related Memes
The Frog Video
The Frog Video refers to a viral shock video showing a reversed frog extraction from a woman's vagina. In early November 2023 the video rapidly spread on X / Twitter after numerous users began to post and talk about it following the initial shock of "The Horse Video" that similarly trended online around the same time. The graphic clip elicited similar reactions and memes, with many swearing off social media as a result of it or generally expressing their disgust.

The Fish Video
The Fish Video is a viral video and name given to a yet unspecified piece of shock media circulated on X / Twitter in early November 2023. The phrase could refer to a clip originally called 2 Guys 1 Fish in which a man is fellated by a fish, but it could also refer to another piece of shock media called Girl With A Trout. "The Fish Video" was notably part of a series of shock videos that went viral in late October and early November 2023, a trend that began with The Horse Video and continued with The Frog Video, among others, which each generated significant discourse and reaction memes on social media.

Mr. Hands
Mr. Hands is the colloquial name of a viral 2005 zoophilic pornography film in which the horse performs anal sex on the nickname Kenneth Pinyan, who died of a perforated colon as a result of having sex with a horse. Pinyan, partner James Michael Tait and an unidentified third participant made numerous videos of this nature and became the subject of the Enumclaw Horse Sex Case, which inspired a documentary film entitled Zoo in 2007. Tait was later convicted of trespassing. Video of Pinyan having sex with the horse soon became the subject of reaction videos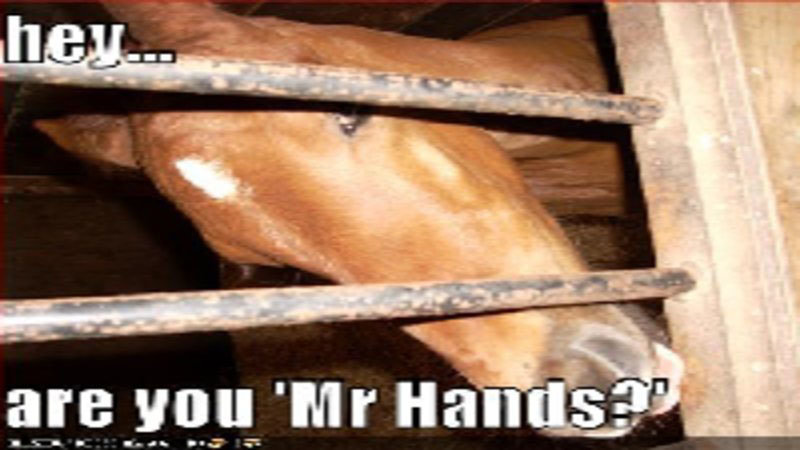 Various Examples
Just seen the horse video… pic.twitter.com/zV2V4GjF9j

— H (@TheLiverpoolEra) November 1, 2023
"Dad how was life before you saw that horse vid on November 1st 2023" pic.twitter.com/rCrRiqu8Zl

— Iman (@UTDIman) November 1, 2023
Search Interest
External References
All Videos
This gallery contains videos that may not be suitable for public viewing.
All Images 9 total
This gallery contains images that may not be suitable for public viewing.