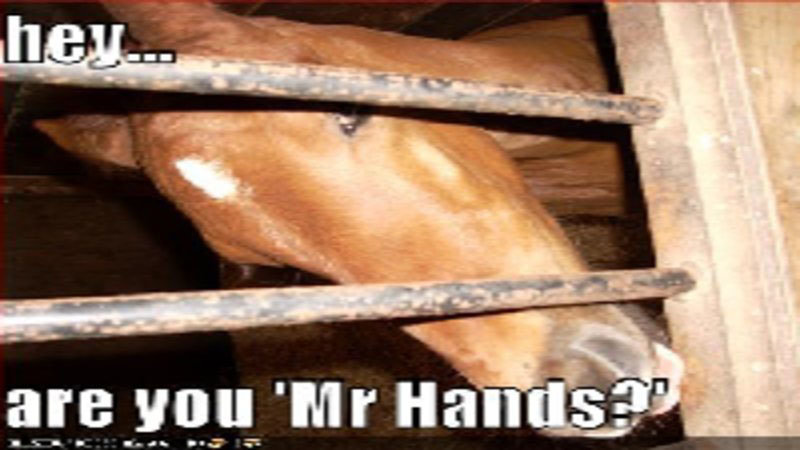 Warning: This page contains material that may be considered not safe for work.
Content Warning: The following entry contains graphic material.
---
About
Mr. Hands is the colloquial name of a viral 2005 zoophilic pornography film in which the horse performs anal sex on the nickname Kenneth Pinyan, who died of a perforated colon as a result of having sex with a horse. Pinyan, partner James Michael Tait and an unidentified third participant made numerous videos of this nature and became the subject of the Enumclaw Horse Sex Case, which inspired a documentary film entitled Zoo in 2007. Tait was later convicted of trespassing. Video of Pinyan having sex with the horse soon became the subject of reaction videos similar to 2 Girls 1 Cup in which people film themselves watching Pinyan's videos.
Origin
On July 15th, 2005, the Seattle Times[1] reported that an investigation into the owners of an Enumclaw farm was under investigation, following the July 2nd death of a man from "to acute peritonitis [that resulted from the] perforation of the sigmoid colon during anal intercourse with a horse."[2][3] Because bestiality was not illegal in Washinton state and the horse was not injured, police did not "believe a crime occurred." The farm was the subject of conversation on numerous internet chat rooms as a "destination for people looking to have sex with livestock." Investigators found hundreds of hours of videotape of men having sex with horses on the farm.
Spread
Prosecution of James Michael Tait
On December 4th, 2005, James Michael Tait pleaded guilty to trespassing in the case related to the death of Kenneth Pinyan. Accused of entering the barn without the owner's permission, Tait told investigators that he and Pinyan traveled there numerous times to videotape sexual acts with horses. He received a "one-year suspended sentence, a $300 fine, and ordered to perform eight hours of community service and have no contact with the neighbors."[4]
Zoo (Documentary)
On May 8th, 2007, a documentary about Enumclaw sex case and Kenneth Pinyan premiered.[5] The film received a 60% fresh rating on the review aggregator Rotten Tomatoes [6] (trailer below). The site's critics consensus reads, "While a marginally fascinating look at a taboo subject, Zoo is bogged down by its overly artistic presentation."
Reaction Videos
Video of Pinyan having sex with Mr. Hands soon found its way onto the internet, becoming the subject for several reaction videos. as well as image macros and posters.
On December 4th, 2007, YouTuber slinkar3 posted one of the earliest Mr. Hands reaction videos still available. Within 14 years, the video received more than 42,000 views (shown below, left).
Following the viral success of 2 Girls 1 Cup, people began posting the reaction videos under the name "2 Guys 1 Horse." On April 12th, 2008, YouTuber Alonzo Lerone posted a reaction that received more than 1 million views in less than 13 years (shown below, right).
Various Examples
Search Interest
External References