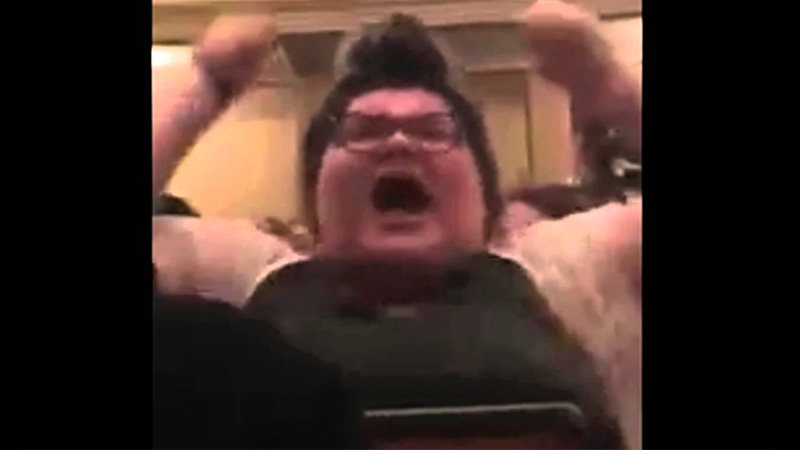 About
Trigglypuff is the nickname given to a Hampshire College student who was recorded loudly protesting in the audience of a University of Massachusetts Amherst event titled "The Triggering," which featured a discussion criticizing politically correct movements on campus hosted by conservative vlogger Steven Crowder, Milo Yiannopoulos[4] and Christina Hoff Sommers.
Origin
On April 25th, 2016, student protesters began loudly shouting at speakers during "The Triggering" event held at UMass Amherst, with many accusing the hosts of "hate speech." Among them was an enraged female student who was recorded repeatedly yelling while flailing her arms at host Christina Hoff Sommers. On April 26th, 2016, the campus news site Campus Reform[3] posted an article about the incident and uploaded a recording of the event to YouTube[1], gathering over 786.000 views within 48 hours.
Spread
The following day, Redditor Herelam uploaded the CampusReform video to the /r/KotakuInAction[11] subreddit, where many mocked the student protester for behaving erratically. In the first 24 hours, the post garnered upwards of 2,000 votes (93% upvoted) and 690 comments. Also on April 26th, Twitter user @MikeMa_ posted a short video clip of Yiannapoulos reacting to a clip of the student (shown below). Within 48 hours, the tweet gathered upwards of 2,900 likes and 1,400 retweets.
Milo reacts to footage of his protesters pic.twitter.com/U8547bi2Yj

— Mike Ma (black) (@MikeMa_) April 26, 2016
Meanwhile, YouTuber Alfred Alfer uploaded an remix featuring clips of the student set to the tune of the song "Dragostea Din Tei" from the viral video Numa Numa (shown below, left). On April 27th, 2016, YouTuber Students of Odin posted an edited clip of the incident titled "The Legend of Trigglypuff," which subsequently reached the front page of the /r/PoliticalVideo[10] and /r/videos[13] subreddits (shown below).
The same day, a thread about the event was created on 4chan's /pol/ (politics) board,[5] where many mocked the student for her attitude and appearance. In a subsequent /pol/ thread, a 4chan user nicknamed the student "Trigglypuff," a portmanteau of "trigger" and the Pokémon creature Jigglypuff (shown below).[6]

A thread dedicated to Trigglypuff was created on /pol/ the same day,[7] and was subsequently reposted on the /r/4chan[8] subreddit. Meanwhile on Twitter, many users began mocking the student in tweets accompanied by the hashtag "#TrigglyPuff".[2][9]

On April 28th, Redditor skincube uploaded a parody Garbage Pail Kids trading card of Trigglypuff to the /r/KotakuInAction[12] subreddit (shown below). The same day, the /r/TrigglyPuff[14] subreddit was launched for discussions about the student. Meanwhile, a page titled "Trigglypuff" was launched on Encyclopedia Dramatica.[15]

Search Interest
External References