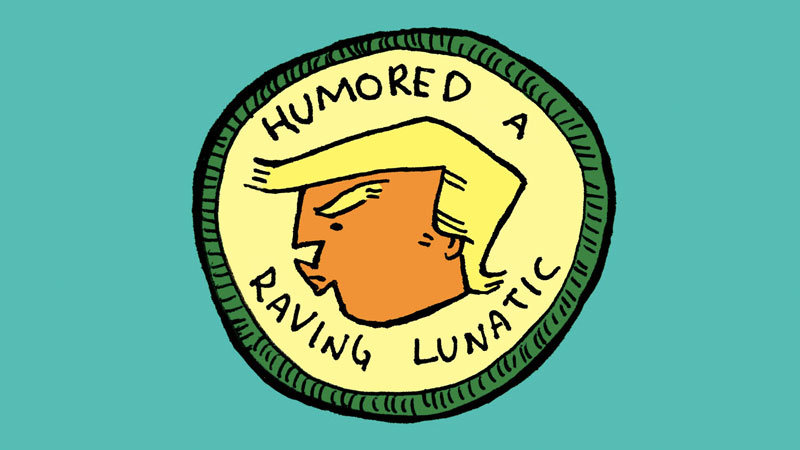 This submission is currently being researched & evaluated!
You can help confirm this entry by contributing facts, media, and other evidence of notability and mutation.
About
#TrumpScoutBadges refers to a series of parodies, jokes and photoshops inspired by United States President Donald Trump speech at the 2017 Boy Scout Jamboree organized under the Twitter hashtag #TrumpScoutBadges. The jokes come in the form of various scout-style merit badges that make reference to President Trump's politics, history and controversies.
Origin
On July 24th, 2017, President Donald Trump delivered a speech before the Boy Scouts of America at the annual Boy Scout Jamboree at The Summit Bechtel Family National Scout Reserve in West Virginia.[1]
The day of Trump's speech, one Twitter user began using the hashtag "TrumpScoutBadges. It is the earliest known use of the tag. In a tweet (shown below), Twitter user @uneedlogic wrote, "Pussy Grabbing Badge." The tweet received more than 20 retweets and 75 likes.[2]

Spread
The following day, the hashtag went viral following a cartoon posted by The New Yorker magazine, which pointed out some of Trump's supposed badges. On Twitter and their website, the New Yorker posted their Daily Cartoon, a Boy Scout sash filled with badges based on Trump's personality, mocking his appearance and lifestyle. The post (shown below) received more than 2,100 retweets and 3,000 likes in 24 hours.[3] On Facebook, the post received more than 25,000 reactions and 20,000 shares in under 24 hours.[4]

Throughout the day, users continued to post photoshops and jokes about what a Trump merit badge might be. Others pointed to the fact that Trump had no merit badges because he was not a scout (examples below)



Several media outlets covered the hashtag and mock badges, including USA Today,[6] Bustle,[7] Elite Daily[8] and more.
Similarly, The Washington Post newspaper published a satirical article entitled "A guide to Boy Scout ranks and badges, revised for Trump Scouts" that morning.[5]
Various Examples






Search Interest
External References
Recent Videos
There are no videos currently available.