Trust Nobody, Not Even Yourself
About
"Trust Nobody, Not Even Yourself" is an exploitable catchphrase associated with a photoshopped image of a teenage boy pointing a gun at a clone of himself that went viral online in September 2014.
Origin
The original image was first posted online by Twitter user @MohamedKamoul on June 8th, 2014, though the tweet was subsequently removed from his feed shortly after it began to take off on the microblogging platform. Prior to its deletion, the post accumulated at least 3,800 retweets and 3,110 favorites.

Spread
By mid-June, multiple screenshots of the original tweet and duplicate posts had begun to surface on Twitter, Tumblr and elsewhere online, including CringeBlog,[2] MemeCenter,[3] Imgur[4] and FunnyJunk,[5] with many commenters highlighting the trifecta of its cringeworthy, thug life and 2deep4u elements in humor. On December 4th, 2014, a photoshop request thread was posted on 4chan's /b/ (random) board with the original image, which went on to spawn a series of photoshopped remixes depicting other characters in place of the teenage boy and his clone. Although the thread is no longer accessible on 4chan, screenshots of the compilation were soon posted on the /r/4chan subreddit.[1]
Notable Examples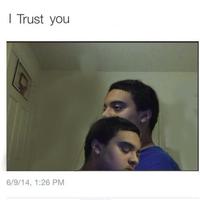 Search Interest
External References
Recent Videos
There are no videos currently available.