Trying To Get My Grades Up
About
"Trying to Get My Grades Up" is a catchphrase used by high school and college students to grieve about the helpless state of their academic grades, especially towards the end of each academic semester. On Twitter, the phrase is usually accompanied by photographs or animated GIFs depicting a variety of futile or ineffective attempts at accomplishing an infeasible goal.
Origin
The earliest known pairing of the phrase "me trying to get my grades up" and an image of a comically hopeless situation was shared on Twitter by @Raul____[3] on October 26th, 2013. The attached image shows Fez (portrayed by Wilmer Valderrama) of That '70s Show attempting to seduce Jackie's mom. In the following months, a number of variations on the same theme began to surface on Twitter as the end of the semester approached.

Spread
On December 3rd, 2013, Twitter user @Wallerene[4] shared a photograph of a woman peering through the muzzle of a pistol with the caption "Trying to bring my grade up in pre calc." In the following year, the humorous tweets continued to grow in volume and became widely adopted by high school and college students on Twitter[5], Vine[9] and Tumblr[2][6] as a way to commiserate over their poor academic performance. The "me trying to get my grades up" jokes saw a significant spike between May and June as the end of the academic year approached in schools across the United States, according to Topsy[7]. In addition, a few, particularly well-received instances on Twitter were subsequently posted on 9gag[8] and Memes.com.[1]
Various Examples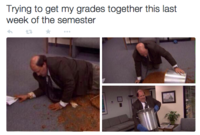 Search Interest
External References