What The Fuck Am I Reading?

About
"What the Fuck Am I Reading?" is a series of reaction images featuring people and characters who appear disturbed or perplexed by the contents of a book.
Origin
The original illustration of crazy Ronald McDonald reading the Death Note (ですのーと) was drawn by Japanese amateur illustrator Masao (Japanese: マサオ), which was uploaded to his website[1] and the Japanese parody illustration hub site Asame Graph[2] in August 2006. The remark in a speech balloon, "Achopu Mau Mau" (アチョプマウマウ), is the characteristic groan of Gonzui, the protagonist in a Japanese manga Kaijin Gonzui (海人ゴンズイ, lit."Ocean Human Gonzui") written by George Akiyama.[3], used to convey a feeling of madness.

Spread
In 2009, 4chan users began to utilize this illustration as a reaction face by changing the remark and the book title. On February 12th, a post was submitted featuring a book labeled "Female Anatomy" along with the speech bubble "What the Fuck Am I Reading" (shown below).

>
On March 4th, 2012, a Facebook page titled "What the Fuck am I Reading"[6] was created. On November 5th, 2013, the Russian Wikipedia site Lurkmore[5] added an entry for "What the Fuck am I Reading." As of October 2014, DeviantArt[7] has over 5,000 submissions tagged with the phrase.
Notable Examples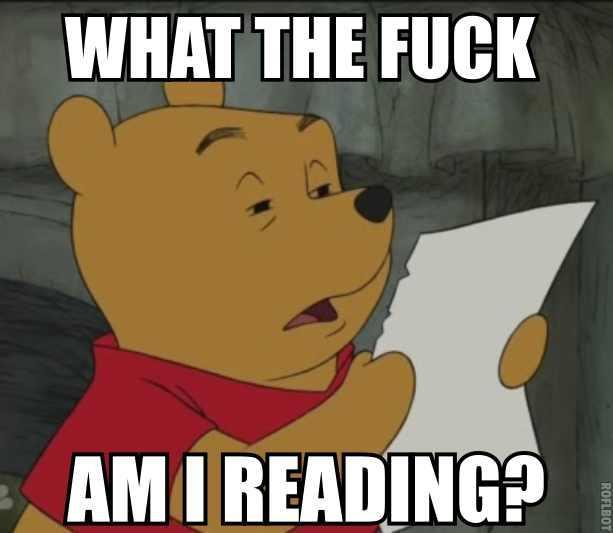 Samuel Johnson's Reaction
On March 17th, 2012, FunnyJunk[4] user mugglemasher uploaded a picture of a 1775 painting of English writer Samuel Johnson reading with a confused look on his face, along with the caption "Dafuq did I just read?" (shown below).

Many other edited variations of the painting have circulated online, typically used as reaction images to express disgust or bewilderment (shown below).



On September 18th, 2017, Google released an animated Google Doodle in honor of Johnson's 308th birthday, featuring the iconic painting of Johnson reading a book (shown below).

Search Interest
External References