This submission is currently being researched & evaluated!
You can help confirm this entry by contributing facts, media, and other evidence of notability and mutation.
About
#WhereIsPutin is a hashtag associated with jokes and conspiracy theories surrounding the whereabouts of Russian president Vladimir Putin during his ten-day public absence in early March 2015.
Origin
On March 11th, 2015, Twitter user @szaulo[2] posted a tweet asking "How many doubles does Putin have?" along with the hashtag "WhereIsPutin"[5] (shown below).

Spread
On March 12th, 2015, Twitter user @grodaeu[1] posted a #WhereIsPutin tweet joking that the Russian politician was "praciticing for a surprise entry into Eurovision" with the hashtag "#whereisputin" (shown below).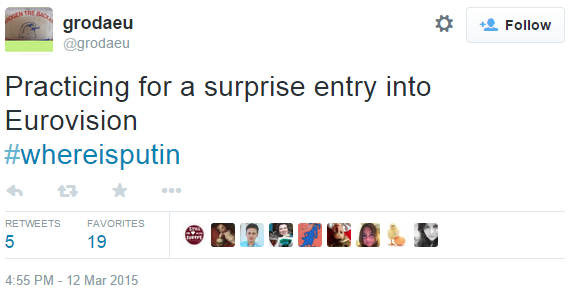 On March 14th, Twitter user @CWynnkWilson[3] tweeted a photograph of several European Union leaders with the caption "#EU leaders also looking for #Putin #WhereIsPutin" (shown below). In the first 48 hours, the tweet gained over 360 retweets and 200 favorites.

On the following day, Twitter user @Otto_English[4] posted a tweet comparing a photograph of Putin next to a look-alike dog (shown below). In the first 24 hours, the tweet gathered upwards of 160 retweets and 110 favorites.

On March 16th, Putin appeared on television where he remarked that life "would be boring without gossip" while meeting with Kyrgyz President Almazbek Atambayev (shown below). In the coming days, several news sites published articles about the hashtag, including BBC News,[6] Bustle,[7] Mashable[8] and The Guardian.[9]
Search Interest
External References
Recent Videos
There are no videos currently available.