This submission is currently being researched & evaluated!
You can help confirm this entry by contributing facts, media, and other evidence of notability and mutation.
About
Putin's Long Table, also known as Putin's Large Table, refers to a photograph of Russian President Vladimir Putin meeting with French President Emmanuel Macron where the two men are seated at opposite ends of a long, gleaming white marble table about six meters long. The image was released in February 2022, following a meeting between Macron and Putin regarding the 2021-2022 Russia-Ukraine Conflict. The image became an exploitable going into the rest of 2022 where meme creators mocked the length of the table and depicted the two men engaging in a variety of unexpected activities.
Origin
On February 7th, 2022, the Russian Presidential Press Office released exclusive photographs to the website Sputnik News[1] that captured the meeting between Macron and Putin regarding the Russia-Ukraine conflict. The image of the two men sitting at Putin's long table was titled, "Russian President Vladimir Putin and French President Emmanuel Macron meet for talks, at Moscow's Kremlin, in Moscow, Russia" (shown below). According to Reuters,[2] Putin's decision to hold the meeting at such a long table had to do with Macron's decision to refuse a Russian COVID-19 test upon arriving. It was then a measure of social distancing taken by Putin.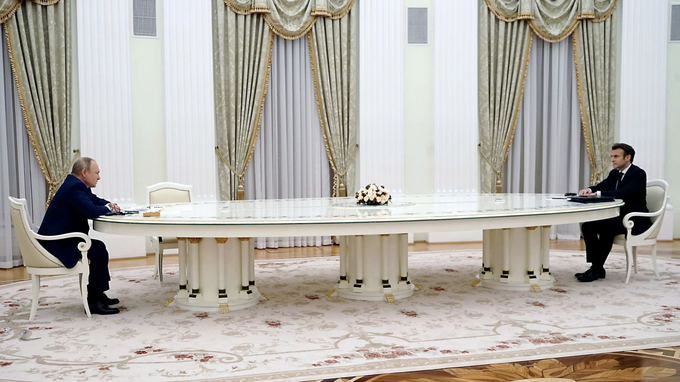 Spread
The image of Macron and Putin at the table was re-used by mainstream news outlets like Politico[3] on the 7th. It was also posted to Twitter on the 7th by Twitter[4] user jchaltiwanger who described it as "comically large" and received roughly 1,500 likes over the course of one month (shown below).

Roughly three hours after the tweet shown above was posted, Twitter[5] user Tarquin_Helmet posted a video meme that made the table into a see-saw, showing Putin and Macron bouncing up and down. The tweet (shown below) received roughly 19,300 likes over the course of one month.
Will Putin and Macron do face painting after? #Ukraine #pointless #lipservice pic.twitter.com/hi9agrWzmZ

— Tarquin 🇺🇦 (@Tarquin_Helmet) February 7, 2022
After the tweet shown above received viral attention, multiple re-edits of the long table were posted to Twitter, editing in multiple, humorous scenarios that the two world leaders were engaging in. For instance, on February 7th, Twitter[6] user Franjorodowski photoshopped the two playing badminton over the table, earning over 380 likes in one month (shown below, left). On February 8th, Twitter[7] user A_Ra_Berlin posted a version showing Macron and Putin having a magical, laser beam battle, earning over 180 likes in one month (shown below, right).


On February 15th, 2022, Germany's Prime Minister Olaf Scholz met with Putin and was seated at the same long table as Macron. Photos of this meeting were also released by Sputnik (shown below).

On February 18th, 2022 Italian designer Renato Pologna took credit for the table, mentioned in an article published by Aljazeera.[8] He stated that he made it for the Kremlin in 1995. Vicente Zaragoza, a Spanish cabinetmaker, also claimed to have made the table in 2005 in an interview with a Spanish radio station, but Pologna's story was corroborated by a book on the Kremlin published in 1999 that included a photo of the famous long table according to Breitbart.[9]
On February 28th, 2022,[10] Putin held a meeting with members of his cabinet and other members of his military, again seen at a comically large table (shown below, left). This new photo inspired increased interest in Putin's table length. For instance, on the 28th, Twitter[11] user mmpadellan tweeted the photo with the caption, "President Zelensky is looking for ammo, while this chickenshit Putin is busy looking for the longest table," earning roughly 3,700 likes in four days (shown below, right).


Various Examples






Template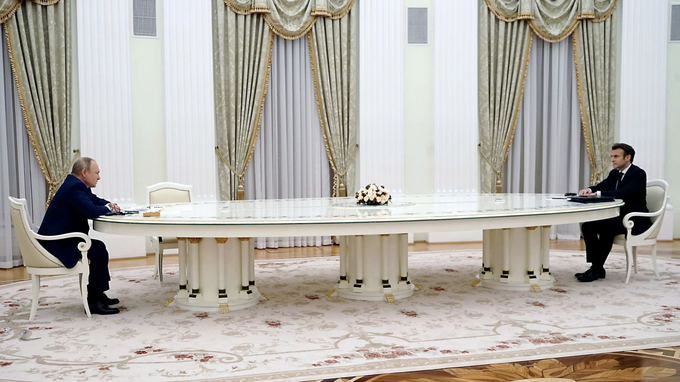 Search Interest
External References