About
Who Needs Feminism? is a movement organized via a single topic Tumblr and Facebook page that feature photos of people holding handwritten signs explaining why they need feminism and why feminism is important to them.
Origin
A Tumblr[1], Twitter[9] and Facebook page[2] were all launched on April 11th, 2012 by 16 female students at Duke University as part of their final project[3] in a class titled Women in the Public Sphere. Prior to its web launch, the students went around campus asking their peers why they needed feminism, taking pictures of them holding up a whiteboard with their explanation on it.[4] These photos were also printed poster-sized and hung around campus.


Spread
Five days after Who Needs Feminism launched, the women registered the domain whoneedsfeminism.com[10] as a hub site for all of the group's activities. Within a month, the Facebook page had received more than 11,000 likes and their Tumblr page had received more than 80,000 visits from 144 countries.[4] The project also spread to other campuses, such as Iowa State University[12], McGill University[17] (shown below, left), University of North Carolina at Chapel Hill[13], and Ithaca University[14] (shown below, center). Additionally, the National Council of Women of New Zealand[18] (shown below, right) launched their own project, encouraging people from across the country to submit their photos.


The campaign was also covered by several blogs and news sites such as Buzzfeed[5], Good Magazine[6], and Mashable.[7] On June 7th, less than two months after its launch, the project also Good Magazine's "GOOD Goes Viral" challenge for the best social media campaign[8], earning a $1000 grant for the project. As of January 2013, the Who Needs Feminism Facebook page has more than 26,000 likes, the project has more than 1200 followers on Twitter and hundreds of submissions have been posted on their Tumblr, featuring both male and female subjects speaking about the topic. There is also a guide[16] on the site to help groups in other spaces created their own local Who Needs Feminism? campaign.
Notable Examples






Criticism
Despite its popularity, the project received criticism from men's rights activists and anti-feminists both online and off. Within hours of placing the posters around Duke University, many of them were defaced[15], adding remarks about women making sandwiches. An opposing, anti-feminist website, WhoNeedsFeminism.org[11] was created in December of 2012. Similar to the original site, it features pictures of people holding up a paper or white board but the text explains why they're against feminism or how feminism has negatively affected them.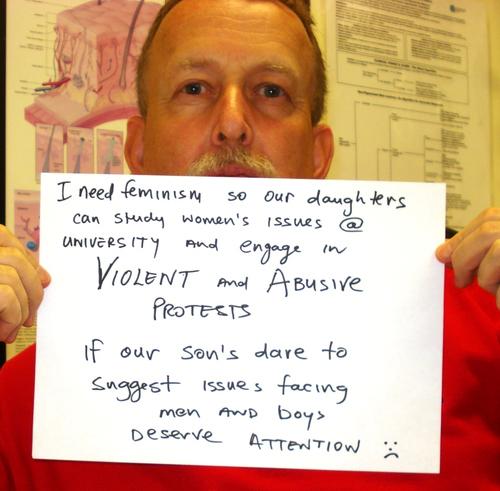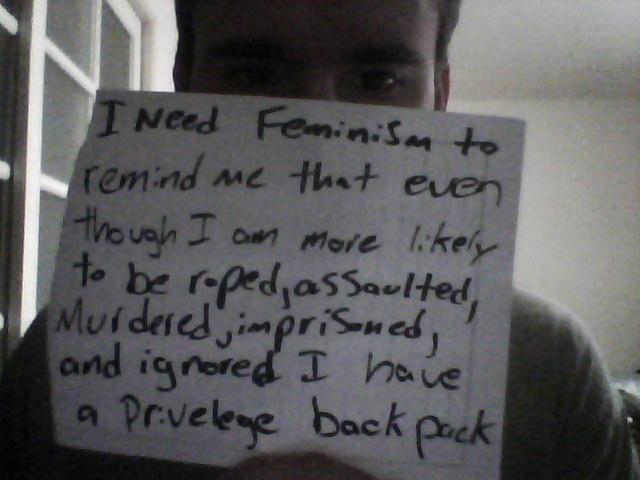 Women Against Feminism
On July 3rd, 2013, the Tumblr blog WomenAgainstFeminism[19] was created in direct response to the movement, featuring various photographs of women holding signs to explain why they don't feel they need feminism. On January 3rd, 2014, a Facebook page[20] for the Tumblr blog was created, and as of July 2014, it has gained over 2,000 likes. On July 11th, Buzzfeed posted a round-up of photos from the Tumblr titled "15 Women Say Why They Don't Need Feminism."



Search Interest
External References