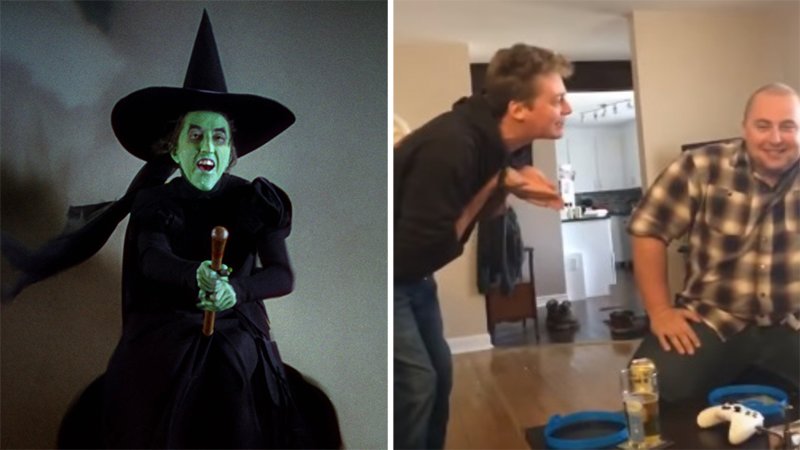 Wicked Witch of the East Bro
About
Wicked Witch of the East Bro is a viral video of two people arguing over whether the character Glinda the Good Witch from The Wizard of Oz is a princess or not. The main argument which was yelled with conviction in the 2018 video, quickly became a copypasta.
Origin
On April 3rd, 2018, YouTube user Austin Parrish uploaded "THE WICKED WITCH OF THE EAST, BRO!" (shown below). The video gained over 4.2 million views and 226,000 likes in a year. One person yelled to the other in the video "Hold on hold on hold on. Her sister was a witch right? And what was her sister? A princess, the wicked witch of the east bro. You're gonna look at me and you're gonna tell me that I'm wrong? Am I wrong? She wore a crown and she came down in a bubble, Doug. Grow up bro, grow up."
Spread
On May 8th, 2018, The main person featured in the video, Matt, was a guest on Tosh.0 during Season 10 Episode seven (shown below, left). On January 19th, 2019, Twitter user @Parrfection8[1] gained over 6,700 likes in a year for tweeting the the argument copypasta (shown below, right).

On May 21st, 2019, YouTuber Charles Cornell uploaded "Wicked Witch of the East, Bro but it's a song" which accumulated over 420,690 views and 31,000 likes in seven months. Many people on Twitter continued to use the copypasta as a caption to an image of people having an argument.
Various Examples






Search Interest
External References