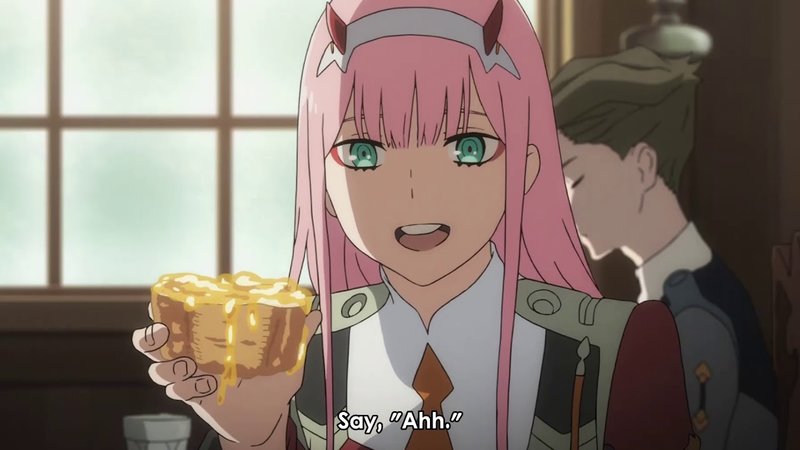 About
Zero Two, or Code:002, is the main heroine and the deuteragonist of anime series Darling in the Franx. A pink-haired, horned female FRANXX pilot, Zero Two gained significant fandom following the release of the series and spawned multiply related memes such as "Zero Tuesday" and "Say, 'Ahh'".
Origin
On July 5th, 2017, a teaser for then-upcoming anime series Darling in the Franx was released on YouTube,[1] showing the main characters Hiro and Zero Two. On January 13th, 2018, first episode of anime series Darling in the Franxx aired in Japan, with artificial human-klaxo sapiens hybrid and elite pilot Zero Two (Code:002) introduced.[2]
In the series, the character is nicknamed "Partner Killer" due to the fact that none of her previous co-pilots survived more than three missions. Used to be shunned by others but assertive, Zero Two is highly motivated by her goal to become fully human. Through the course of the series, Zero Two becomes a pilot partner for Hiro, the main protagonist of the series, whom she often addresses by the eponymous "darling".[3]
Spread
Starting in January 2018, fan art, tribute videos and memes about the character were created by the anime community. For example, a post made by Reddit[4] user Frocharocha on January 23rd, 2018, gained over 650 upvotes in six months (shown below, left).



On February 13, 2018, YouTube[5] user Sam RG posted a You So Fuckin' Precious When You Smile edit dedicated to the heroine, which gained over 700,000 views in one year.
Zero Two Dinosaur Jokes
Zero Two Dinosaur Jokes exploit the fact that in Darling in the Franxx, Zero Two is an artificial hybrid of human and klaxosaur species. Zero Two's appearance is different from normal humans, with the character having a pair of red horns, fanged teeth and other abnormal features.



Say, "Ahh"
Say, "Ahh" refers to a memorable scene from episode five of the series, first aired in Japan on February 10th, 2018.[2]. In the scene, Zero Two feeds Hiro what looks like a honeyed bun.
The scene has since been circulated as an exploitable.



Zero Twosday
Zero Twosday refers to /r/animemes subreddit tradition of posting an increased amount of Zero Two-related submissions on Tuesdays in a similar vein to It Is Wedneseday, My Dudes posts on /r/me_irl subreddit.



Hiro Kisses Zero Two Remixes
Hiro Kisses Zero Two Remixes refer to a series of video remixes in which users dub nonsensical audio over a dramatic scene of Hiro and Zero Two having an emotional exchange. The original scene originates from episode 15 of the series, first aired in Japan on April 21st, 2018.[2]
Hop02.swf
A gif of Zero Two jumping with flashing lights in the background and relaxing music playing. The main article can be found here (as of now, the article mentioned is still under construction).
Hai Phút Hơn
Hai Phút Hơn is a Vietnamese song which is often paired with videos of Zero Two dancing along with other characters. Here is the main article which goes into further detail.
Various Examples






Search Interest
External References
Recent Videos
There are no videos currently available.