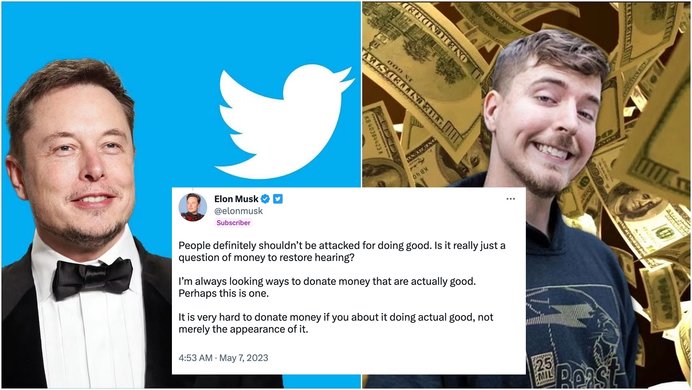 MrBeast has added to his list of Christ-like miracles by healing (or rather, aiding) the deaf in his recent YouTube video, "1,000 Deaf People Hear For The First Time."
The video follows MrBeast's recent high-profile charity endeavors that included paying for eye surgery for 1,000 blind people and gifting 20,000 kids their first pair of shoes. In this case, MrBeast doesn't quite "cure" 1,000 people's deafness, but rather pays for hearing aids and cochlear implants. As was the case after his previous controversial charity videos were posted, social media responded to MrBeast "healing" the deaf with a mix of appreciation and criticism.
While scores of fans viewed MrBeast's video as a clear, altruistic use of MrBeast's estimated $100 million worth, others felt it was cheap and exploitative. At The Independent, writer Liam O'Dell, who is deaf himself, was not appreciative, suggesting MrBeast was engaging in the objectification of disabled people, envoking statements by the late disability activist Stella Young.

Others were weirded out by the video's "thumbnail," which shows a photoshopped child with tears in his eyes and his hand cupped to his ear while MrBeast stands smiling behind him.

As some criticisms spread on Twitter, many countered them with sarcastic quips implying that the "good deed" MrBeast had done was more important than any quibbles one might have with how he presented it.
Elon Musk, himself an apparent fan of MrBeast, appeared inspired by the video, responding to Ed Krassenstein's charitable read of the video by asking, "People definitely shouldn't be attacked for doing good. Is it really just a question of money to restore hearing?"
"I'm always looking ways [sic] to donate money that are actually good. Perhaps this is one," he continued. "It is very hard to donate money if you about [sic] it doing actual good, not merely the appearance of it."

Musk has previously come under fire for his charity work in the past. In 2020, Forbes gave Musk a "philanthropy score" of 1 for donating less than 1% of his fortune to charity. The following year, Musk made headlines by donating $5.7 billion "to charity," but reports found all that money went into the Musk Foundation, a charitable organization with his namesake. The foundation donated $160 million to charities by the end of that year.