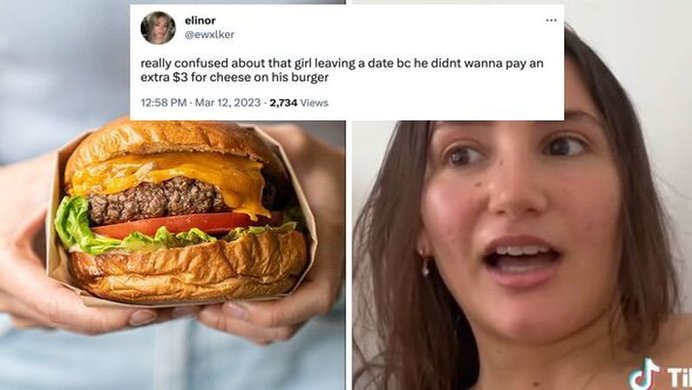 As a media company operating in internet content, we know all too well what a slow news week looks like, and perhaps there is no greater evidence of this week apparently being a slow one for news than the fact a TikTok from a woman with a mere 5,400 followers generated headlines across the internet.
In what is presumably the most important TikTok post this week, @dafna_diamant detailed how she ditched her Hinge date after he decided he didn't want to pay an extra $3 for cheese on his burger.
After the pair shared their meal (her a branzino, he a cheeseless burger), Dafna said she got up, found the waitress, paid the check ($55) without telling her date and texted the offending gentleman, "The check is taken care of, you should have gotten the cheese."
"Then I blocked him," she added.
While Dafna's TikTok and now-viral video certainly details a bizarre online dating story, on the surface it may not seem all that remarkable, particularly among the scores of bizarre dating stories that populate the app.
Yet it garnered headlines from publications including Dexerto, Daily Dot, the New York Post and even NBC.
So what made Dafna's tale so worthy of all the attention? The key factor appears to have been the backlash Dafna received for ditching a date over $3 cheese. Many commenters thought Dafna overreacted to her date's cheese rejection and sympathized with the man for his plight (though they did congratulate him on getting a free meal and dodging a bullet).
There were also developments in her tale, as she claimed she was taking the man on a second date, which is unconfirmed. Additionally, there was a man who claimed to be her date and dunked on her in a separate TikTok, though this too is unconfirmed.
Much like "Free Bread Woman" before her, "Cheese Woman" has gripped a nation ready to hash out the rules of dating by providing a case so extreme, social media feels compelled to debate about it.
As for whether "Woman Ditches Date Because He Refused To Pay Extra For Cheese" is a worthy news story, many media companies (now including this one) have seemingly decided that yes, it is.