PROTIP: Press 'i' to view the image gallery, 'v' to view the video gallery, or 'r' to view a random entry.
About
Apply Cold Water To Burned Area is a catchphrase and reaction image used to emphasize that someone has been disrespected or made fun of.
Origin
The earliest known use of an image depicting the emergency burn treatment as a metaphor for "you got burned" can be found in a FunnyJunk[3] post submitted on May 12th, 2012 in response to a class disciplinary report describing a hostile exchange between two students.
The reaction image was posted by oodlesandoodles[4] was paired with the text "Hope they remembered to pour some cool water on that burn" and received 76 upvotes from FunnyJunk members. Though this specific image is the one most often used, other depictions including drawings can also be found.
Usage in Slang
The term "burn" in its slang sense to mean putting down someone verbally became popular in the 1970's.[2] It was brought back into popular culture through the 2000s American comedy That '70s Show as a catchphrase of Ashton Kutcher's character, Kelso.[1] The term "burn" was first added to Urban Dictionary[9] on November 2nd, 2002, but a definition added on May 5th, 2004 was highlighted as the September 5th, 2005 Urban Word of the Day.
Spread
On May 14th, We Know Memes[5] posted an image macro pairing the burn image with a screenshot of an iPhone message where a person declines another's romantic advances by calling them ugly. This image was reposted to The Lolbrary[6], 9gag[7] and Reddit.[8]
On FunnyJunk, there are nearly 90 search results for the term "apply cold water."[14] Additional posts using the reaction image can be found on Tumblr with the tags "apply cold water"[10] and "apply cold water to burned area."[11] On Facebook[12], there are dozens of groups dedicated to the reaction image. The largest[13] was created in November 2012 and has gained more than 18,000 likes.
Notable Examples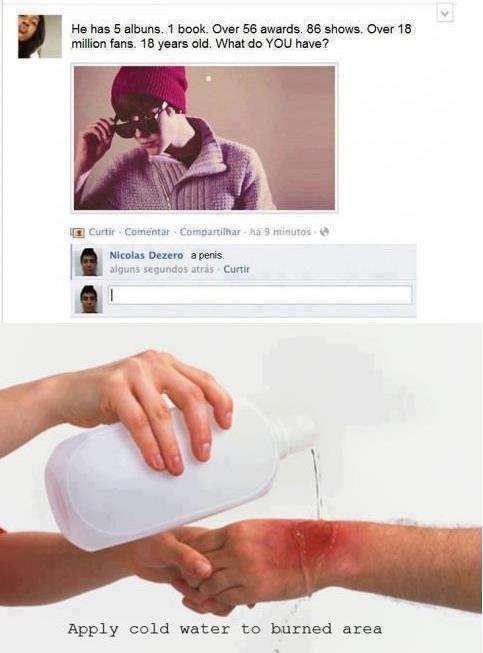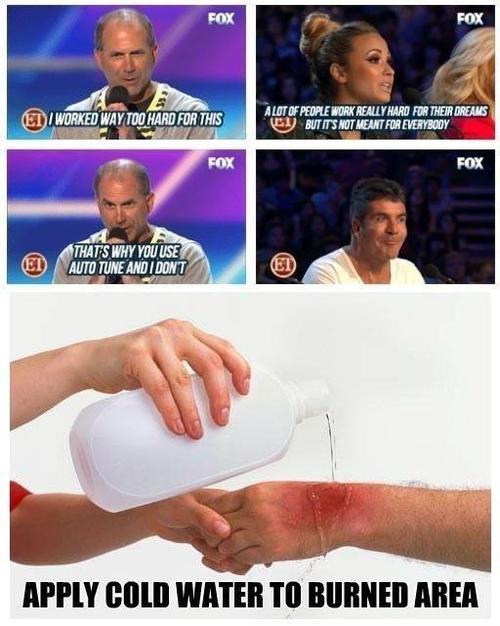 Search Interest
External References
Facebook Comments