PROTIP: Press 'i' to view the image gallery, 'v' to view the video gallery, or 'r' to view a random entry.
About
College Liberal (also known as "Female College Liberal" and "Bad Argument Hippie") is an advice animal image macro series featuring a photo of a young Caucasian female with dreadlocks wearing a knitted cap. The captions typically portray the character as a naive and hypocritical left-wing political activist, referencing various clichés associated with the "hippie" subculture.
Origin
The earliest known use of the original image was in a Blogspot[1] post where the woman is described as a "stupid hippie feminist grunge chick" on March 9th, 2007. According to the Photobucket[16] page where it was originally hosted, the photo may have been taken on October 1st, 2005. The first Quickmeme[2] submission was uploaded with the caption "'I'm against discrimination of any type' / listens to rap music with lyrics about abusing women"[3] on December 23rd, 2011.
Precursors
Such stereotype of a diehard liberal activist has been previously illustrated through another advice animal series known as Liberal Douche Garofalo (shown below, left), which had its beginning on 4chan's /b/ (random) board as early as in September 2009. Based on a photograph of stand-up comedienne and activist Janeane Garofalo, the series pokes fun at hypocritical or self-contradictory statements associated with self-claimed leftists.
However, the character of College Liberal was most likely created in response to College Republican (shown above, right), an advice animal character that made its debut on December 2nd, 2011. The series features a photo of a young white male with braces dressed in a suit accompanied by captions conveying hypocritical conservative positions and selfish attitudes.
Spread
On December 23rd, 2011, the first College Liberal image was submitted to the Advice Animals[4] subreddit with the caption "'We need to love and respect all cultures and religions' / except Christianity." It reached the front page, accumulating over 7,000 up votes in less than a week.
The same day, several instances of the series were posted on the skepticism blog Playing The Devil's Advocate[6], as well as in threads on the Body Building Forums[7] and Gaia Online.[9] On December 24th, a College Liberal thread was started on the media remixing site Canvas[8] which included several photoshopped variations of the image.
On December 25th, College Liberal made its way to the conservative political board Free Republic[10] where many forum members remarked how accurate the captions were. On January 3rd, 2012, a compilation of notable examples were posted to the Internet humor site BuzzFeed[12] with the caption "she's a dreadlocked, political, independent woman who believes in freedom of speech. Unless of course she disagrees with your speech." That week, more images were shared on humor site Sad and Useless[19] and in a second Body Building Forums[18] thread. The web culture blog Ned Hardy[13] published several examples of the series on February 13th.
As of May 9th, 2012, the Quickmeme page has accumulated 4191 submissions. Additional instances have since appeared on FunnyJunk[14], Reddit[17] and Tumblr.[5] On Memebase[15], the series is known as "Bad Argument Hippie."
Notable Examples
Daniel Radcliffe Lookalike
There are numerous derivative examples drawing attention to the face of the woman in the photo as bearing resemblance to the British actor Daniel Radcliffe, who plays the main protagonist in the Harry Potter film series.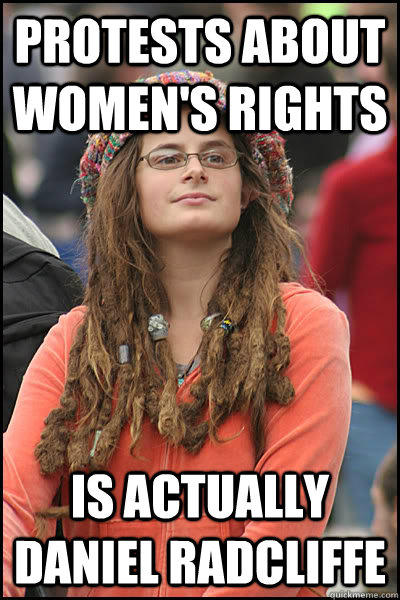 Search Interest
Search queries for "college liberal meme" and "bad argument hippie" both peaked in January 2012,
External References
Recent Videos
There are no videos currently available.
Facebook Comments