This submission is currently being researched & evaluated!
You can help confirm this entry by contributing facts, media, and other evidence of notability and mutation.

About
Christianity is a religion which worships a single God and his son, Jesus Christ of Nazareth. Followers of Christianity are commonly known as Christians, sometimes shortened to Xtians. They believe that God created the universe and everything in it. They also hold the belief that his son Jesus was hung on a cross to die, only to come back to life 3 days after. Jesus Christ represents the forgiveness of sin from humanity. Christianity is currently the religion with the most followers in the world. The central religious text that Christians use as a guide is the Bible.[1]
Origin
Christianity originated as a Jewish sect in the Levant of the middle east in the mid-1st century. It's first developments took place under the leadership of the Twelve Apostles[2], in particular Saint Peter[3] and Paul the Apostle[4], followed by the early bishops, who are considered the successors of the Apostles.
Spread
Due to the Roman Empire being dominantly Christian, the belief spread after the early Roman Empire moved to take over neighboring countries, in particular Great Britain.[5] During the Middle Ages, the Catholic Church held much power, making many influential decision during the time period. However, after Henry VIII[6] came to power, the Catholic Church suffered decline due to the spread of Henry VIII's own Protestant Church.
Related Memes
Jesus Christ
Jesus Christ is widely considered to be the most prevalent figure in Christianity. In the Bible, Jesus was reported to have performed a variety of miracles, ranging from turning water from wine, walking on water, and curing leprosy by touching the afflicted.[7]

LOL Jesus
LOL Jesus (top left) is a series of image macros which take iconic paintings involving Jesus and add text to them for comedic value, usually making his personality seem rude or inept, which is ironic considering who he is in the Bible. Some derivatives of this are Jesus is a Jerk (top right) which is a series of macro images with added text based on the series of paintings "Jesus: With You Always"[8]. Raptor Jesus (bottom left) in which photos of Jesus are altered by photoshopping a velociraptor's head in place of Jesus', and Story Time Jesus (bottom right) which is a series of images in which a painting of Jesus teaching his disciples has text added to it which usually involve Jesus telling stories or verses from the Bible in a conversational, modern tone.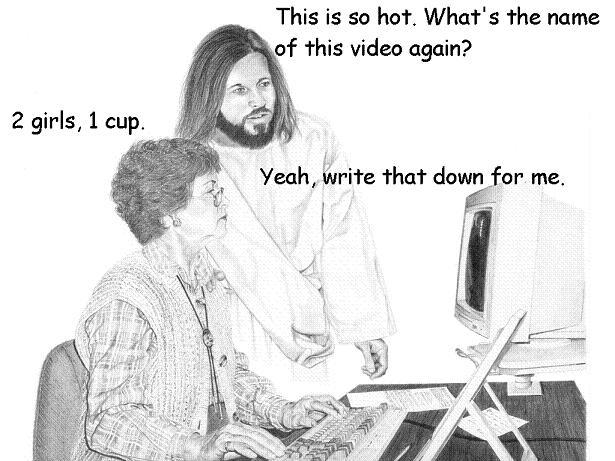 The Last Supper Parodies
The Last Supper Parodies are a series of images based off of Leonardo Da Vinci's famous Christian painting "The Last Supper", a painting that shows Jesus' last supper with his disciples.[9] The painting is often photoshopped, redrawn, reenacted, or parodied in other ways.

Buddy Christ
Buddy Christ (a.k.a Buddy Jesus) is an exploitable image of a cheesy-looking Jesus Christ statue originally featured in the 1999 film Dogma written and directed by Kevin Smith.[10] The image is used in various photoshopping techniques.

Jesus, Take The Wheel
Jesus, Take The Wheel is a phrase used to tell Jesus to take control of a moving car. The expression came from American country singer Carrie Underwood's 2005 single of the same name.[11] It is generally used in Rage Comics for comedic purposes.

Botched Ecce Homo Painting
Botched Ecce Homo Painting , also known as "Potato Jesus", is a failed attempt at restoring a century-old Spanish devotional fresco of Jesus Christ by elderly amateur art restorer Cecilia Jiménez.[12] The painting gained a significant amount of tourism and revenue for the Santuario de Misericordia Church and the Spanish town of Borja where the painting is located.[13] The image has spawned a photoshop meme where the painting is placed in various situations and other memes as well.

Jesusland
Jesusland is a slang term used to in referring to the states that usually vote for Republican candidates in United States elections. The states that don't are commonly referred to "The United States of Canada". The overall Republican states are referred to as "Jesusland" because Republicans are often stereotyped as a very Christian group and most of the states in "Jesusland" are within an area in the U.S. known as "The Bible Belt", an area with a highly Christian population overall.[14] Many maps have been made showing the political divide and names for individual states have also surfaced such as "Bushlandia", "Jesusistan", and "New Canada".

"Jesus, Man"
Jesus, Man is a very popular line from the 1992 Christian Drama Second Glance. "Jesus Man" is the concluding line of the movie quoted by the character Dan when he is trying to remind a friend the importance of Jesus after going through a personal struggle with his own Christian beliefs. The line is often quoted as a copypasta and has inspired several parodies and remix videos.
"Excuse Me Sir, Do You Have a Moment to Talk About Jesus Christ?"
"Excuse Me Sir, Do You Have a Moment to Talk About Jesus Christ?" is an expression typically paired with images of overly persistent or intrusive animals or characters, as to poke fun at the door-to-door evangelism practiced by some Christian missionaries.

Zombie Jesus
Zombie Jesus is a joke that pokes fun at Jesus' resurrection by saying that the only way he could have come back to life is if he was a zombie.

Guido Jesus
Guido Jesus is an advice animal image macro series of a very muscular, tan, and chiseled man taking a selfie in front of a mirror with his phone's camera. Since the man in the photo has a similar appearance to most depictions of Jesus, captions are often added which start with Biblical references and end with a stereotypical Jersey Shore-type activity.

Hipster Jesus
Hipster Jesus is a series of images in which Jesus is usually seen wearing hipster glasses and have captions added which allude to Jesus' stories in the Bible and associating them with the stereotypical hipster lifestyle. Ex: "Did X Before It Was Cool" and "X Is Too Mainstream".

Jesus Is A Friend Of Mine
Jesus Is A Friend Of Mine is a music video by Sonseed, the Roman Catholic pop band, performed for the religious television show The First Estate.[15] The original video currently has over 7 million views on YouTube.[16] The song has spawned various remixes and parodies, including one by NBC's sitcom Community and one by the popular YouTube channel Smosh.
Advice God
Advice God is an advice animal image macro series featuring a painting of the Christian God by Michelangelo, originally made for the Sistine Chapel,[17] on a yellow, blue, and white pinwheel background with captions. The captions usually denounce Christianity and are often related to atheism and anti-theism.[18] They portray God as mischievous and attempt to show biblical contradictions.

Scumbag Christian
Scumbag Christian is an advice animal image macro series about American actor and Christian evangelist Kirk Cameron[19] with a Scumbag Hat photo-shopped onto his head on a black and white pinwheel background. The captions added to the image are often attempts to show hypocrisy in the actions of Christians in relation to anti-theism.[18]

Westboro Baptist Church
Westboro Baptist Church is an American church founded by Pastor Fred Phelps. The church has gained notoriety because of its radical anti-homosexual and anti-Semitic views.[20] It's members often protest with picket signs, one of the more popular examples being "God Hates Fags" signs. They have even been seen protesting the funerals of those who go against their radical Christian beliefs. The church's official website is named GodHatesFags.com and has been up since January 22nd, 1997.[21] The church has stirred much controversy world-wide and has even inspired parodies in spite of its extreme views and actions.


Online Presence
Christianity is currently the largest religion in the world.[22] Because of this, Christians are extremely common to find on the internet. There are many pages for Christianity found across various social networks including Facebook,[23][24][25] Twitter,[26][27][28] Tumblr,[29][30][31] Reddit,[32][33][34] and various parody accounts on Twitter.[35][36]
External References