PROTIP: Press 'i' to view the image gallery, 'v' to view the video gallery, or 'r' to view a random entry.
This submission is currently being researched & evaluated!
You can help confirm this entry by contributing facts, media, and other evidence of notability and mutation.
About
Dogs with Eyebrows is a photo fad in which dogs are photographed with eyebrows drawn on their faces.
Origin
While some dogs are born with eyebrow-like colorization, the fashion trend for pet dogs originated from East Asia in the early 2000s, as evidenced in an article published by the Chinese news site TVBS in March 2004 and a forum post submitted to the South Korean humor forum Bittalk on in October that year (shown below).
Spread
Between 2004 and 2008, a slew of additional photographs and videos featuring eye-browed dogs continued to emerge as part of a larger photo fad staging dogs in humanlike situations, which became quite popular on Korean internet humor sites and microblogging communities. In 2009, two pet dogs born with eyebrow-like dark spots were highlighted on Japanese TV show programs, one named "Panda" from Fukuoka and the other named "Ran" from Osaka, leading to numerous mentions by Japanese culture blogs on the English and French-speaking web.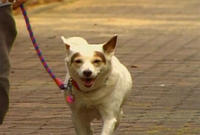 /r/dogswitheyebrows
On June 16h, 2012, Redditor zootphen created the subreddit /r/dogswitheyebrows[8] to serve as online gallery for photographs of dogs wearing eyebrow make-up.
Notable Examples
Search Interest
External References
Recent Videos
There are no videos currently available.
Facebook Comments