PROTIP: Press 'i' to view the image gallery, 'v' to view the video gallery, or 'r' to view a random entry.
About
Eul-Young's Strike (을용타) is a South Korean photoshop meme that came out of a not-so-friendly soccer match between Korea and China in 2003, when S. Korean player Eul-Young Lee slapped Chinese striker Li-Yi in the back of his head during the second half.
The term is often used to describe the infamous photograph of Eul-Young standing over the fallen Chinese player, which was playfully hailed by the Korean tabloids as "proud" and "remorseless." The photograph eventually gave way to at least 200 derivatives and parodies and well exemplifies the ongoing inter-web war between the Korean and Chinese netizens.
Origin
During the second half of 2003 East Asian Football Championship match, Chinese forward Li Yi kicked Eul-Young's right shin after he completed a pass. Recently recovering from an ankle injury, Eul Young became upset and slapped Li on the back of his head, prompting the tackler to overreact and roll on the ground. The game came to a brief stop and the referee gave Li a yellow-card warning for simulation while Eul-Young was given a red card and escourted out of the game for inciting violence.
Parodies
Despite his unruly behavior during an international friendly match, Eul Young's strike was seen by many S. Koreans as almost heroic and very timely. This was largely due to an international controversy that arose from China's Northeast Project, a central initiative to re-characterize its ancient history education by incorporating previously unclaimed territories on the Chinese-Korean borders into the official textbooks.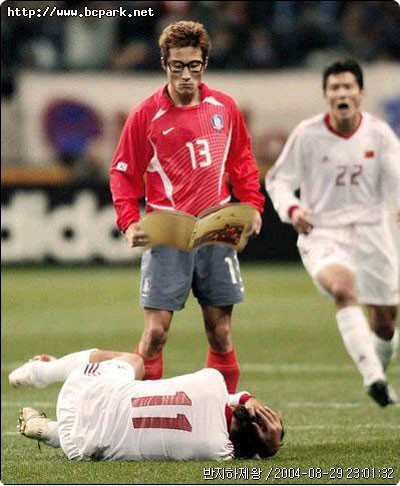 As a result, many photoshopped tributes of Eul Young's Strike took on a highly political undertone, featuring cutout images of Korean independence fighters from the colonial era. What began as a heated scuffle on the football field soon turned into a meme about national sovereignty.
Notable Examples
Original slapping footage included into S. Korean national anthem:
Included in this video about Zidane's Headbutt (see him at 0:42):
Spin-off: Eul-Young's Spin Kick
Two years later in 2005, the Eul-Young sensation was brought back to life, when a DCInside user tomati uploaded a photograph of Lee (in red uniform kit) executing a volley kick in the mid-air during a K-League club match. Due to its resemblance of a popular martial arts move, the series was dubbed Eul-Young's Spin Kick.
The Arcade Game
Someone even put together a flash arcade game based on Eul-Young's Strike:
Recent Videos
There are no videos currently available.
Facebook Comments