This submission is currently being researched & evaluated!
You can help confirm this entry by contributing facts, media, and other evidence of notability and mutation.
About
Velma is a comedy-mystery television series created by Mindy Kaling that radically reimagines the cast of Scooby-Doo with Velma acting as the main character. The spinoff show premiered on HBO Max in January 2023 and met with mixed critical reception and negative social media reception as viewers disliked the pop culture-heavy jokes and meta reinterpretations of the characters, many perceiving it as cringe.
History
Production on Velma started in February 2021.[1] The first teaser trailer for the series was released on October 6th, 2022 (shown below).
The series notably race-swaps several characters. Velma is Indian, Daphne is Asian and Norville (the "Shaggy" character) is Black while Fred remains white. Scooby-Doo notably does not appear in the show. The series first two episodes debuted on January 12th, 2023, on HBO Max. Two episodes at a time will be released over the course of five weeks.
Reception
The series met with mixed critical reception, scoring a 59 on Metacritic[2] and 50 percent on Rotten Tomatoes[3] as of January 13th, 2023. Critics with favorable opinions of the series complimented the rapid pace of the jokes and the over-the-top plot, while those with negative opinions tended to dislike the series for the same reason. Writing in The Wrap,[4] Gwen Ihnat noted she didn't mind the reimagining of the characters but took issue with "pointless nudity, the gratuitous violence and gore, and plot points that spin like a top to go absolutely nowhere." In a mixed review for IGN,[5] Brittany Vincent wrote that there were positive aspects of the show, but the biggest problem was Velma herself, who Vincent viewed as an unsympathetic protagonist.
Online Presence
The show was received negatively by numerous users on social media across various platforms. On January 10th, 2023, the Twitter account @LightsCameraPod[6] highlighted a negative review from Entertainment Weekly, though they didn't clarify the source, leading some commenters to believe it was the show's official plot synopsis as written by HBO Max (shown below).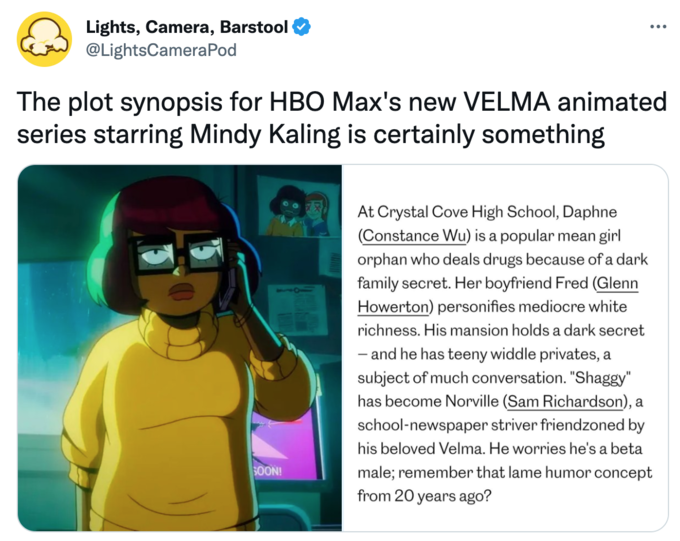 After the show was released, several clips were highlighted by social media users as being particularly cringeworthy. One clip where Velma makes a joke about "adults who watch cartoons" was highlighted by several people on social media as exemplary of the show "hating" its own audience (example tweet by @NezzieMonster_M shown below, top). Twitter user @BurrfullyThicc posted a clip of an extended joke during a courtroom scene, noting it felt out of place in the moment (shown below, bottom).
From all that I've seen of this show it feels like the creator and writers HATE Scooby Doo and their audience. Like the animators are the nerds being forced to do their bullies homework. https://t.co/6dwjrhPl2X

— Monster Mouse VTuber🐀 (@Nezziemonster_M) January 12, 2023
Like literally, why did Velma have to do this to Fred after wrongly accusing him??? Who thought this was funny or cool? pic.twitter.com/QLz8dSAj6p

— ✨B L I S S✨🔜 FWA'23 (@BurrfullyThicc) January 13, 2023
Quadratic Formula
When the first looks at the show came out in 2023 it was noticed that the Quadratic Formula, a basis for many math lessons in middle and high school, wasn't written correctly in a scene in which Velma can be seen focusing intently with various math and science related equations swirling around her. This was more heavily noticed the week of January 15th, as the show caught more eyes on it upon episode release, with the scene taking place within the first episode. This led to a lot of memes and dragging the show for failing the Quadratic Formula, which Peppa Pig managed to successfully use within it's show, with an example being made by the Twitter user @howie_hua[7] on January 16th, 2023 (shown below).
"When am I ever going to use the quadratic formula?"

To see how Peppa Pig got it right but Velma didn't. pic.twitter.com/rV7yI91xj4

— Howie Hua (@howie_hua) January 16, 2023
Search Interest
External References