PROTIP: Press 'i' to view the image gallery, 'v' to view the video gallery, or 'r' to view a random entry.
This submission is currently being researched & evaluated!
You can help confirm this entry by contributing facts, media, and other evidence of notability and mutation.
About
Jasper Cillessen Sits on Things is a photoshop meme featuring a cutout image of Dutch professional soccer player Jasper Cillessen squatting against a goalpost during the 2014 FIFA World Cup Brazil games, which is superimposed on to other base images of various contexts.
Origin
During the third place play-off against Brazil at the 2014 World Cup on July 12th, 2014, Holland goalkeeper Jasper Cillessen was photographed crouching against the goal post midway through the game (shown below, left). That day, the @KICKTV[2] Twitter feed posted a transparent cutout of Cillessen squatting, inviting other Twitter users to photoshop the goalie sitting on things (shown below,right).


Spread
Minutes later, Twitter user @CGriffo55[10] tweeted a picture of Cillessen seated next to singer Miley Cyrus in a screenshot from the "Wrecking Ball" music video with the hashtag "#cillessensitsonthings"[1] (shown below, left). In the first 48 hours, the tweet gained over 330 reweets and 175 favorites. Also on July 12th, Twitter user @Bamshackle[11] posted a photoshopped image of Cillessen sitting on a toilet in space (shown below, right).


According to the Twitter analytics site Topsy,[12] the hashtag "#cillessensitsonthings" was tweeted more than 370 times in the next 48 hours. In the coming days, several news sites published articles highlighting notable examples of the photoshop meme, including.The Daily Mail,[3] Caught Off Side,[4] Metro,[5] The Independent,[6] Mirror,[7] 101 Great Goals[8] and Bleacher Report.[9]
Notable Examples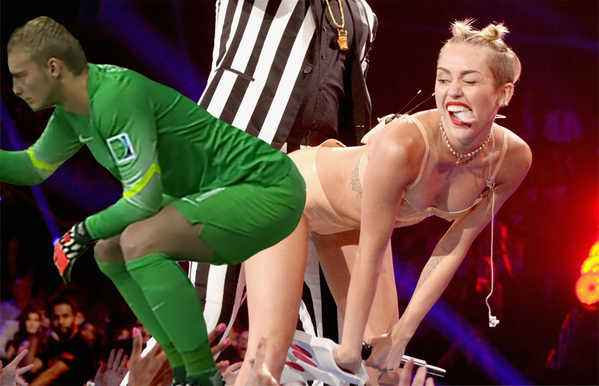 Search Interest
Not available.
External References
Recent Videos
There are no videos currently available.
Facebook Comments