This submission is currently being researched & evaluated!
You can help confirm this entry by contributing facts, media, and other evidence of notability and mutation.
About
VanPersieing is a photoshop meme and photo fad based on an image of the Dutch national football player Robin van Persie scoring a dramatic equalizer against Spain with a flying header during the World Cup group match on June 13th, 2014.
Origin
On June 13th, 2014, the World Cup Group B match between Spain and the Netherlands was held at the Arena Fonte Nova in Salvador, Brazil. Despite the odds slightly being in favor of Spain, the defending champion of the tournament, especially after Xabi Alonso secured the first goal with a penalty kick in the 25th minute, the Dutch team captain Robin van Persie managed to catch up with a dramatic equalizer in the 44th minute of the first half (shown below), ultimately leading the Netherlands to a landslide victory of 5 – 1.

Spread
Robin van Persie's crowd-pleasing equalizer was immediately met with praises and excitement from the Dutch and World Cup fans alike on Twitter,[6] giving rise to a slew of photoshopped parodies and a photo fad reminiscent of the Planking pose. According to Topsy,[9] the hashtag #VanPersieing was mentioned more than 3,500 times within the first 48 hours of the goal.
News Media Coverage
Throughout the day, several major Dutch news outlets and European sports news blogs began covering the fans' tributes to the Dutch captain's airborne header, including the NL Times[2], MemeDeportes[5], Metro UK[4] and GQ France[7], as well as The Huffington Post[1], CBC[3] and a few other English-language news sites, with nearly all publications declaring #VanPersieing as the first internet meme to have come out of the 2014 World Cup.
Notable Examples
Photoshop Parodies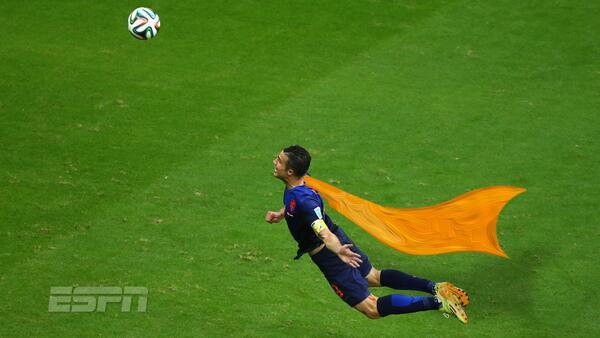 Photo Fad

Search Interest
According to Google Trends[10], searches for the Dutch star striker Robin Van Persie skyrocketed after his equalizer against Spain, even overtaking the search volume for the renowned Dutch artist Vincent Van Gogh.
External References