About
Luis Suárez's Biting refers to several incidents where Uruguayan soccer player Luis Suárez[1] had bitten a member of the opposing team, most notably during the group-stage match between Uruguay and Italy at the 2014 World Cup Brazil.
Origin
On November 24th, 2010, during his time as Ajax captain, Luis Suárez had gotten a seven-game ban for biting PSV Eindhoven midfielder Otman Bakkal's shoulder[2]. On April 21st, 2013, when he was in Liverpool FC, Suárez had been handed a 10-game ban for biting Chelsea's Branislav Ivanovic[3].
2014 FIFA World Cup Brazil
On June 24th, 2014, during Group D match between Uruguay and Italy, at the 80th minute, Suárez competed for the ball with the Italian defender Giorgio Chiellini in the penalty area. The Uruguayan apparently bit the Italian and then fell to the ground (video below, left). Chiellini rose while pulling down his jersey, trying to show the referees what he believed to be a bite mark (picture below, right).

Spread
Since the incident with Ivanovic, numerous photoshopped images began circulating the web. On April 22nd, 2013, a Daily Mail article was published, featuring several of them[5]. Even more had been made after the events at the Brazil World Cup. On July 25th, 2014, a Reddit user digz94 posted a photoshopped image of Suárez gnawing on Chiellini's disembodied arm[4]. In seven hours, the post had gotten over 3800 upvotes.

Suspension
On June 26th, FIFA ruled that Suárez did in fact bite Chiellini's shoulder and would be banned from nine official national team matches, from all soccer-related activity for four months and would have to pay a fine of 100,000 Swiss francs.[6]
Notable Examples






Evander Holyfield's Tweet
Shortly after Uruguay's game against Italy, retired American professional boxer Evander Holyfield, a former undisputed world champion who also fell victim to a biting attack by Mike Tyson in 1997, tweeted: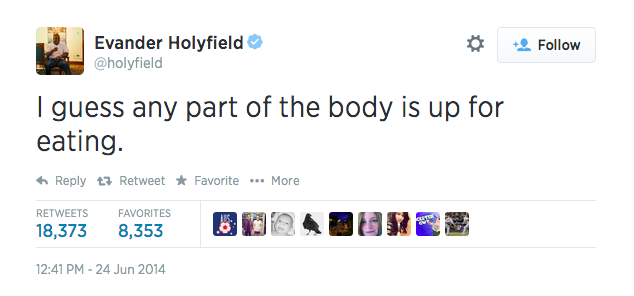 #Suarezing
On June 24th, Twitter[7] and Instagram[8] users began posting photographs of themselves biting other people on the shoulder accompanied by the hashtag #Suarezing. On June 25th, ABC News published an article highlighting notable examples from the series. Within 48 hours, there were more than 3,700 tweets and 200 Instagram photos submitted with the hashtag.[9]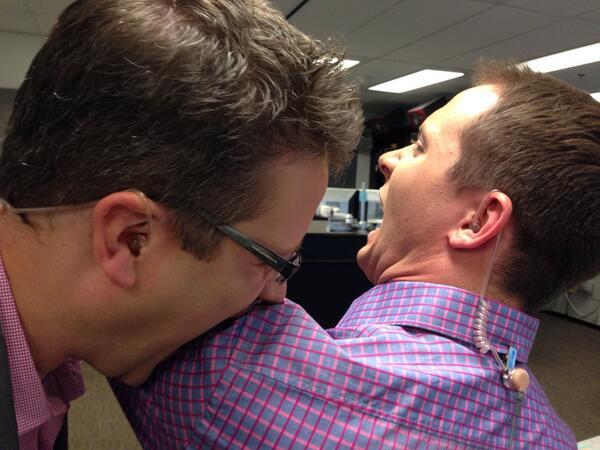 Search Interest
External References