PROTIP: Press 'i' to view the image gallery, 'v' to view the video gallery, or 'r' to view a random entry.
This submission is currently being researched & evaluated!
You can help confirm this entry by contributing facts, media, and other evidence of notability and mutation.
(W.I.P.)
About
Mystery Science Theater 3000 (usually abbreviated MST3K) is a cult television show that went from 1988 to 1999. The show is about an average guy (Joel or Mike) who is launched into space by his evil scientist boss (Dr. Clayton Forester) and is forced to watch bad movies. To stay sane he and his robot friends (Tom Servo & Crow T. Robot) make fun at the films or "riff" the films.
The Fans
Fans of the show have been known to call themselves "Msties" (pronounced "Misty"). Before the internet fans would record the episodes and send the tapes to friends and family, this lead to the phrase "Keep Circulating the Tapes" which could be seen in the end credits of the show. Thanks to the internet and websites like the MST3K Digital Archive Project the episodes have been made easy to share and preserve.
Some Msties have made or purchased their own replicas of the bots, since the bots are made out of various objects some fans have provided how-to guides, providing a list of what parts you will need; or websites like MST3KBots.com just provide a kit to purchase that has all of the parts needed to build your own bot without having to search for the parts yourself.
Msting
Msting is a way of mocking a form of media (film, tv, ect) in the style of Mystery Science Theater 3000, and a form of fan fiction where writers mock other works by adding their own humorous comments into the story.
MST3K Turkey Day
During the show's Comedy Central years on Thanksgiving Day there would be a marathon of MST3K episodes with Special segments that were shown between episodes, from 1992 onwards featured the premiere showing of at least one new episode. Even after the show's cancellation many Msties keep the tradition going by watching a marathon of the show every Thanksgiving.
On Thursday, November 28th, 2013 Turkey Day returned with Joel Hodgson himself hosting, the marathon was streamed at www.mst3kturkeyday.com via YouTube. Fans were able to chat live while watching the marathon and Joel read Tweets he received from fans.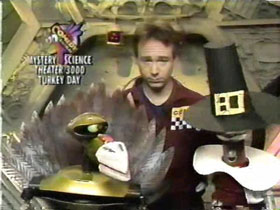 Rifftrax & Cinematic Titanic
Since the show's cancellation in 1999 the cast and crew have continued to riff movies, Mike Nelson, Kevin Murphy and Bill Colbert created the website Rifftrax; where you download riffs in MP3 format. Not only do they riff older movies, they also riff more recent movies, like Avengers or the Twilight films. Rifftrax has had many guest riffers as well such as Weird Al Yankovic, Neil Patrick Harris, and Doug Walker.
Joel Hodgson, the creator of Mystery Science Theater 3000 did a series of DVDs called Cinematic Titanic with his formers cast-mates Trace Beaulieu, J. Elvis Weinstein, Frank Conniff, and Mary Jo Pehl.
Both Cinematic Titanic & Rifftrax have also done live riffings, through Cinematic Titanic announced that they would be going on hiatus from touring this year.
Facebook Comments