PROTIP: Press 'i' to view the image gallery, 'v' to view the video gallery, or 'r' to view a random entry.
This submission is currently being researched & evaluated!
You can help confirm this entry by contributing facts, media, and other evidence of notability and mutation.
About
Rick and Morty is an animated television series created by Community executive producer Dan Harmon and writer Justin Roiland and broadcast weekly on Cartoon Network's late-night programming block Adult Swim. The series is mainly centered around an alcoholic scientist-and-inventor named "Rick" and his long lost grandson "Morty" as they embark on dangerous and bizarre adventures together throughout space and time.
History
The show concept for Rick and Morty was first announced during Adult Swim's Upfront presentation in May 2012, followed by the commencement of the production for 10 half-hour episodes to be aired on Cartoon Network (not including the pilot) in October that year. On November 27th, 2013, the pilot episode of Rick and Morty was leaked via YouTube several days prior to its scheduled broadcast on Adult Swim, which premiered at 10 p.m. (ET) on December 2nd. In the episode, Rick takes his grandson Morty into another dimension to research "mega trees."
Fandom
On May 19th, 2012, a few days after the announcement by Adult Swim, a subreddit community titled /r/rickandmorty[2] was launched, which gained over 16,900 subscribers in the following two years. On November 27th, 2013, Redditor theroboticdan submitted the leaked pilot episode to the /r/videos[1] subreddit, where it garnered upwards of 2,100 up votes and 220 comments in the first two months. As the series progressed over the next several months, subsequent episodes reached the front page of Reddit as well. Also on November 27th, a page for the show was created on the trope database website TV Tropes.[8] On December 10th, a Rick and Morty wiki[7] was created. On January 21st, 2014, /r/rickandmorty ranked in as the fastest growing non-default subreddit.[3] As of February 2014, Rick and Morty's official Facebook page has accumulated more than 10,000 likes.

Fan Art
On Deviant Art[10][12] and Tumblr,[11][13][14] fans of the series have featured original artwork inspired by the series.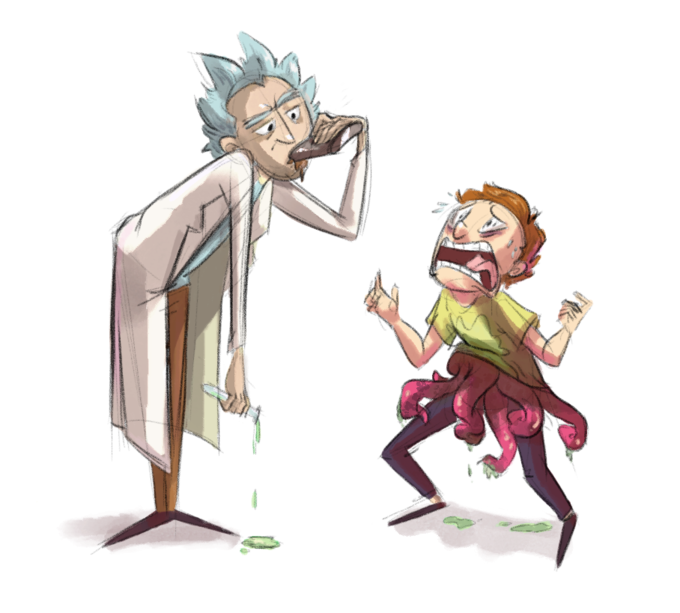 Reception
On January 28th, the entertainment news blog Vulture[4] reported that Rick and Morty had beaten NBC's late night comedy programs in ratings. On the following day, Rick and Morty was renewed for a second season on Adult Swim.[5]
Search Interest
External References
Facebook Comments