PROTIP: Press 'i' to view the image gallery, 'v' to view the video gallery, or 'r' to view a random entry.
This submission is currently being researched & evaluated!
You can help confirm this entry by contributing facts, media, and other evidence of notability and mutation.

About
The Creatures are a group of gaming commentators who mostly live in and around the Denver, Colorado area. The Creatures consist of Kootra [1], SSohPKC [2], Sp00nerism[3], ImmortalHD[4], ZeRoyalViking[5], DanzNewz[6], UberHaxorNova[7], Dexterboy124[9], and GoldenBlackHawk[16]. Each Creature has their own individual YouTube channel on which each respective Creature uploads their own solo playthroughs, as well as their individual POV's on games in which more than one Creature is involved. Along with their own personal channels, the Creatures have a collective channel known as The Creature Hub[10] where the group's larger budgeted projects are uploaded.
Origin
The Creatures originated back in 2009 with YouTubers Ze and Sp00n meeting Kootra and his friend Junkyard129[11], who later met GassyMexican[12]. The term "Creature" itself initially referred to a certain pose in the game Call of Duty 4: Modern Warfare, where a player crouches on the ground and repeatedly changes weapons. This results in a humorous effect on the players third person model. While one of the players was doing this, another commented on how he looked like some sort of a "creature". The name stuck with the members of the group, who began to use it as a playful insult between one another. However, the term became the official name of the small group after they created their own podcast known as Creature Talk.
Members
Kootra
Jordan "Kootra" Mathewson is the groups founder and is considered by other Creatures the leader. He has made many machinima using Team Fortress 2, Minecraft, and Mass Effect. He is known for his love of cats and the fact that he never swears. He was married on November 5, 2011 to Monica Mathewson. Kootra also known for his various catchphrases such as, "What the Brown?", "Wha'cha?", and "Creature Cats".
UberHaxorNova
James "Nova" Wilson Jr. Joined the creatures in 2008 and had since then has become the most popular creature. On July 30th, 2012 he hit 1 million subscribers at 8:57 PM EST and on August 3, 2013 he hit 2 million at 1:23 AM EST, as he is almost at 2.5 million as of June, 2014. His most popular videos are his scripted trolling videos which involve Nova raging, often over trivial matters. He lent his voice to be used for the "Pogoman" character in Happy Wheels.
He is also known for his alter egos which include him in his Gumby suit ( most noticeable from his Gumby dances for Creature Carl video. ), him in his Bunny Costume ( for the 2 Bunny Bust videos that where uploaded to thecreaturehub YT channel. ), Ginger Powder (
Nova's popular series include Happy Wheels and Until I Rage.
Sp00nerism
Nick "Sp00n" Is considered the strangest and possibly most mysterious of the Creatures. Until RTX 2013 Sp00n would obscure his face with a horse head mask in many videos (leading to a joke that Sp00n was in fact, a horse). When asked if he was ever going to move in with the other Creatures he replied "only when my nipple lactates". Sp00n's girlfriend on a much later date would state that they would be moving to Colorado, allowing Sp00n to work with the other Creatures at their house.
SSoHPKC
Seamus "SSoH" O'Doherty is the most prolific Creature (+11,000 videos) of the group. He often doesn't strategize during gameplay, he often attacks enemies head on and speeds through levels, missing or ignoring hidden items. Seamus has yet to the meaning behind his Youtube name and claims if any one found out he would shut his channel down. He is only referred to by his real name, after Sly's departure he is now the second most subscribed of the Creatures.Seamus announced at RTX 2014 that his Name SSohPKC meant Sir Seamus Of Halo Psycho-Kinetic-Collaboration the first four letters originated from him playing a game called Timber and the last letters referring to the Mother/Earthbound Series. Seamus has said that his favourite video game genre are games like Dark Souls and Demon Souls
SlyFoxHound
Eddie 'SlyFox' Cardona, Jr. (who calls all his subscribers homies) is the second most subscribed former Creature. Sly's giggle is considered his most iconic trait, fans are divided on wether it is extremely funny or extremely annoying. He creates his own animated shorts involving memorable moments from his videos. Sly is the lead vocalist in his band Stuck In Your Radio. In February 2012 they released their first EP. On July 16 2013 his channel had reached 1 million subscribers this making him the second creature to reach the amount. On July 7 Sly had announced that he would be leaving the creatures due to his father passing away although he has left, the creatures and Sly are on good terms to respect Sly's departure they had created a montage uploaded on the hub.
DanzNewzMachinima
Daniel 'Danz Newz' Gidlow is a Creature that is known for his love of batman, impressions of various people, and his skills on a Halo Mongoose vehicle. He mostly plays with Kootra and Nova. He is right now the least subscribed Creature, with around 60,000 subscribers under Ze. He does movie reviews on his channel for home media releases, and reviews for theatrical releases on the Creature Hub channel. Dan also has a brother named Thomas whom he co-hosts a podcast with called The Gidlow Movie Show.
ZeRoyalViking
Steven "Ze" is a Creature from Sacramento, CA, being one of the first. He is known for his knowledge of computers and creeper-esque viking helmet logo. Ze reports that the old viking helmet was a helmet from Halo 2 because he wanted to use something he owned. He started his youtube channel in Jun 2008 as a hobby making "machinimas". He later when into let's plays. He helped start up the Creature with founder Kootra. He curently stands at 300,000 subscribers and 50,000,000 views. He would make several appearances on Creature Talk, as well as playing many games, most notably with Kootra. Such as their notorious Rock of Legends Series. When the inital plans for the creature house where announced, Ze had plans to move to Colorado after finishing College and Sacramento State. He later would move to Phoenix to attend ASU, and then returned back to Sacramento. Ze has been a target for hate as he does not play with the Creatures as often anymore because of this he has not attended Creature panels but he can be spotted in the crowd, he has acknowledged the hate and said that the Creatures schedule and his are very different because of this Ze can not appear in Creature content as much.
ImmortalHD
Aleks "ImmortalHD" Marchant is a Creature. Immortal was raised in Russia for a majority of his life but moved to America. Immortal has been a long time friend of fellow creature SlyFox, who helped support his channel by asking his "Homies" to subscribe to it Immortal had been featured in numerous series with Sly and the Creatures prior to becoming a Creature himself. Immortal is also the newest member of SlyFox's band, Stuck in Your Radio. On April 28, 2013 Immortal replaced GuitarMasterX7 on the machinima web series, Sanity Not Included.
Aleks costars in the Creature web-series SUPERCAST! with Chip and Marshal, where a screenshot of his character, Marshal, is caught in a less than desirable pose. This has become a running gag among the Creatures whom have gone as far as to put the pose on a shirt and sell it via their store.
DexterManning/Dexterboy124
Dexter Manning is the recent addition to the Creatures he is known for his series Sanity Not Included . The other Creatures mostly refer Dexter as Dex he is a very old friend of the Creatures. On his channel Dex uploads old games and League of Legends, these videos are mostly edited to be up to 5 minutes long, Dex frequently streams on Twitch mostly playing League of Legend playing with non Creatures but with friends such as Chrissy Ross and Angus Myles Mann, Dex is known for his unique sense of humour leading some "fans" to dislike him this is similar to people hating Dan although both do not pay attention to the hate. Dex at first had flew to America and stayed with the Creatures they had announced that Dex was a Creature at RTX 2014 they have also said that Dex had been helping with their series Trapville. After weeks Dex had to leave America in or he would be deported after a few hours Dex had found out that his flight was tomorrow and he had came a day early.
GoldenBlackHawk/TomAnnex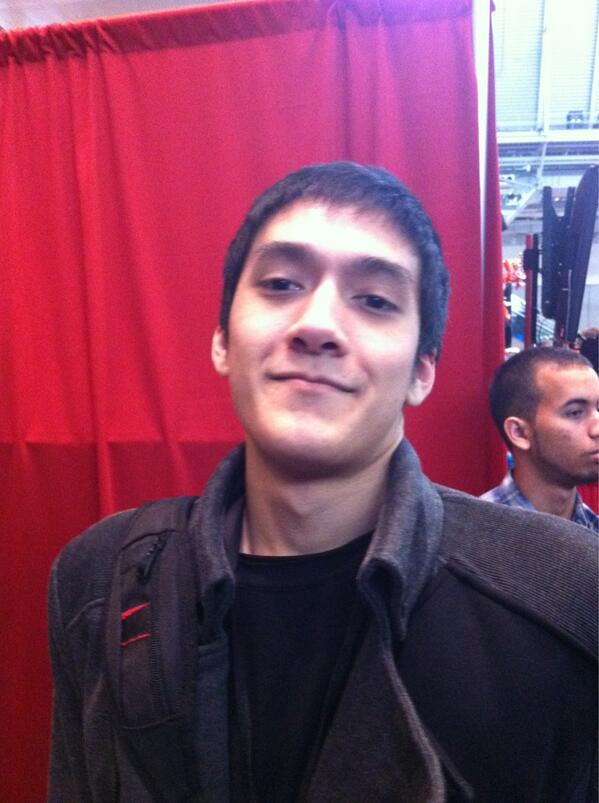 Born on February 22, Kevin "GoldenBlackHawk" McFarlane his name being TomAnex, Kevin was announced as a Creature at Pax 2014 he is known for his major involvement in Sly's Minecraft series Minecraft Daily and collaborations with Nova and Immortal, By himself he streams on his Twitch account games like League of legends and CS GO. He is heavily influenced by Aleks and considers he wouldn't be the person today without Immortal. Immortal heavily influenced Kevin's career by giving exposure to Kevin on Aleks's series Missioncraft. Kevin is now the youngest Creature being 18 the previous youngest was Ze who is 21.Kevin is known for his impression of a girl which is surprisingly good, Draven the Glorious Executioner from League of Legends and Ghost from Modern Warfare. Fans have suspected him to be the next announced Creature at RTX as at the end it had a close up of Kevin, it has been said that his voice doesn't fit him and that he is handsome by female and male watchers, because of Aleks helping him so much and looking up to him as a role model Kevin has stated that he will name his first child Aleksandr as well as listing him as his best friends along with James, Eddie, Nick and Micheal friend who also appears in Sly's series.
The Creature Hub
The Creature Hub is the name given to both the collective YouTube channel that is used for the group, as well as the Creature's website. Most of the group's projects are shown through the YouTube as opposed to the website due to the popularity that the channel receives in comparison to the website. While the majority of gameplay is shown through each Creature's individual YouTube channel, the Creature Hub focuses mainly on the live-action interaction between the Creatures.Most of he videos were edited by Dan but by February 2014 Spencer was hired as the Creatures editor but only for selected series such as Creature Factions.
Fandom
The fanbase of the Creatures are collectively known as the Critters. The Creatures interact with their fanbase in several different ways, including panels at gaming conventions, answering fan submitted questions on YouTube, and directly talking to them on Creature Talk.
As well as being fans of the Creatures, many Critters are actively creating fan material based on the Creatures and their antics. These fan made projects can range anywhere from fan videos, to music created specifically for the Creatures, and even to erotic fanfictions.
Fan Music
One of the most notable fan projects for the Creatures are the songs "Life Is Beautiful (Hellberg Remix) Creature Whistle" and "Creatures Come Alive" created by HellBergMusic and Brother Blake respectively. Brother Blake has also created several songs for individual Creatures that have been used on their respective YouTube channels.
Fanfics
One of the more obscure sections of the fandom are the fanfictions created using the creatures as characters. A great number of these tend to be erotic in nature. The most notorious of these is titled "Sex on the Beach" by Wattapad user PlsCommentPls. The fanfic was read aloud by Nova and Immortal, the two Creatures featured in the fanfic, on their Valentines DAy Livestream via the Creature's Twitch.tv page.
Dating Sim
As of October 2013, a dating sim based on the Creatures, entitled "Let's Date the Creatures", was created and made available for download via the game's tumblr page. The game was played by Sly as a series on his YouTube channel, and by Nova and Immortal on their Valentines' Day Livestream.
Notable Developments
In February of 2012, The Creatures began living together in a large house dubbed, "The Creature House". After one year the lease ran out on the house, and a second Creature house was acquired where they Creatures stayed at until January of 2014 when the second lease ran out. Since then the Creatures have been living in apartments in and around Denver, CO.
In November of 2012 GassyMexican was removed from the Creatures due to personal reasons. ImmortalHD has since replaced him.
As of January 2014, The Creatures have been working out of an office, known as, "The Creature Office". The group has since taken a more professional feeling towards themselves, and have begun viewing their group as a full fledged business.
Swatting
On August 27, 2014 an anonymous caller notified the Littleton, CO. police department that an active shooter was present in the same office building that the Creatures work out off[14]. This occurred simultaneously with a livestream featuring the Kootra. During the stream SWAT officers can be seen bursting into the room, ordering Kootra to the ground, and finally arresting him. Officers found no evidence of a shooter in the building and concluded that the anonymous tip was nothing more that a prank call. The entire office was evacuated while two local schools were locked down according to procedure[15]. The police later stated that they were searching for the hoax caller who apparently called from a landline. Also during this time all of the Creatures' personal info, both business and individual, were posted online via Paste Bin. Creatures Kootra and DanzNewz were both released from Littleton police custody later the same day.
Blackface Controversy
Search Interest
External References
Facebook Comments