This submission is currently being researched & evaluated!
You can help confirm this entry by contributing facts, media, and other evidence of notability and mutation.
Overview
Valentine's Day is a holiday observed annually on February 14th in many countries around the world, which is centered around the celebration of romantic love. Online, memes centered around Valentine's Day see a resurgence each year on the annual holiday. Singles Awareness Day is simultaneously celebrated alongside Valentine's Day as an alternative for those without significant others.
Background
The holiday was initially created in honor of one or more Christian saints named Valentinus. In the High Middle Ages, the holiday became associated with romance with the rise of the medieval European literary conception of courtly love. By the 18th-century, lovers celebrated Valentine's Day by exchanging gifts, including flowers, confections and cards.[1]
Notable Developments
On YouTube
On May 1st, 2008, YouTuber Lucas Cruikshank uploaded a video titled "Fred on Valentine's Day," in which he describes his plans for the holiday while performing the hyper-active character Fred Figglehorn (shown below, left). In the first seven years, the video gathered more than 10 million views and 26,000 comments. On January 22nd, 2009, the MondoMedia YouTube channel uploaded a Valentine's Day-themed episode of the animated web series Happy Tree Friends, accumulating upwards of nine million views and 4,700 comments in six years (shown below, right).
On February 15th, 2011, the PrankvsPrank YouTube channel posted a prank video titled "Worst Valentine Present Ever," in which a woman applies a numbing agent to her boyfriend's back instead of massage oil (shown below, left). Within four years, the video received more than five million views and 5,200 comments. On February 14th, 2012, YouTuber PewDiePie uploaded a Valentine's Day special video in which he plays the horror game Amnesia: The Dark Descent with his girlfriend YouTuber CutiePieMarzia (shown below, right).
On February 15th, 2013, YouTube prankster VitalyzdTv uploaded a video titled "How to Pick Up Girls on Valentine's Day," in which he delivers pickup artist lines to women on a sidewalk during Valentine's Day (shown below, left). Within two years, the video gained over 17 million views and 11,300 comments. On February 3rd, 2014, the Simon's Cat YouTube channel uploaded a Valentine's Day special animation, garnering upwards of nine million views and 4,100 comments over the following year (shown below, right).
Galentine's Day
On February 11th, 2010, NBC aired the Parks and Recreation episode "Galentine's Day," in which the show's protagonist Leslie Knope (played by Amy Poehler) throws a party for her female friends named "Galentine's Day" on the evening prior to Valentine's Day. The episode subsequently inspired female fans to celebrate the event each year by spending time with their same-sex friends.[2]
Otaku Dates
Starting in 2006, the annual Otaku Dates event was launched in Japan as the otakus' alternative to Christmas eve. The event has since been held on Valentine's Day as well.
Black Day
As early as 2008, South Korean residents have engaged in the informal tradition known as "Black Day", in which single people congregate and eat Jajangmyeon (white noodles with black bean sauce) on April 14th, following the observance of Valentine's Day and White Day on March 14th.
Dia dos Namorados
Brazilians celebrate Valentine's Day on June 12th with a name unrelated to Saint Valentinus, which can be translated as "Lover's Day." The date was chosen by the Brazilian publicist João Doria[3] in a marketing attempt to increase sales during the month of June. Online, while many couples celebrate the date with dinners and special celebrations, single people take to Twitter and Facebook to share ironic memes about not having a partner. For example, Twitter[4] user @brunorahall posted a clip of a woman jealously watching a couple acting affectionate in bed. The tweet (seen below), uploaded on June 12th, 2023, garnered 141,000 views and 4,100 like in a few hours.
dia dos namorados pic.twitter.com/z9QTBubXAh

— bruno rahall (@brunorahall) June 12, 2023
Related Memes
Singles Awareness Day
As early as 2002, the annual holiday Singles Awareness Day (S.A.D.) was celebrated for people who are not involved in romantic relationships as an alternative to Valentine's Day. Those participating in the event are encouraged to wear the colors green or black to show contrast to the color red associated with Valentine's Day.
Go Die! Valentine's Day
Go Die! Valentine's Day (Japanese: 死ね!バレンタイン・デー, Shine! Valentine Day) is an anti-Valentine's Day song by Japanese folk band Fujioka Fujimaki. On the Japanese web, the song has gained cult status with single men, as well as a series of fan-made animated music videos starring characters from popular anime or manga franchises.
Forever Alone
Forever Alone is an exploitable rage comic character that is used to express loneliness and disappointment with life. The face has also been used as an advice animal and inspired the creation of the snowclone template "Forever an X."
Valentine's Day E-Cards
Valentine's Day E-cards are digital media greeting cards created for the annual holiday Valentine's Day for the purpose of sharing online.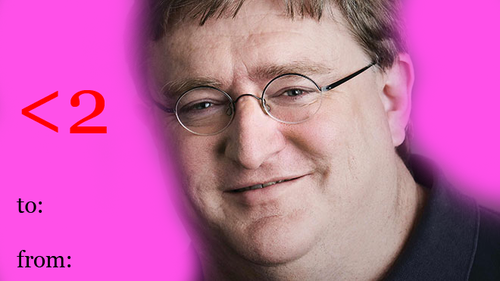 Rejected Candy Hearts
Rejected Candy Hearts is a series of images parodying Sweethearts, a type of small heart-shaped candies sold around Valentine's Day, with custom generated messages that are unromantic, off-putting or suggestive in nature.

Roses Are Red
Roses are Red refers to a series of short poems featuring rhyme verses that begin with the lines "Roses are red, violets are blue." While the original poem was used to convey messages of love, many of its derivative versions nullify its sentimental value through subversion, parody and anti-humor.

Search Interest
External References