Overview
Halloween is an annual event celebrated in many countries worldwide on October 31st, which is often associated with various themes involving the fall season, pranking and horror.
Background
Halloween may have origins in the ancient Irish pagan festival Samhain,[2] which celebrated the end of summer with feasting, bonfires, sacrificial offerings and homage to the dead. The word "Halloween" means "hallowed evening" or "holy evening" and dates back to 1745. The mass Irish and Scottish immigration during the 19th century is believed to have brought the celebration of Halloween to North America, as many Christian denominations previous maintained opposition to the celebration.[1]
Viral Costumes
2007
In 2007, Flickr[6] user Stefanie Seskin uploaded a photograph of herself on Halloween dressed as a LOLCat (shown below, left). That year, software engineer Matt Cutts[7] posted a photograph of himself wearing a LOLCat costume for Halloween (shown below, middle). Also for that year's Halloween, Flickr[9] user Alida Saxon posted a photograph of person dressed in a Lime Cat costume (shown below, right).



2008
On October 13th, 2008, the design blog CMD Shift Design[10] posted several photographs of Internet-themed Halloween costumes (shown below). On October 29th, the Internet news sites Urlesque[11] and BuzzFeed[8] published a listicle of meme Halloween costume idea.



2009
In October 2009, several Internet news sites Neatorama and Thrillist highlighted various Internet meme costumes. Additionally, Know Your Meme temporarily launched a DIY "Hallow-meme costume builder."[15] That year, the first Hallowmeme event was held in New York City (shown below, right).



2010
On October 12th, 2010, MentalFloss[13] highlighted a photograph of a man wearing a "Double Rainbow": costume (shown below, left). On October 19th, Mashable[12] published an listicle of "Social Media Halloween Costume Ideas." That year, the online retailer BrandsOnSale listed an Antoine Dodson costume[14] for sale (shown below, right).


2011
On October 31st, 2011, Redditor Snap_Judgement uploaded a photograph of himself dressed as Business Cat to /r/pics[21] (shown below). That year, several news sites published articles about Internet meme Halloween costumes, including The Huffington Post,[16] Oddee,[17] Smosh,[20] Nerve[18] and Neatorama.[19]

2012
On October 21st, 2012, Redditor The_Origami_Man posted a photograph of himself wearing a High Expectations Asian Father costume (shown below, left).[22] On October 28th, Redditor hanako66 uploaded a photograph of himself wearing a Giorgio Tsoukalous costume (shown below, middle).[23] On November 1st, Redditor Magnets_and_Ghouls uploaded a photo of herself wearing a Scumbag Steve costume (shown below, right).[24] That year, several news sites published articles about Halloween meme costumes, including CNN,[25] UpRoxx[26] and The Daily Dot.[27]



2013
On October 29th, 2013, Redditor Zangler posted a photo of a man in a Guy Fawkes costume described as "Adult 4chan Man costume" (shown below).[32] That year, articles listing meme costume ideas were posted on Mashable,[28] Smosh,[29] Time[30] and BuzzFeed.[31]

2014
On October 25th, Redditor scarletregina posted a photograph of a Shiba Inu dressed as Doge (shown below, left).[34] That year, several news sites published listicles containing meme Halloween costumes, including Time,[35] Mashable[36] and Refinery 29.[37]

2015
In 2015, the online retailer Yandy[38] placed a Pizza Rat costume for sale (shown below, left). On October 30th, Redditor Ryanwesley posted a photograph of himself costumed as Kim Davis for Halloween (shown below, right).[39]


Highlights
Pumpkin Carving Art
Pumpkin Carving Art is the craft of carving images or patterns onto pumpkins. Traditionally known as jack-o-lanterns, photographs of intricately carved pumpkins are shared online every year around the beginning of autumn in celebration of Halloween.



The Pumpkin Dance
The Pumpkin Dance is a YouTube video of a man dressed in all black wearing a Jack O'Lantern mask dancing to the theme song from the 1984 film Ghostbusters. The clip, which originally aired on the KXVO news channel in Omaha, Nebraska during a Halloween broadcast in 2006, went on to spawn several mash-up videos, remixes and photoshopped GIFs.
He's My Favorite
He's My Favorite! is a Halloween-themed exploitable webcomic of a child trick or treating in a costume. While the original comic features an innocent dialogue between the treat giver and the trick-or-treater, it was soon turned into a fodder for parodies featuring other fan-favorite characters from popular video games and cartoons.



We're a Culture, Not a Costume
We're a Culture, Not a Costume was a poster ad campaign that features students of various ethnicity holding photos of people dressed in Halloween costumes that could be perceived as culturally insensitive. The campaign inspired a series of photoshop parodies depicting animals and fictional characters with photos of people wearing their respective Halloween costumes.



HallowMeme
HallowMeme is an annual Internet meme-themed costume contest and party held in New York City during the week of Halloween.

2Spooky
2Spooky is an abbreviation of the phrase "too spooky" that is typically associated with pictures and animated GIFs of skeletons and the song "Spooky, Scary Skeletons" by Andrew Gold.

Spoopy
Spoopy is an intentional misspelling of the word "spooky" which is associated with a Halloween sign written in a human skeleton typeface. The phrase is often associated with the abbrebiation 2Spooky on the microblogging site Tumblr.

Skeleton War
Skeleton War is an inside joke which originated in 2013 and circulated through Tumblr in October 2014, as a way to tag GIFs or pictures of skeletons used to celebrate the month leading up to Halloween, similar to 2spooky.

Nightmare Fear Factory Photos
Nightmares Fear Factory is a haunted house attraction located in Niagara Falls, Canada. Since the early 2000s, they have photographed the reactions of their visitors as they go through the venue to capture their candid fear. In the past few years, collections of these photos have gone viral every October.






Steal Her Look
Steal Her Look is a series of instructional posts for costume ideas on Tumblr that offer a list of high-end, boutique clothing items and fashion accessories required to achieve the look of an Internet meme, such as a fictional character, viral video celebrity or inanimate object, as a parody of the familiar "lookbook" format widely used in fashion magazines and seasonal catalogues.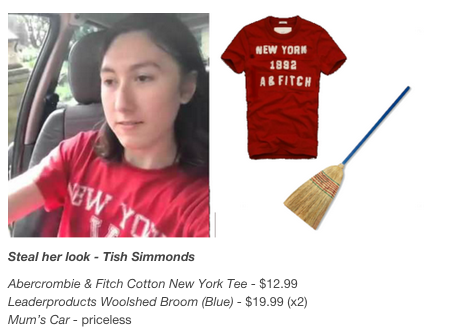 Blackface Costume Controversies
Blackface Costume Controversies refer to a series of online backlashes prompted by Halloween costumes that entail painting one's own face in black or brown as to emulate the darker skin tone of black people. Despite the widespread cultural stigma surrounding the practice in North America, many celebrities and other individuals have come under criticism for sporting the blackface as part of their costumes.



#HalloweenFail
On October 15th, 2014, late-night talk show host Jimmy Fallon posted a tweet[3] launching the hashtag #HalloweenFail to share "funny, weird or embarrassing" Halloween stories (shown below).

In the first 24 hours, #HalloweenFail[4] became a worldwide trending hashtag, with over 6,900 mentions according to the Twitter analytics site Topsy.[5]




Sexy Halloween Costumes
Sexy Halloween Costume Parodies are humorously revealing Halloween costumes associated with a variety of pop culture topics, including film, television, politics and internet memes.

Couples Costume Idea Parodies
Couples Costume Idea Parodies refers to jokes in which people post pictures of a humorous duo in sarcastic suggestion that two people in a romantic relationship could dress up as the pair for Halloween.

Candy Corn Debate
The Candy Corn Debate refers to the online discussion about whether or not the seasonal confection candy corn tastes good.

Search Interest
External References