PROTIP: Press 'i' to view the image gallery, 'v' to view the video gallery, or 'r' to view a random entry.
This entry has been rejected due to incompleteness or lack of notability.
To dispute this DEADPOOL flagging, please provide suggestions for how this entry can be improved, or request editorship to help maintain this entry.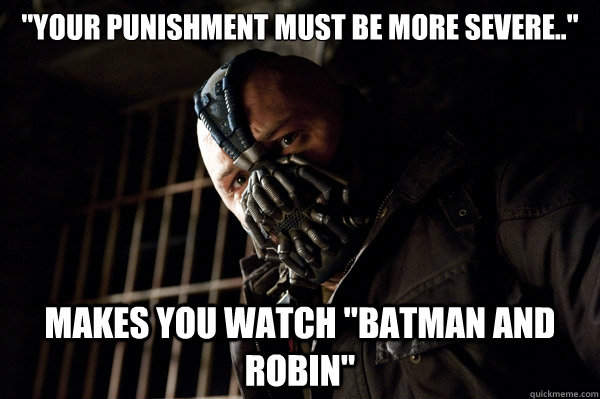 About
Your Punishment Must Be More Severe is a meme based on a famous line from the 2012 film The Dark Knight Rises. Images of the character Bane and many others having the line ''Your Punishment Must Be More Severe'' was spread across the web.
Origin
Before The Dark Knight Rises even come out, the line was used in one of the trailers of the film on Apr 30, 2012.
In the original scene, Bane cripples Batman and detaining him in a prison called the Pit that houses dangerous inmates and shares the same side effects as a Lazarus, madness and violence. When Batman wakes up to find himself still alive after the events, he remarks to Bane ''Why didn't you just kill me?''. Bane replays ''Your Punishment Must Be More Severe''
Notable Examples
Facebook Comments