About
Fortnite is a survival co-op video game developed by Epic Games and People Can Fly for macOS, Windows, Xbox, and Playstation 4. It is described by Epic Games as a cross between Minecraft and Left 4 Dead.
Development
Fortnite was first introduced at the Spike Video Game Awards in 2011.[1] In July of 2012, Epic announced at San Diego Comic Con that the game would be PC-exclusive and it would be the first game developed using the Unreal 4 Engine, with a release date planned for 2013. Developmental challenges and changing of the game's scope pushed the release date back indefinitely. In May of 2014, Game Informer reported that the game would be free to play. A functioning prototype was completed that year, but Epic estimated it would take about three more years to work out the game's various kinks. The game was previewed in Alpha in late 2017, and in Beta in mid-2015. In July of 2017, Epic announced the game would be set for a 2018 release on macOS, Windows, Xbox, and Playstation 4. On July 25th, 2017, they released an early-access version of the game.
On September 26th, following the success of PlayerUnknown's Battlegrounds, a Battle Royale version of Fortnite was released in early access. Fortnite Battle Royale was given a standalone release one could play without having the base game.
Mobile Release
On March 8th, 2018, the official Fortnite blog[6] announced the mobile version of the game. According to the post, the game would first be released on Apple's iOS platform and, later, Android. The developers promised that the game will be the same, regardless of platform. They said, "Same gameplay, same map, same content, same weekly updates." Additionally, the post statied that ", Fortnite Battle Royale will support Cross Play and Cross Progression between PlayStation 4, PC, Mac, iOS and eventually Android. This means players across devices can squad up with friends and play together."
Four days later, on March 12th, the Fortnite YouTube account published a video trailer for the mobile version of the game. The video (shown below) received more than 1.5 million views in two days.
Gameplay
In Fortnite, 98% of the world has been destroyed by storms and the world is overrun by zombie-like creatures. The survivors construct storm shields and gather goods in an effort to find more allies and bring the world back to its natural state.
50 v 50
On April 19th, 2018, the official Fortnite Twitter[22] account tweeted, "Two teams will clash in the updated 50 v 50 Limited Time Mode. Be the first to the frontline. PLAY NOW!" The post (shown below) received more than 5,600 retweets and 37,000 likes in 24 hours.
Two teams will clash in the updated 50v50 Limited Time Mode. Be the first to the frontline.

PLAY NOW! pic.twitter.com/MQPLCNUSw2

— Fortnite (@FortniteGame) April 19, 2018
The 50 v 50 mode, which was originally removed from the game, pits 50 real human players against 50 opponents. Users online reacted positively to the reintroduction of 50 v 50 (examples below, left and center).
However, not everyone was pleased with the new game mode. Twitter[23] user @TristanIsham tweeted, "I think I'm done with @FortniteGame for now. Saved two team mates in 50v and how do they repay me? By watching me die so that they can get my loot. Fortnite's definitely not a team game." The post (shown below, right) received more than 120 retweets and 730 likes in 24 hours.



E3 2018 Updates
At E3 2018, Epic Games had several major announcements regarding Fortnite. One of the most major was that Fortnite was announced to be coming to the Nintendo Switch during the company's Nintendo Direct just minutes after the Direct's conclusion.[30] Of note, the game could not be played cross-platform, so Switch players could not play with PS4 players. The company also announced that a Fortnite World Cup would take place in 2019 following several sponsored tournaments that would allow players to qualify for the event.
Additionally, a Fortnite tournament was held during E3 and was won by Tyler "Ninja" Blevins and Marshmello, taking home 1 million dollars for charity.[31] Epic Games also confirmed that in less than one year, Fortnite had gained over 125 million players.[32]
Fandom
The game has a thriving fan community online, with over 54,000 Reddit subscribers to /r/fortnite[2] and 63,000 subscribers on /r/FortNiteBR.[3] Tumblr has over dozens of pieces of fan art created for the game,[4] as well as 210 pieces under the "fortnite" tag on DeviantArt[5].



Drake Plays With Ninja
On March 13th, rapper and recording artist Drake tweeted[7] that he would be playing the game with Twitch streamer Ninja. The post (shown below, left) received more than 124,000 retweets and 259,000 likes in 24 hours.
Shortly after, Ninja tweeted[8] a Drakeposting variation directed toward Drake. The post (shown below, right) received more than 7,200 retweets and 48,000 likes in 24 hours.


That night, the sports website Bleacher Reports' esports Twitter[9] account posted a video of the match. The post (shown below) received more than 2,700 retweets and 12,000 likes in 24 hours.
That's 2. ✌️Drake</a> <a href="https://twitter.com/Ninja?ref_src=twsrc%5Etfw">Ninja pic.twitter.com/VPhN8xtACr

— B/R esports (@BResports_) March 15, 2018
Throughout the night, other celebrities joined the match, including rapper Travis Scott[10] and Pittsburgh Steelers football player JuJu Smith-Schuster.[11] Additionally, people began posting memes and jokes about the group of people playing (examples below). More than 600,000 people watched the match on Twitch.
Several media outlets covered the event, including New York, [12] Polygon,[13] BBC[14] and more. Twitter[15] published a Moments page about to the event, which received more than 13,000 likes.



Meteor Event
On March 27th, 2018, Redditor[16] Niccorazi-_- posted screen capture of a the game with what they describe as a meteor heading towards the world in the /r/FortNiteBR subreddit. They captioned the picture, "Uhhh guys? There is a meteor on it's way to hit our quaint little world. Are they really going to turn Tilted Towers into Crispy Crater?" The post (shown below) received more than 480 points (99% upvoted) and 30 comments.

Two days later, Redditor[17] Tactical_Peperoni posted a theory about the meteor. They wrote, "My theory: Tilted Towers will be blown up at the last day of this season and the next thing to come up will be something space-related, maybe aliens or some fucked up shit. Also, the Fortnite map resembles Poland and Tilted Towers lies at approximately the same position on the map where Polands Poznań is located – the place where the Morasko meteorite struck. Coincidence? I don't fucking think so!" The post received more than 8,700 (96% upvoted) and 980 comments in two weeks.
On April 18th, Redditor[18] AlejandroSM asked about the meteor in the /r/OutOfTheLoop subreddit. They wrote, "I've seen some posts on r/all and on meme subs about a meteor and fornite. I'm familiar with the basic concept of the game but have never played myself. Someone care to explain what is the meteor and why is it important for the game?" The post received more than 1,000 points (90% upvoted) and 135 comments.
Redditor[19] Shmeckle_and_Hyde explained the situation by stating that after an in-game investigation, players believe that a meteor will hit the Tilted Tower on April 18th. The post (shown below) received more than 1,800 points in five hours.

Dance Parties
In April 2018, players began posting videos of Fortnite dance parties inside of the game. On April 1st, 2018, Twitter[20] user @Chumpking posted a video of party with the caption "Easter dance party watch this Bunny rock!!!! #PS4share #Fortnite." The post (shown below) received more than 270 retweets and 1,100 likes in less than one month.
Easter dance party watch this Bunny rock!!!! #PS4share #Fortnite pic.twitter.com/tnkHK99feb

— Chumpkings (@Chumpkings) April 1, 2018
Two weeks later, Redditor[21] Det_Wun_Gai posted a video of a dance party and battle in which the "discofloors are a safe haven." The post (shown below) received more than 29,000 points (92% upvoted and 550 comments in less than one week.
Discofloors are a safe haven from r/FortNiteBR
Thanos Crossover
On May 7th, 2018, the news site Entertainment Weekly reported that the Infinity War antagonist Thanos would be making his way to Fortnite in a limited crossover event starting the following day.[24] The same day, the @FortniteGame[25] Twitter feed posted a promotional image for the event (shown below).

Descriptions for the event indicated that the Infinity Gauntlet would be hidden somewhere on the map and that whoever found it would turn into "The Mad Titan" himself. Fans quickly took to social media about the news.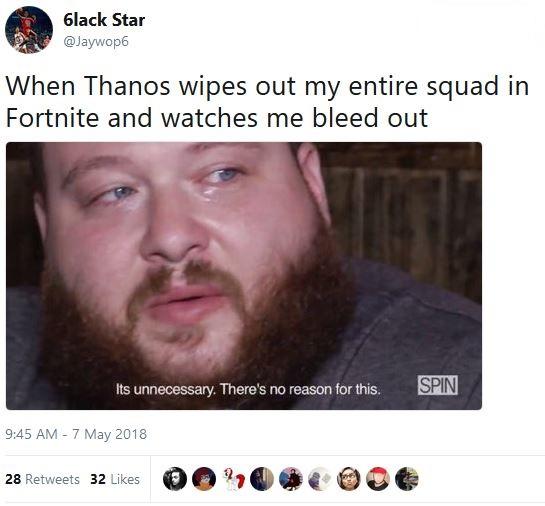 On May 8th, a Twitter Moments[26] page titled "Thanos has arrived on Fortnite 🙌" was created, highlighting notable reactions to the news.
Shopping Cart
On May 30th, 2018, Fortnite posted patch 4.3, which included a destructive shopping cart players could ride in to cause damage.

After the update, streamers shared clips of themselves utilizing the feature, praising it as hilarious and fun. User @FRZ_IceY posted a clip of the shopping cart in action, gaining over 3,300 retweets (shown below, top). User @rooting_around called it the "greatest thing" added to Fortnite, gaining over 1,300 retweets (shown below, bottom). The reactions and streams were compiled by Twitter Moments.[29]
New fortnite meta shopping carthttps://t.co/rqW5m5NmK9 pic.twitter.com/2BvRs8wwjb

— IceY ❄️ (@FRZ_IceY) May 30, 2018
The shopping cart is the greatest thing added to fortnite. pic.twitter.com/lsY9z8eQMy

— rooting underscore around (@rooting_around) May 30, 2018
Fortnite Tutors
On July 31st, 2018, the Wall Street Journal[33] published an article about the phenomenon of parents hiring and paying tutors to help their children get better at Fortnite. The story details several families who have employed Fortnite tutors through sites like Gamer Sensei and Bidvine to help both the children and adults improve their skills. The story presents the phenomenon as akin to parents of young athletes paying for sports lessons, saying "Just like eager dugout dads opening their wallets for pitching lessons, videogame parents are more than willing to pay for their offspring to gain an edge." It also details how some parents view Fortnite skills as a "social proving ground" for children, and that being good at the game helps their children socially.
"There's pressure not to just play it but to be really good at it," said Ms. Hicks, a project manager from Winchester, England. "You can imagine what that was like for him at school."
The spread of the story led to some backlash from social media users and other news publications. Articles on Vice,[34] ABC,[35] and Detroit Free Press[36] wrote of the phenomenon with headlines, "Parents Are Seriously Hiring 'Fortnite' Tutors for Their Children Now," "It has come to this, parents hiring video game tutors for their kids," "Fortnite tutors are a thing. And yes, parents are paying them," respectively.
On Twitter, some users acted with similar incredulity. User @CecilyTynan tweeted that she as a parent found it "ridiculous" (shown below, left), and user @sacca said he was "judging a lot" (shown below, right).


Some publications felt the backlash was overblown. Mashable[37] wrote an article bemoaning the backlash, pointing out that people freaking out about video games is a tired reaction. The Next Web[38] opined that the backlash was an overreaction, sarcastically starting their piece with:
In what surely constitutes a sign of the coming apocalypse, parents are shelling out up to $20 an hour for coaches to help their children suck less at Fortnite. Or, you know, maybe the internet is overreacting, just a tad.
Breast Physics Controversy
On September 27th, 2018, Fortnite released their Season 6 update of the game, which included a new skin for the character Calamity. That day, video game streamer FaZe Agony tweeted a video of the skin, showing the way the character's breast move when performing the "Jubilation" emote (shown below). Within 24 hours, the tweet gained over 26,000 likes and 5,700 retweets.
The most important thing in the Season 6 update pic.twitter.com/FrnzFsF1Fl

— FaZe Agony (@Agony) September 27, 2018
That day, Kotaku reported that Epic Games would be removing the new breast phyics, including a statement from an Epic Games spokesperson:[39]
"This is unintended, embarrassing, and it was careless for us to let this ship. We are working now to fix this as soon as possible."
Baller Vehicle
On March 12th, 2019, the official Fortnite Twitter feed posted a video unveiling a new in-game vehicle called "The Baller," a large sphere resembling a hamster ball which players can use to grapple and bounce around maps at fast speeds (shown below). In less than 24 hours, the video received more than 650,000 views, 23,300 likes and 2,800 retweets.
Time to roll out! Downtime has ended. Hop in and try out the newest vehicle, The Baller! pic.twitter.com/Cc3C3hXcnK

— Fortnite (@FortniteGame) March 12, 2019
That day, several YouTubers uploaded footage of streamers using the new vehicle in the game (shown below). Meanwhile, Twitter published a Moments[46] page titled "Thoughts and impressions of Fortnite's new Baller vehicle," highlighting various reactions to the new vehicle on the social media platform.
Fortnite Blackout
Fortnite Blackout, also known as Fortnite Black Hole and Fortnite Chapter Two, refers to a massive Fortnite Battle Royale in-game event which started at the end of the Fortnite Season 10 on October 13th, 2019. The event involved the game map being destroyed by a massive black hole and the game made unavailable to the players for an unknown period of time.
Notable Players
Tyler "Ninja" Blevins
Richard Tyler Blevins (a.k.a. Ninja) is a Twitch streamer best known for playing the games Fortnite and PlayerUnknown's Battlegrounds (PUBG). In March 2018, Blevins became the most-popular streamer on Twitch with over eight million followers.
NoahJ456
NoahJ456 is a video game streamer who became known online for creating Call of Duty and Grand Theft Auto videos. On Fortnite, NoahJ456 gained a significant following for his ability to perform various "trickshots" in-game. On July 8th, 2018, NoahJ456 tweeted a video of himself performing a difficult trickshot in the game, in which he rides a shopping cart along a bounce pad puzzle while performing various stunts. Within 24 hours, the tweet gained over 9,200 likes and 2,000 retweets.
I took my hardest trickshot in FortniteGame</a> and made it harder.<br><br>✅ Shopping Cart Bounce Path<br>✅ Launch Pad To Bounce Pad Puzzle<br>✅ Catching own Shopping Cart on the other side of Tilted<br>✅ Maximum Velocity 250m Snipe<br><br>Boom. 3.5 hours to build/hit this. <a href="https://t.co/7WKUI3jZL2">pic.twitter.com/7WKUI3jZL2</a></p>&mdash; NoahJ456 (NoahJ456) July 8, 2018
Reception
Legal Issues
PUBG Lawsuit
In September 2017, Bluehole, the parent company of PUBG, who developed PlayerUnknown's Battlegrounds (PUBG), announced that they had "growing concerns" over the similarities between their game and _Fortnite_'s "Battle Royale" add-on. Bluehole Vice President Chang Han Kim said in a statement[28] said:
"We've had an ongoing relationship with Epic Games throughout PUBG's development as they are the creators of [Unreal Engine 4], the engine we licensed for the gameAfter listening to the growing feedback from our community and reviewing the gameplay for ourselves, we are concerned that Fortnite may be replicating the experience for which PUBG is known."
On May 25th, 2018, The Korea Times reported that the Korea-based developer PUGB had filed a copyright suit against Fortnite creators Epic Games, alleging that Fortnite and Epic Games had infringed on their copyright. The injunction was filed with the Seoul Central District Court.
Since Epic Games launched the the "Battle Royale" feature of Fortnite, PUBG has been exploring response to what they saw as plagiarism, with Fortnite sharing many similarities with the video game PlayerUnknown's Battlegrounds, including the user interface and in-game items. [27]
An official for PUBG said, "We filed the suit to protect our copyright in January."
Online, people reacted negatively to the lawsuit, believing it to be unnecessary (example below).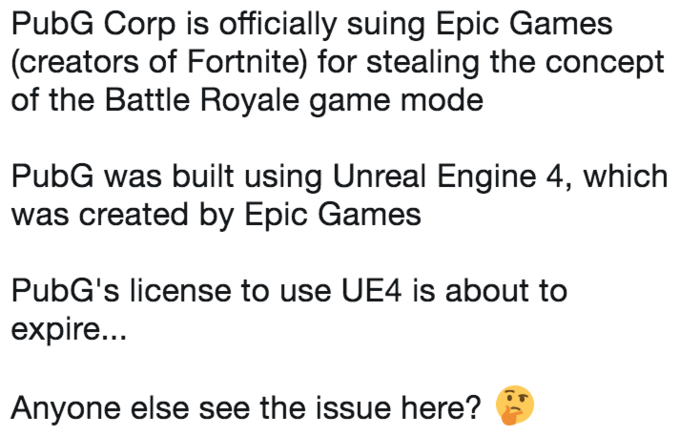 Milly Rock
On November 29th, 2018, in a press release,[40] rapper 2 Milly's law firm announced that the he would be seeking legal action against Epic Games "over its misappropriation, use and sale of 2 Milly's signature "Milly Rock" as downloadable content in its popular video game, Fortnite." Many have criticized the Fortnite dance emote "The Swipe It" for its similarities to the "Milly Rock" dance.[41]
In a statement, Milly Rock said, "I was never compensated by Epic Games for their use of the 'Milly Rock.' They never even asked for my permission.
Moth Meme Creator
On December 5th, 2018, in a since-deleted thread, the creator of the Moth Lamp meme, Redditor No_Reason27 asked the /r/LegalAdvice subreddit about seeking compensation for the game's use of the Moth Lamp's image (shown below, left). They wrote:
"Hi, I'm the guy posted the original message photo of the moth, and I recently learned that Fortnite is making it into a character, and I was wondering if that was legal for them to do?"

"And, if so what should I do to get compensated or them take it down? I already emailed them and I'm waiting on a response."
In August 2018, the game introduced a skin and a weapon that were seen as an homage to the meme (shown below, right). Fortnite Intel[42] published an article about the creator's query.


Carlton Dance
On January 2nd, 2018, the video game Fortnite released the "Fresh emote," a celebratory dance characters in the game perform. Some noted that the dance resembled The Carlton. On February 2nd, 2018, YouTuber Fornite Guides released a video entitled "Fortnite Carlton Dance Music VS Fresh Emote Song 1 Half Hour Synced Comparison." The post received more than 36,000 views in one year (shown below).
On December 17th, 2018, Riberio filed a lawsuit against Epic Games, the makers of Fortnite for misappropriating Ribeiro's likeness and intellectual property in the game.[43] The actor's lawyer said, It is widely recognized that Mr. Ribeiro's likeness and intellectual property have been misappropriated by Epic Games in the most popular video game currently in the world, Fortnite […] Epic has earned record profits off of downloadable content in the game, including emotes like 'Fresh.' Yet Epic has failed to compensate or even ask permission from Mr. Ribeiro for the use of his likeness and iconic intellectual property."
Epic Sax Lawsuit
On April 25th, 2019, New York City-based saxophonist Leo Pellegrino filed suit against Epic over the Fortnite emote "Phone It In," which allows players to dance while playing the saxophone. Pellegrino has said that emote mimics his "signature" dance moves that are "become inseparable from his persona and his life story" (video below, left) Unlike other emote-related lawsuits, Pellegrino is not arguing over copyright but rather misappropriation of likeness (Fortnite emote shown below, right).
The Verge[49] noted that emote has drawn comparisons to the Epic Sax Guy meme, which could have served as inspiration for "Phone It In" (video below).
Controversies
Security Hack
On January 16th, 2019, Check Point Software Technologies[44] announced they had discovered a flaw in _Fortnite_'s security that:
could have allowed a threat actor to take over the account of any game player, view their personal account information, purchase V-bucks, Fortnite's virtual in-game currency and eavesdrop on and record players' in-game chatter and background home conversations.
They also posted a video confirming their findings (shown below).
The group found that a sinister-acting hacker could send a link to players that appeared to be from Epic Games, and if they clicked that link, the hacker would be able to gain their personal information. After being alerted of the flaw, Epic Games fixed it.[45]
Work Environment Controversy
On April 23rd, 2019, Polygon[47] published a report based on interviews with numerous current and former employees of Epic games, alleging that the success of Fortnite has created a "stressful and hostile working environment in which working overtime -- while officially voluntary -- was an expected service to the company." Sources claim to regularly work "in excess of 70-hour weeks, with some reporting 100-hour weeks."
While these employees were paid overtime, the expectation of long hours has had adverse effects on the staff, they claim. Some reported health issues from exhaustion and stress, while others claimed it created a toxic work environment. This was compounded by reports that employees would often work weekends and find it difficult to take away from work.
One anonymous employee said:
I work an average 70 hours a week. There's probably at least 50 or even 100 other people at Epic working those hours. I know people who pull 100-hour weeks. The company gives us unlimited time off, but it's almost impossible to take the time. If I take time off, the workload falls on other people, and no one wants to be that guy.
These employees said that the issues stem from the frequent updates that are necessary to keep Fortnite popular. These patches require near constant attention, creating a heftier and more demanding workload.
A spokesperson for the company said:
Fortnite achieved a far higher level of success than we had ever anticipated. Everybody throughout Epic responded to the success with incredible vigor and commitment. The Fortnite team rapidly expanded the game to grow the audience; the Unreal Engine team began a broad effort to optimize for 60fps and support seven platforms; others throughout the company moved to Fortnite to maintain momentum.
However, employees have disputed that executives have done anything to make the work environment more tenable. Some have said that to push back or even leave work can be a "mark against [their] character." This is especially true for contract employees, who claim not working these expected long hours could result in not having their contracts renewed.
One employee told Polygon, "One senior guy would say, 'Just get more bodies.' That's what the contractors were called: bodies. And then when we're done with them, we can just dispose of them. They can be replaced with fresh people who don't have the toxic nature of being disgruntled."
That day, Redditor[48] Mlghubben1e posted about the report in the /r/apexlegends subreddit. The post received mroe tahn 16,000 points (89% upvoted) and 1,700 comments in two days.
The issue was also discussed on Twitter, with people sharing their opinions about the exposé (examples below).



Search Interest
External References