🏳️‍🌈? / Pride Flag Question Mark
This submission is currently being researched & evaluated!
You can help confirm this entry by contributing facts, media, and other evidence of notability and mutation.
About
🏳️‍🌈? or Pride Flag Question Mark refers to a symbol combination of the "Pride Flag" 🏳️‍🌈 emoji and "?" question mark sign to create an expression referring to LGBTQ+ behavior. The meme became a popular exploitable in image macros in October 2022, with overlayed text displaying the🏳️‍🌈? alongside anime, movie and TV show characters.
Origin
The earliest available tweet containing the 🏳️‍🌈? combination was made by Twitter[1] user @crowholmes on July 11th, 2022 (shown below), in which he shows a conversation between John and Sherlock Holmes of the BBC show Sherlock and describes it as one of the "top 10 moments more 🏳️‍🌈? of history." The tweet used the 🏳️‍🌈? overlayed with Sherlock's surprised face, indicating a possible suspicion his friend might be gay. The post gained 181 likes and 34 retweets in one year.

A few months later, in September and early October 2022, the meme popularized as a reaction meme and exploitable image macro with Latin American Twitter users, who started to create multiple variations of the emoji combination, as seen in the examples below: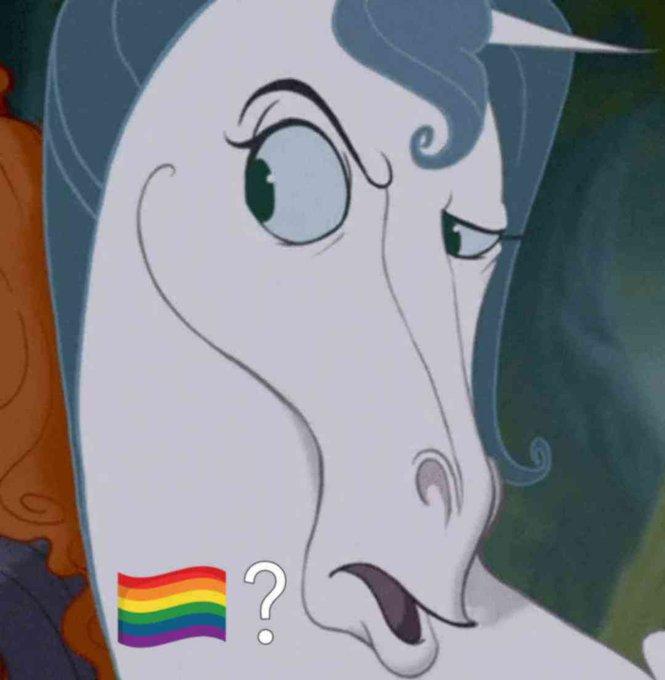 Spread
The emoji combination has been posted as a meme on social by both pro-LGBTQ and anti-LGBTQ creators. For instance, Twitter[2] user @mateiformiga used the meme to joke about Isaac Newton's color spectrum experiments showing a rainbow when light passes through a prism. The post, uploaded on September 23rd, 2022, received 1,629 likes and 115 retweets in seven months (seen below).

Homophobic La'eeb (Qatar World Cup Mascot)
The official mascot of the 2022 World Cup in Qatar also received variations of the 🏳️‍🌈? meme combination due to implications of the complicated history of human rights violations in Qatar. For instance, on November 21st, 2022, Twitter[3] user @vanglockkk posted a picture of a football player touching the rival's genitals alongside the mascot image with the 🏳️‍🌈? meme combination, suggesting the mascot is not happy seeing this behavior on the field. The tweet received 4,346 likes and 596 retweets in five months (seen below).

Related Memes
Lo Suponía Meme
Variations of the 🏳️‍🌈? meme appeared on social media later on, with one notably similar image macro being the Lo Suponía meme, which uses a pride flag overlayed with a Dragon Ball Z character, and is used in situations related to LGBTQ+ connotation.

Various Examples



Search Interest
External References