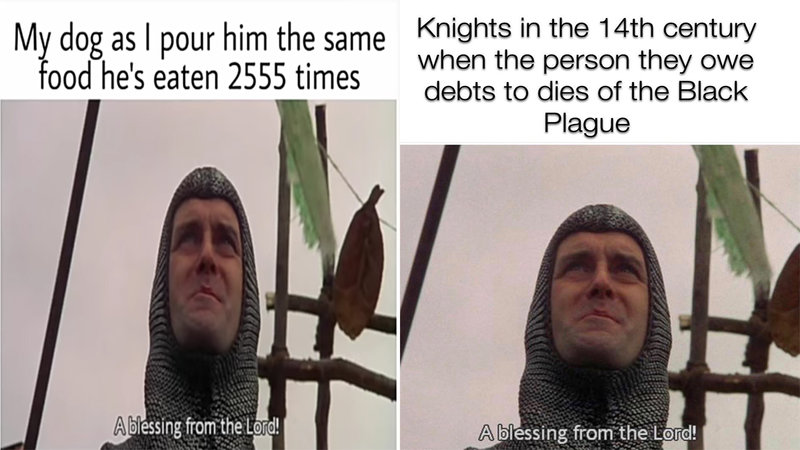 A Blessing From The Lord!
About
A Blessing From The Lord! is a memorable quote spoken by Sir Luancelot The Brave (played by John Cleese) in the film Monty Python and the Holy Grail in response to God tasking King Arthur with the quest for the Holy Grail. The quote is used alongside a still from the scene as a reaction image to an above caption or screenshot, typically to represent the feeling of gratitude projected by the top property. The reaction is often used sarcastically, and occasionally used on its own as a reaction in post comments.
Origin
The original clip that the meme is pulled from is seen during "Monty Python and The Holy Grail," released on April 3rd, 1975, and is spoken at around the 24:50 mark (shown below).[1] In the scene, the Knights of the Roundtable are stopped by God, who tasks them with finding the Holy Grail, resulting in John Cleese's Sir Luancelot responding, "A blessing. A blessing from The Lord!"
Spread
On March 6th, 2020, Reddit user SierraFlamingoHotel posted an image macro to /r/dankmemes[2] featuring the top caption, "My dog as I pour him the same food he's eaten 2555 times" above the image of Sir Launcelot, garnering over 106,000 upvotes in 9 months (shown below, left). This is the earliest known use of the meme. On the same day, OctopussSevenTwo posted the isolated image to imgur[3] as a template, garnering over 2,400 upvotes in the same span of time. On March 28th, LeGend4LEX-- posted another version of the meme to /r/dankmemes,[4] which gained over 47,700 upvotes in 8 months (shown below, right).


On August 27th, claxonator posted a version of the meme to /r/me_irl[5] garnering over 1,200 upvotes in 3 months (shown below, left). On September 30th, SteelPro43 posted a version to /r/dankmemes[6] criticizing Apple for stealing Android's ideas, garnering over 93,900 upvotes in 2 months (shown below, right).


Template

Various Examples






Search Interest
N/A
External References