About
Age Test is a quiz game in which one or more images of culturally obsolete objects are presented without labels to the reader, whose approximate age can be deduced from his or her ability to recognize the items or the connection between them.
Origin
One of the earliest age tests was submitted to FunnyJunk[3] on May 2nd, 2011, parodying the age verification that pops up when visiting the online gaming community MyCrysis.[4] In the image, the number input field was replaced with a photograph of a VHS casette tape, an early format of video recording media that became widespread in the 1980s and later superseded by DVDs in the 2000s.[5]

Precursors
Prior to the emergence of the age test, at least two similar quizzes have existed in the form of demotivational posters. In 2007, Gay Test images began to circulate on internet humor blogs and discussion forums, pairing a picture of a bikini model with a caption observing a trivial detail found in the background. The logic behind this test assumes that a straight-oriented male viewing such image would be less inclined to notice anything other than the woman posing in the foreground, thus taking one's degree of seducibility as a telling sign of the viewer's sexual orientation. In 2009, Otaku Test images began to surface on anime blog Neko Magic[8] and elsewhere, featuring minimalist abstract art that represents the color scheme of a character's uniform from an anime, manga or video game.


Spread
In June 2011, an image of a pen and a cassette tape was shared on humor sites 9gag[1] and Make Use Of[2] with the title "Our Children Will Never Know The Link Between The Two." Though the image wasn't explicitly labeled as an age test, the photo was reposted with the same title on TopCultured[7] a week later. Similar variants of this image were also shared on the humor blog Eat Liver[6] and G4's Attack of the Show blog[10] in October 2011.


In early 2012, various instances of the Age Test began appearing with the tagline "She's Too Young for You, Bro", a Twitter hashtag and a catchphrase that was introduced through the MTV reality series Jersey Shore. Additional instances of the series can be found on Reddit[14] and Tumblr[9] under the tag "Age Test," as well as other humor and photography blogs like MAMA[11], Picaphobia[12] and Kill My Day Now.[13]



Notable Examples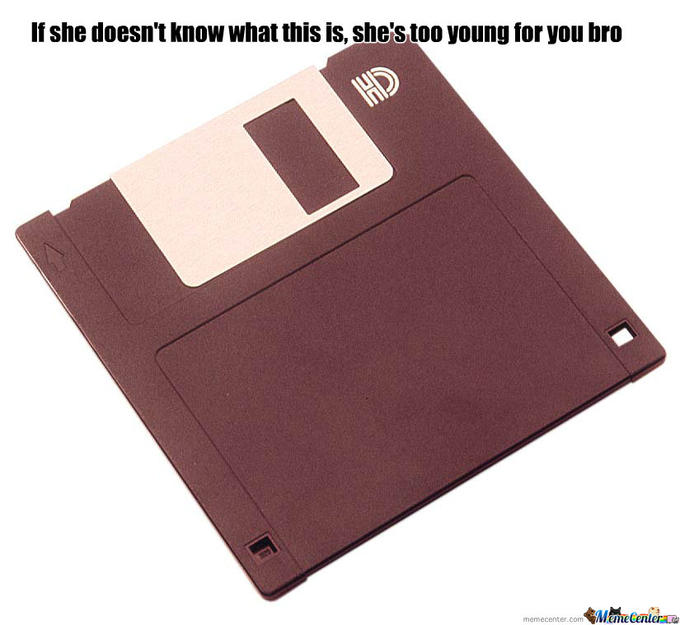 Search Interest
External References
Recent Videos
There are no videos currently available.