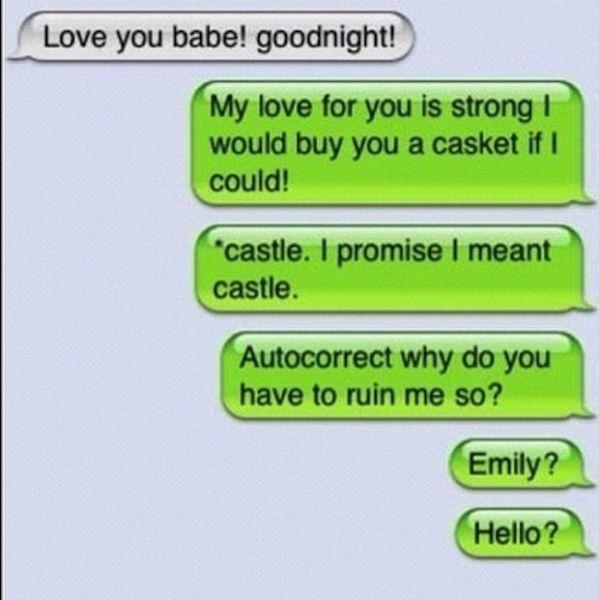 About
Autocorrection is a spell-checking function commonly found in word processors that automatically corrects spelling and/or grammatical mistakes made by the typist. However, because it is designed to make certain corrections presumptively, the system has proven to be counter productive at times, leading to undesirable changes that go against the typist's intent. On the web, such flaws of the autocorrection system are often exploited and shared for humorous purposes.
Origin
Autocorrection was first introduced in 1998 as a part of Microsoft Word '97[1] and has since become a part of many Microsoft and Apple Inc. devices, especially on mobile phones and tablets. In 2008, stories about autocorrect blunders began hitting the news when the Guardian[4] published an article on the American Family Association's oversight of running a story in which the last names of people with the surname "Gay" had been changed to "Homosexual." In November 2008, Flickr user Merrick Monroe[5] uploaded a screenshot of a conversation between her and a friend in which the autocorrect function humorously changed the meaning of their messages.

Spread
Discussions surrounding the autocorrect function began appearing on the Mac Rumors forum[6] in June 2009. The following year in June 2010, David Pogue wrote a piece for the New York Times[7] which chronicled many humorous autocorrect blunders that had been submitted to him via Twitter. That September, a single topic blog called Stupid Autocorrect[8] was launched on Tumblr, inspired by Pogue's post. The blog posted eleven times in one day before going on a hiatus until February 2011.



In October 2010, another single topic blog Damn You Autocorrect[3] was launched, followed by F You Auto Correct[2] in November. In 2011, Cheezburger launched Autocowrecks[9] to showcase a variety of autocorrect malfunctions. In 2012, collections of humorously autocorrected SMS screenshots appeared on several internet humor blogs including Buzzfeed[10], Mashable[11], Funny or Die[12], Complex Tech[13], Glamour[14] and Cracked.[15] Bloggers often share these screenshots on Tumblr[16] and Instagram[17] with the hashtag "autocorrect." In December 2012, the Facebook fan page Autocorrect Fails[18] launched, gaining more than 78,000 likes by January 14th, 2013.
Notable Examples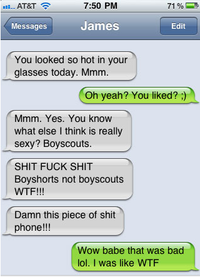 Search Interest
External References