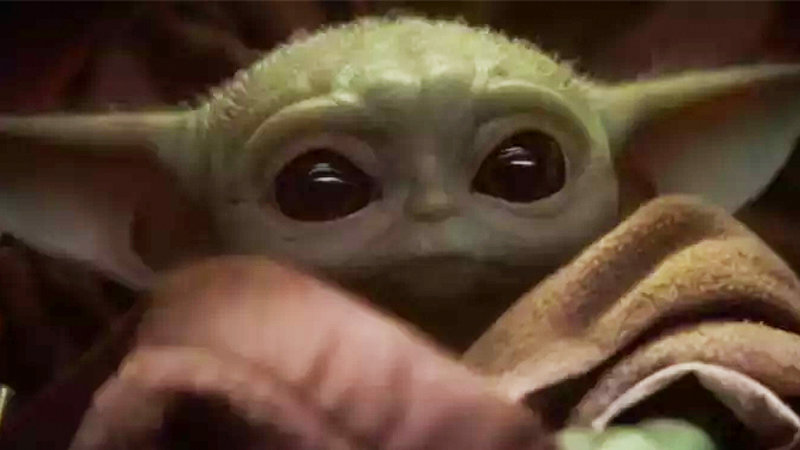 Editor's Note: This entry contains spoilers for The Mandalorian; read at your own caution.
---
About
Baby Yoda, also known as Yiddle, is a character introduced on the Disney+ television series The Mandalorian that resembles an infant version of the Star Wars character Yoda. During the second season's fifth episode, his true name was revealed to be Grogu.
Origin
On November 12th, 2019, the first episode of The Mandalorian premiered on Disney+. At the end of the episode, the character finds a 50-year-old creature that resembles the character Yoda as an infant (photo below).[1]

Spread
Following the release of the episode, people online discussed their appreciation for the character. Twitter[2] user @pissvortext tweeted a screenshot of the character and the caption, "baby yoda canon baby yoda canon baby yoda canon." The tweet received more than 9,000 likes and 1,800 retweets in less than two days (shown below, left).
Throughout the day, others shared their sentiments (examples below, center and right).



That morning, Twitter user @fakehappymeal shared a GIF of the character's introduction. The post received more than 5,200 likes and 2,000 retweets (shown below).
baby yoda 🥺💚 pic.twitter.com/St1Qzq9dGV

— 𝐞𝐥𝐥𝐞𝐧 ☂️ (@fakehappymeal) November 12, 2019
On November 12th, Redditor [3] SkyeHammer posted a "Higher-Res Baby Yoda" photograph. The post received more than 1,400 points (97% upvoted) and 560 comments in two days (shown below). Several media outlets covered the character, including Vulture,[4] Collider,[5] BuzzFeed, [6] Newsweek,[7] The Ringer[8] and more. On November 20th, Ebaumsworld[9] published a collection of Baby Yoda memes.

Grogu
On February 27th, 2020, Disney aired the Mandalorian episode "Chapter 13: The Jedi."[13] In the episode, the character Ashoka Tano (portrayed by Rosario Dawson) tells the Mandalorian that the child's name is "Grogu." Following the episode, people online expressed a mixed reaction to the name. For some, the name was a welcome addition to the mythos, while others joked that they would continue to call the character "Baby Yoda" (example below).


Various Examples






Search Interest
External References
Recent Images 7,678 total