This submission is currently being researched & evaluated!
You can help confirm this entry by contributing facts, media, and other evidence of notability and mutation.
Abou
#BlackHogwarts is a hashtag that started on Black Twitter in which people reimagine specifics from the Harry Potter series from an African American perspective
Origin
On January 10th, 2018, Twitter [1] user @Bruce_Cares tweeted, "Yoooo imagine Swag Surfin in the Great Hall after Ravenclaw wins the House Cup! #BlackHogwart." The tweet (shown below) was the earliest known iteration of the hashtag, receied more than 680 retweets and 1,150 likes in two days.

Spread
Throughout the day, more people continued to post jokes, images and gifs of what a "Black Hogwarts" might be like. On January 11th, Twitter[2] user @MrMarcus260 tweeted a picture of man with sunglasses on raising his hand and the caption, "When professor Snape tries to skip over slavery in your history of Muggles class #BlackHogwarts." The tweet (shown below, left) received more than 6,900 retweets and 20,000 likes in 24 hours.
Twitter[3] user @VanThson tweeted, "When you get to Platform nine and three quarters and you realize you have to run though a wall to board the train. #BlackHogwarts." The post (shown below, center) received more than 1,300 retweets and 5,400 likes in 24 hours. Additionally, Twitter user @Habiba__Ogah tweeted, "When your mama sends you a howler : #BlackHogwarts." The post (shown below, right) received more than 5,300 retweets and 17,000 likes in 24 hours.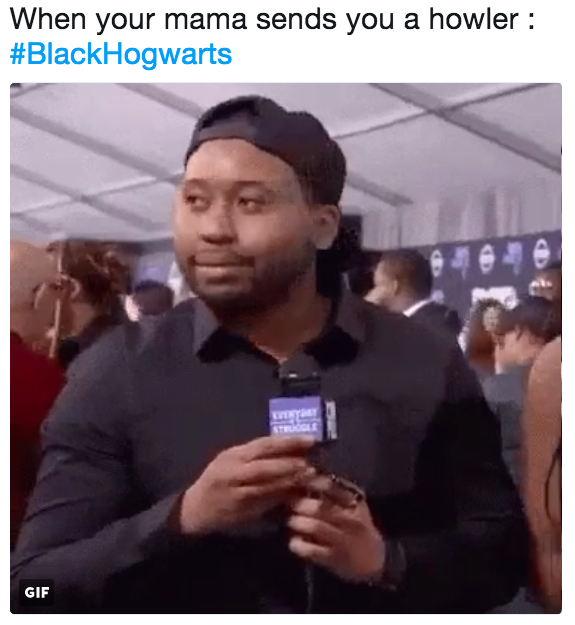 Later that evening, Harry Potter author J.K. Rowling responded to the hashtag. She tweeted,[9] "Seeing them and loving them. #BlackHogwarts." Within 24 hours, the tweet (shown below) received more tahn 20,000 retweets and 67,000 likes.

That night, Twitter[5] published a Moments page about the hashtag and several of the most popular posts.
Several media outlets covered the popularity of the hashtag, including BuzzFeed, [6] HuffPost,[7] Uproxx[8] and more.
Various Examples






Search Interest
Not Available.
External References
Recent Videos
There are no videos currently available.